The cover of New York Dime Library #360 (September 16, 1885, Beadle & Adams, Publishers), features an image that is startlingly violent in the context of the newsstands of its time. Jumping Jerry the Gamecock appears to be participating in what can only be described as some sort of human equivalent of cockfighting. The interior story is every bit its equal and is a brutal tale of both actual cockfighting and vigilante justice. This particular copy once belonged to a foundational Socialist Party figure.
The Issue is a regular column about vintage comics and other vintage periodicals from throughout world history. The idea behind The Issue is simple: for each post, I'll choose something from my collection and talk about what's going on in it, and discuss the publishers and creators behind it. And essentially, I'm just going to end up stepping through comics history one issue at a time. There is only one rule in The Issue: No recent stuff. Everything will be from before 1940, and most of it will be from before 1920.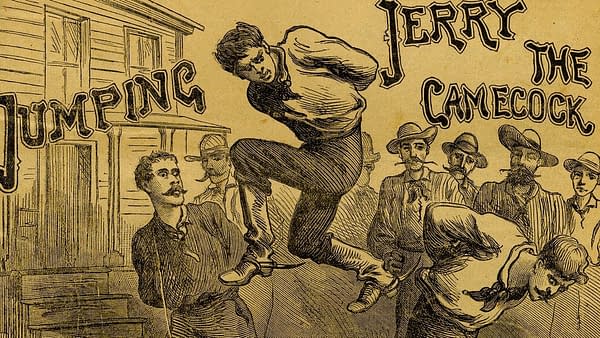 My copy of New York Dime Library #360 has a fascinating provenance. According to the inscription, foundational Socialist Party figure Roland D. Sawyer acquired it from legendary dime novel collector and historian Frank P. O'Brien in 1914. It was O'Brien who put dime novels on the map as a subject of serious study with his substantial donation to the New York Public Library in 1922, along with some large private sales and public auctions around the same time. He must have had an incredible collection, as in addition to the NYPL holdings, there are at least two significant University special collections of his material, and I believe there are at least one or two large private caches still out there, somewhere — presuming some fellow collector hasn't found them before now, which is always a good possibility.
It would seem that Roland D. Sawyer was no slouch himself when it came to collecting dime novels. The inscription here seems to indicate he had sought this issue out for his collection. The Athenaeum of Philadelphia is said to have holdings of materials from Sawyer which consist of "13 boxes" of his dime novel collection. He seems to have been extremely interested in dime novel history as well and is the author of several articles about Ned Buntline and Buffalo Bill. Buntline was a prolific dime novel writer who popularized the Buffalo Bill legend, and also a political agitator who himself founded the Know-Nothing Party.
Sawyer, who was a leading figure of a movement known as Christian Socialists just after the turn of the century, ran for Governor of Massachusetts under the Socialist Party banner in 1912. This effort failed, and Sawyer subsequently rebranded himself as a Democrat and made a successful run for the Massachusetts state legislature. Sawyer is perhaps best remembered for his efforts in the area of temperance and… yes, the Anti-Profanity League. All of which is curious, because New York Dime Library #360 is one of the most brutal and bloody tales of vigilante justice I've ever read in dime novels — and that is certainly saying something.
My best effort at transcribing what this important early Socialist wrote on the cover of a dime novel he loved is below. Any corrections are welcome.
A copy of this issue was bought by Stephen [? father] Sawyer at Boyer's [?] in Exeter, [New Hampshire], Jan. 1887 — I read it with eagerness. In 1914 F.P. O'Brien of NY sent this copy to me. This week Oct 26-Nov 1 1919, Bud and the boys have re-read to me. A good story.
–Roland D. Sawyer
A copy of youthful literature R.D.S.
1914
1919 XXX
XXX
1919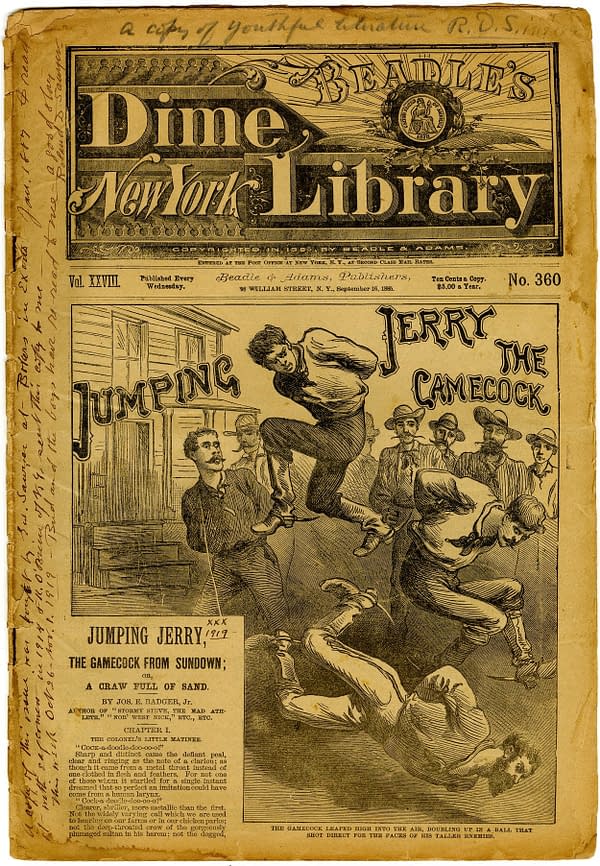 Enjoyed this article? Share it!