Posted yesterday…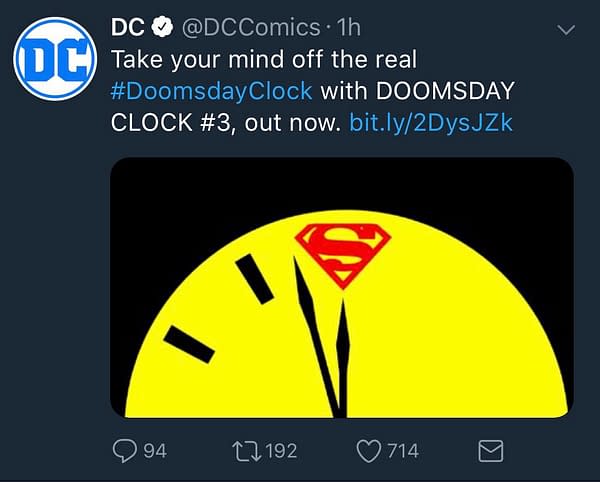 Quite a few people took exception to DC Comics tying in concerns about nuclear armageddon with the promotion of a comic book.
Why would DC Comics use today's #DoomsdayClock announcement to promote their new Doomsday Clock comic book? I'll tell ya: pic.twitter.com/PhdYIjd6t5

— Jughead J'onzz (@thedorkmite) January 25, 2018
Well, it isn't like DC Comics is going to try and tie this into social media marketing or anything… oh wait.

Shit.

— Social Distancing Reaper (@malakim2099) January 25, 2018
Growing concerns about possible nuclear armageddon saw the Bulletin of the Atomic Scientists move forward the Doomsday Clock hands by 30 seconds – to just two minutes before midnight. The BAS said it had made the symbolic move because the world was becoming "more dangerous".
Created in 1947 as a metaphor for how close mankind is to destroying the Earth, it was used in the comic Watchmen  by Alan Moore and Dave Gibbons, as society dealt with impending nuclear war, as well as tying in with the imagery of timepieces and "watch men" through the comic book. The unauthorised Watchmen sequel by Geoff Johns and Gary Frank, published by DC Comics, is called Doomsday Clock. And there in lies the problem. The actual Doomsday Clock is back in the news. And is trending.
BAS President and CEO Rachel Bronson said that "in this year's discussions, nuclear issues took centre stage once again". The scientists singled out a series of nuclear tests by North Korea that dramatically escalated tensions on the Korean peninsula and led to a war of words between North Korea and the US. The BAS also referred to a new US nuclear strategy that was expected to call for more funding to expand the role of the country's nuclear arsenal. And rising tension between Russia and the West was also a contributing factor.
Anyway, with all the objections, DC Comics then deleted the tweet and ran an apology.
Sincere apologies for this morning's tweet – it was not meant to offend or minimize the seriousness of today's events.

— DC (@DCComics) January 25, 2018
But plenty of people were annoyed about that too. As they didn't feel the same way…
Me to, I immediately went to my friends on discord and we laughed about it. I don't see the reason to get offended by it.

— YinYangRaven (@YinYangRaven) January 25, 2018
Booooo! DC took down the Doomsday Clock tweet! https://t.co/2qRYS6sOpV

— Tony Polanco (@Romudeth) January 25, 2018
Oh come on that's funny lol

— Daniel Londoño (@DanielLondo922) January 25, 2018
Anyone fancy watching Dr Strangelove? It feels like that should be screening on repeat somewhere right now.
Enjoyed this article? Share it!