Twenty-Two Years Later, Family Man By Jerome Charyn And Joe Staton Republished As A 300 Page Graphic Novel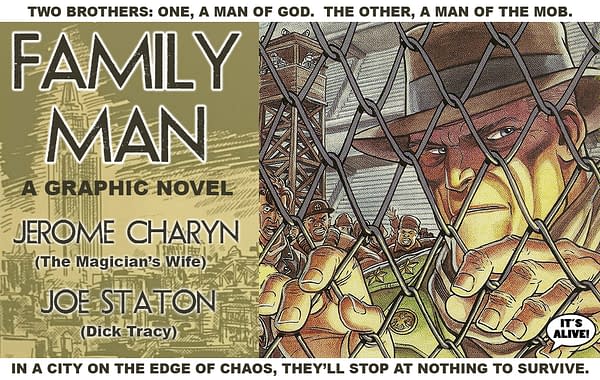 Paradox Press was a division of DC Comics formed in 1993 after editor Mark Nevelow departed from their Piranha Press imprint. Under the initial editorship of Andrew Helfer and Bronwyn Carlton the imprint was renamed. Jim Higgins edited the line after Helfer's departure, and Heidi MacDonald briefly took the helm in 2000 at the time of the line's final three Big Books, none of which ever saw publication.
One of those titles that did get published (just) was an almost-300 page graphic novel, serialised in three chapters, Family Man by Jerome Charyn and Joe Staton. And it disappeared amidst the nineties comics boom.
Charyn, a detective novelist and collaborator of comic artist Francois Boucq, was an offbeat collaborative choice with US comics industry veteran Joe Staton of Justice Society of America, Green Lantern, Omega Men and E-Man, more recently working with Mike Curtis on the current Dick Tracy newspaper strip.

Now, publisher Drew Ford and It's Alive! will take what was originally published in three digest-sized square bound comic books, and transform it all into a 300+ page, black and white, 8.25" x 11", hardcover graphic novel, with the help of Eisner Award-winning editor and designer Jon B. Cooke. It will include researched historical essays about the creators, the imprint the comics originally came from, and the story itself. A Kickstarter to help them raise the funds to publish this epic tale will be announced very soon.
Fans will have a shot at obtaining a page of Family Man original art, from the small handful of pages that Joe Staton will be making available. There will also be more original artwork and sketch rewards, donated by several incredible artists, including Larry Hama, Paul Gulacy, Jamal Igle, Mark Wheatley, Timothy Truman, Batton Lash, Alex Saviuk, Scott Kolins, Rick Burchett, Ron Frenz and many more. Anyone hoping to get first shot at picking up some of these incredible original art rewards, not to mention a bunch of excellent Early Bird Specials, can send an e-mail to drew.ford@itsalivepress.com
Here are the solicits for those three chapters.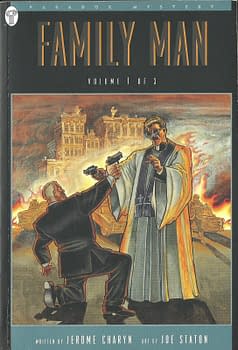 The time is an hour into the future: crime runs rampant in New York City. Rogue cops patrol the rubble-strewn streets. Predatory gangs steal anything that isn't nailed down. And once-powerful mafia dons cower in fear in their tenement prisons. Now, someone is killing the mob chieftains one by one – and the last survivors call on Alonzo, the family man, to hunt down the murderer. But it won't be easy – not when Alonzo's own brother Charles, the gun-toting monsignor of the corruption-ridden New York City police department, is a prime suspect…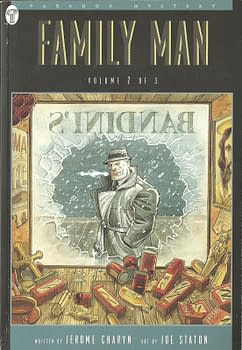 The monsignor of the police department has given the order: the entire "Criminal element" of New York City is to be hunted down and herded into a makeshift concentration camp erected inside Yankee stadium. And their number-one target is the monsignor's brother, Alonzo – the family man. With the monsignor's vigilante militia in close pursuit, Alonzo, once the mob's most fearsome enforcer, must rely on his finely-tuned survival instinct to remain free, in order to exact the retribution that is his due … Even if it means confronting and killing his own brother! Alonzo, the family man, is at last reunited with Don Furioso, the ancient mafia kingpin whose life he has sworn to protect. But now, both he and his aged mentor are trapped inside the makeshift concentration camp erected inside Yankee stadium, helpless to prevent the death squads from completing their murderous mission: to rid the city of its criminal element – by any means necessary.
And yet, even as Alonzo languishes amid the imprisoned wild boys and street thugs, forces are at work to give him_ one last chance to end this reign of terror. Alonzo is about to discover an unexpected ally: someone dedicated to helping him unmask the murderer of his wife and children and reveal the identity of the person who will stop at nothing to seize control of the city!