Ron Howard Says 'The Dark Tower' Film "Should Have Been Horror"
The Dark Tower, a rare Stephen King-adapted misfire, was shunned by critics and audiences alike upon its theatrical release in 2017 and producer Ron Howard has some ideas to why. While promoting his latest documentary Pavarotti, Howard spoke to MTV's Happy Sad Confused podcast about the changes made in the film adaptation from King's popular series.
"I think it should've been horror. I think that it landed in a place—both in our minds and the studio's—that it could be PG-13 and sort of a boy's adventure… I really think we made a mistake not—I mean I'm not sure we could've made this movie, but I think if we could've made a darker, more hard-boiled look and make it The Gunslinger's character study more than Jake. I think in retrospect that would've been more exciting. We always felt like we were kind of holding back something, and I think at the end of the day it was that."
The Gunslinger (Idris Elba), is the main protagonist featured in The Dark Tower book series whereas the film adaptation shifted toward Jake (Tom Taylor).
Howard also believes for such an expansive book series, television would have been a better approach for the franchise. [Editor's note: It WAS going to be a tv series too, that was being developed independently from the film by HBO, but that never came to pass after the box office failure.]
"The other thing might've been to just straight-on tackle it as television first. Disappointing because I poured a lot of myself into it, and sometimes this happens on these projects where everybody's best intentions—you're all pulling in a direction, and then you sort of say, 'Was that the right direction?' And I wouldn't say it was all compromise. I do think it was just a sense of maybe too much listening to what you think that the marketplace is calling for instead of the essence of what Stephen King was giving us."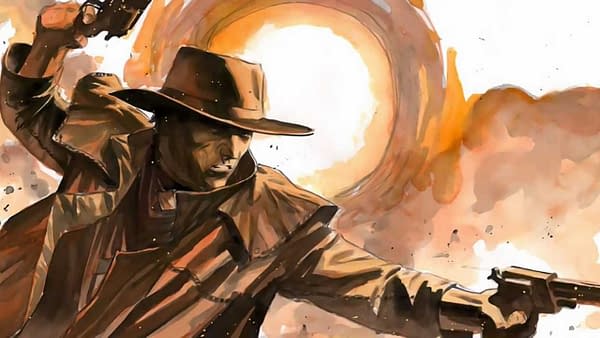 Considering King wrote nine novels in The Dark Tower series, it wouldn't be a bad idea. At least an Amazon adaptation will add substance leading to the 2017 film and beyond. It's hard not to notice how much of King's stories remained relevant with the recent theatrical remakes of Pet Sematary, It, Carrie, among others. The Mist was adapted to a short-lived tv series that expanded on the world of the book and 2007 film. His anthology series, Castle Rock was picked up for a second season.
Do you think Amazon's The Dark Tower centering around Roland in the tv adaptation is a good place to start?