Chris Bey vs. Willie Mack, Heath & Rhino Reunite: Impact Slammiversary
It's been a relatively eventful Impact Wrestling PPV so far. Slammiversary opened with the return of the Motor City Machine Guns to accept an open challenge from The Rascalz. Moose defended his TNA Championship against Tommy Dreamer in a hardcore match. The Knockouts had a Gauntlet Match which was definitely a match that happened. Then Heath Slater invaded TNA! So far, Slammiversary has delivered.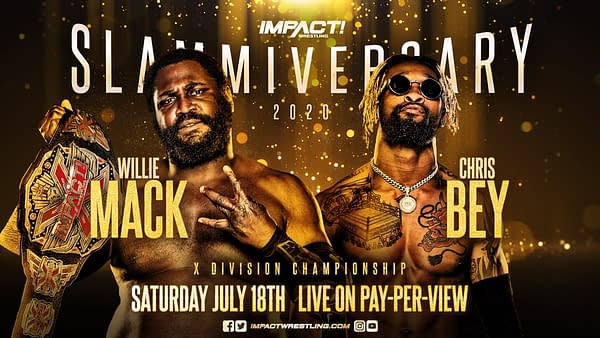 Now, it's time for the X-Division Championship match now. It's Chris Bey vs. Willie Mack, but the wildcard here is Johnny Swinger. As a pre-match video explains, Swinger was supposed to help Bey win the title tonight but he found out Bey was playing him and now what he'll do is anyone's guess.
If there were a crowd present tonight, which there isn't, Bey and Mack would wake them up with this match after a somewhat lackluster Knockouts Gauntlet Match and a somewhat uneventful invasion of Impact by Heath Slater. Mack controls the match from the start. There's lots of leg-slapping happening in this match, and lots of high-risk spots, which is to be expected here.
In one cool spot, Bey goes for a sunset flip powerbomb off the top rope but Mack blocks, so Bey dropkicks his legs out from underneath him and then hits a springboard sling blade. Bey hits a beautiful swinging neck breaker and then gets cocky and starts to trash talk Mack. Mack responds with a big slap to the face and then more flippy s**t ensues. Mack catches Bey off the top rope into a powerbomb and both men take a well-deserved rest.
Mack is on offense when they get to their feet. He hits his big cannonball on Bey in the corner and goes for an exploder, but gets rolled up. Bey goes for the Bey-mouser but gets blocked. Now Mack hits the explorer into the turnbuckles. But as Mack goes to the top rope Bey uses the ref buy time and gets in some of his offense, including a Canadian Destroyer. But Mack hits a stunner and goes for a six-star frog splash. He misses, and the ref gets bumped. Bey gets in a quick eye poke and then hits a spinning springboard cutter, which is a new move he's calling The Art of Finesse and gets the win.
That was a solid match. Not a lot of wasted time and they made everything count. It's surprising that Johnny Swinger had no involvement whatsoever after weeks of buildup though.
Backstage after the match, Heath Slater, or "Heath" as he's going by, reunites with Rhino. Rhino is happy to see him. Scott D'Amore walks up and is excited to see these two back together. D'Amore says he thought Heath looked good in the ring. But D'Amore says Heath doesn't actually work here and it's a closed set due to the pandemic. He asks Heath to leave. He can have a few minutes to catch up with Rhino. Rhino says he'll figure it out. He tells Heath to show up on Tuesday and give Rhino a call.