Doctor Who: Lenny Henry & David Tennant "Team" for Red Nose Day Sketch
Sir Lenny Henry gets more than a doctor in the following Red Nose Day 2023 Doctor Who sketch. In fact, he gets David Tennant's Fourteenth.
---
When we learned that David Tennant (yup, our Fourteenth Doctor) would be co-hosting Red Nose Day 2023 with Paddy McGuinness, Zoe Ball, Joel Dommett, and AJ Odudu, we had our hopes up that we would get a Doctor Who sketch. And then, when we saw him in the teasers & promo images with actor, comedian & writer Sir Lenny Henry in full-on Fourteenth Doctor fashion mode, we assumed that it would be a give. And thankfully, for once? We were right, with Henry joining Tennant for an opening sketch to kick off the charity drive. In the following clip, Henry is getting ready to wow the audience for the event when sudden sharp pains (which Henry writes off as the result of his love of all-you-can-eat hotel breakfasts) stop him in his tracks. And then, Henry utters the words that set things in motion: "What I need a doctor." And that's exactly what he gets. Well, it's more like The Doctor… in the form of Tennant. And after checking the familiarity of his teeth and a few "What's," Tennant's Doctor realizes he has to host Comic Relief. So you know what he needs to do… right? Yup… run!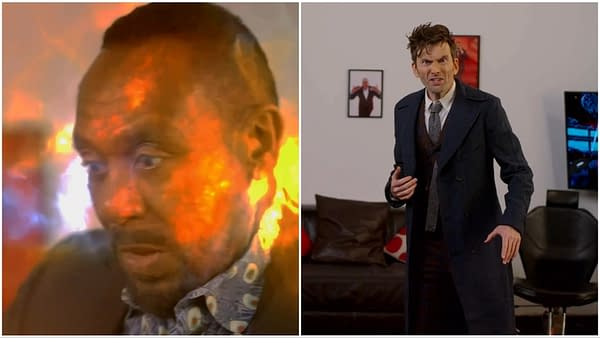 Here's a look at the complete sketch, followed by some additional looks at Tennant & Henry in action:
And here's a look back at the two previously released teasers featuring Tennant & Henry offering a rundown of the event:
"If you thought the appearance of David Tennant was a shock, we've got plenty more surprises on the way! The path to Ncuti's Fifteenth Doctor is laden with mystery, horror, robots, puppets, danger, and fun! And how is it connected to the return of the wonderful Donna Noble? How, what, and why? We're giving you a year to speculate, and then all hell lets loose!" showrunner Russell T. Davies shared in a statement when the first teaser was released, confirming the Doctor's new "lineage" includes Tennant – twice. Now, here's a look at the new logo for the long-running show's new era: