Emmy Rossum had her final episode as Fiona Gallagher last night on SHOWTIME series Shameless. This marks the end of an era, as the actress has appeared in pretty much every single episode across 9 seasons, and even directed one.
In season 9 finale "Found", Fiona makes the choice to leave her family and old life behind, after a windfall of $100,000 lands right in her lap.
One of the more notable scenes in the episode was Fiona's farewell to Frank (William H. Macy). The pair have shared a multitude of scenes over the years running the gamut of human emotion masterfully, earning multiple nominations for both across the Emmys, Golden Globes, and SAG AFTRA.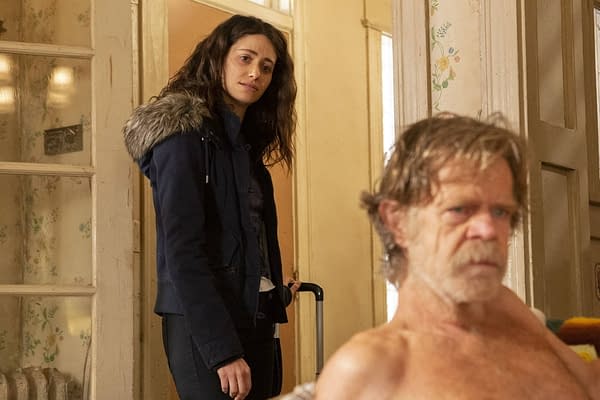 Rossum even commented what her feeling about it was on Twitter, responding to a tweet alluding to Frank's possible regrets regarding Fiona.
Or it's him trying to say "I love you in my way" and her saying I know

— Emmy Rossum (@emmyrossum) March 11, 2019
Executive Producer John Wells, who wrote and directed the episode, spoke about what his intention in the scene was to TVLine:
"The whole subtext of Lip's scene with Fiona is, 'Thank you.' He is not surprised. He's thankful. He's happy for her. It's a scene about a character understanding what's been done for him and being joyful about her getting a chance to make her own choices about what she wants to do next, which is the exact opposite of what happens with Frank, who's a narcissist and feels that everybody's always leaving him.

That Monica left him, and his mother left him, and now Fiona's leaving him. So it's all about him and how badly he feels, and [he] isn't thankful. I sort of intentionally shot it so that you see Frank, but Fiona can't see his face. So we can actually see how painful it is for him, even though he's refusing to say what we all know he should say, but he just can't bring himself to say it. He even knows he's supposed to say it. But he can't bring himself to say it, because she's deserting him, she's leaving him.

They're the same scene, but with completely different personalities on the two people saying goodbye."
As to Fiona's destination on the plane in the final scene of the episode? Wells told Deadline we'll get that answered in season 10:
DEADLINE: So where is Fiona going? Somewhere warm presumably?

WELLS: Yes, absolutely, and we didn't really mean to leave it a mystery. The episode was about eight minutes too long when I finished it—my fault, I wrote too much and then had way too much fun directing it—and so we cut things, and there was a conversation at the end between the little girl who is in the seat beside Fiona, in which we learn where Fiona was going, and for time we cut it, and now it's turned into kind of a mystery. So, we'll be revealing it very quickly at the beginning of the next season.
Shameless will return for season 10, with Cameron Monaghan coming back in a more full-time way, but without Emmy Rossum.
Enjoyed this article? Share it!