Flash Season 4: Amunet Black is Back and Going Shopping
And we have a clip from tonight's episode of The Flash and we find out that Warden Wolfe (Richard Brooks) has had a special wing of Iron Heights built that is off-the-books and can contain metahumans. He's called in Amunet Black (Katee Sackhoff) to sell her a few of the prisoners. A this point he has half of the bus metas: Kilg%re (Dominic Burgess), Hazard (Sugar Lyn Beard), Black Bison (Chelsea Kurtz), and Dwarfstar (Derek Mears). He also had Barry Allen (Grant Gustin). In the scene, Amunet likes what she sees and wants them all.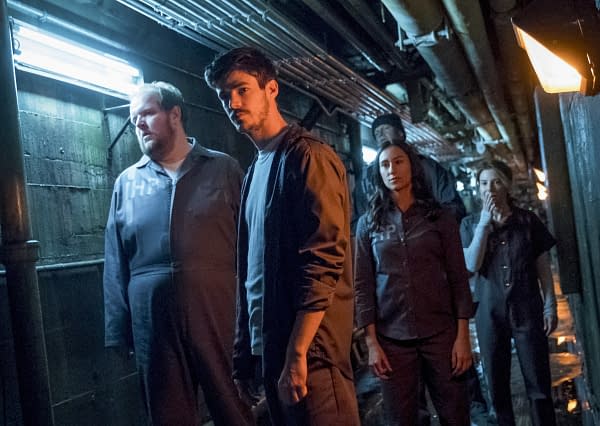 What might be the most interesting part of the clip is something subtle. When Wolfe is showing Black the prisoners, he says their name and their powers, "Becky Sharp, can manipulate lucky a the quantum level…", etc. But when he gets to Barry he just tells her that he's a speedster. Meaning that she, and possibly the other prisoners, have no idea that he's the Flash. Why would he do this? Could've been an accident, or it could've been that he was afraid that Black wouldn't buy the Flash, figuring he would be too hard to break. Another possibility is that the other prisoners might try to kill Barry if he knew and Wolfe doesn't want them trying to fight each other. Anyway you look at it, it's an interesting omission.
The Flash airs tonight at 8 PM on the CW.
https://youtu.be/dflOOFSX0v0