One thing you may not want to remind Seth MacFarlane and company about is how much of a pain time travel can be. No matter how self aware you might be, something will ALWAYS be amiss. Like The Orville's latest episode, "Tomorrow, and Tomorrow, and Tomorrow".
Obviously, there will be spoilers if you haven't seen the episode of The Orville.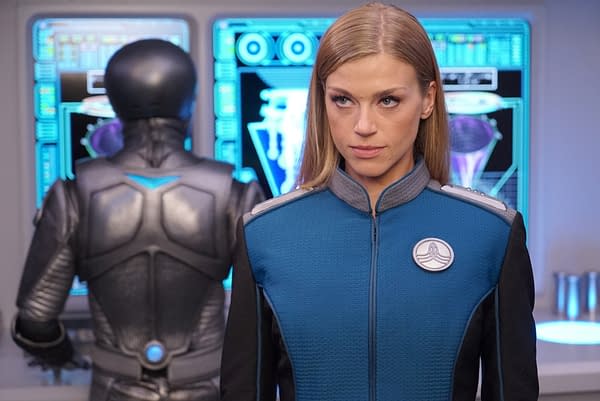 Aside from the redundant title, the latest story involves a temporal experiment gone wrong when a shockwave hits the Orville bringing a seven-years-younger Kelly Greyson (Adrianne Palicki) into present day. Then a lieutenant, she meets the rest crew (including her future self), after what she thought was a hangover from a night of drinking.
Plot devices aside, present-day Commander Greyson and Lt. Greyson are allowed to co-exist, brushing aside any temporal-related concerns. In a likely fourth wall break, Captain Ed Mercer (MacFarlane) rolled his eyes in disgust talking about quantum physics and possibly from those likely to nitpick from the ensuing continuity issues from fans.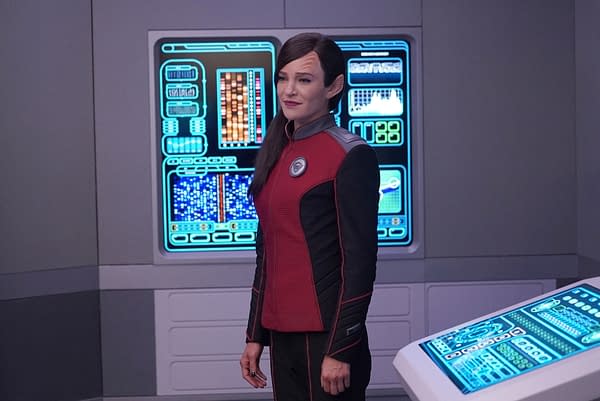 The main issue at hand is how Mercer is still channeling his John Cusack impersonation from Say Anything… trying to woo his current first officer back. With Greyson's younger self co-existing, Ed sees this as his second chance to make right by new Kelly after the damage already being done with older Kelly.
Gary S. Rake directed this particular episode, which was written by MacFarlane and Janet Lin (Bones, The Night Shift). It slowly unravels just how deep Ed feels about Kelly emotionally, more than he realizes, which drives its way to the climactic ending-turned-cliffhanger when Kelly refuses Ed's second date request.
There are more light-hearted moments like how most of the crew always gets wrapped up in each other's activities; we especially liked how both Mocclans actually enjoyed themselves on the dance floor in younger Kelly's club simulation.
The episode is a mix of the films Its a Wonderful Life and Sliding Doors (with Gwyneth Paltrow) where a single decision forever alters one's future. The theme of the first film seems prevalent throughout the series because many of the crew- especially Kelly, Ed, and Lt. Gordon Malloy (Scott Grimes)- are rife with past regrets. Gordon was reminded two episodes ago in "Lasting Impressions" by Kelly about the ongoing impact Ed's had in her life and how her experiences with him helped make her who she is today.
By the time current Ed finally understands the ethical issues involved of trying to date past Kelly, the damage is already done. Since we're dealing with the same universe and they're treating time linearly, we'll see the ramifications since medical technology, for the interest of plot, failed to memory wipe young Kelly's mind, and how the future will be changed in the season two finale.
https://youtu.be/QkSCjSSB-EU
The season 2 finale of The Orville "The Road Not Taken" airs Thursday April 25th on FOX.
Enjoyed this article? Share it!