Katheryn Winnick Says [SPOILERS] Are In Tonight's 'Vikings' Episode!
We adore Katheryn Winnick as the HISTORY's Vikings character Lagertha, and season 5 of the historical drama has been an experience, so say the least.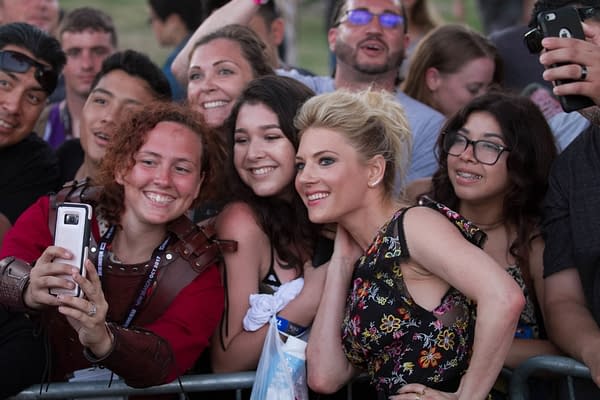 The cast and crew of the show have often spoken about each other as family, something we've seen first-hand during several years in pressrooms and via interviews.
Turns out, at least in Winnick's case, tonight's season 5 episode 19 "What Happens In The Cave" will feature two of her actual relatives:
Guess who's popping up in tonight's episode? Yep, the Winnick brothers! See if you can spot us all in the same frame 👀 #family #siblings #vikings 💙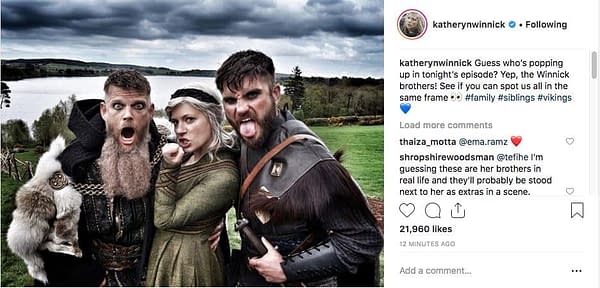 Markjan Winnick and Adam Winnick were rumored to be appearing in season 5, as Katheryn had posted to Instagram back in April of 2017 saying that both Markjan and Adam would be appearing with her in an episode (in the same scene, even) in the-then upcoming 5th season.
The description for tonight's episode reads:
"Ubbe is forced into hand to hand combat: Floki reaches new depths and is met by a shocking sight; Bjørn sets off for Scandinavia with an old rival."
There was of course the heartbreaking (but not unexpected) confirmation that season 6 will reportedly be the final outing for the series, as HISTORY has opted to not renew Vikings for a 7th season.
Two episodes remain in season 5, Vikings airs on HISTORY on Wednesdays.