Luther: The Fallen Sun & Idris Elba Address Those James Bond Rumors
With Luther: The Fallen Sun hitting Netflix on March 10th, Idris Elba addresses those James Bond rumors (and so does "The Fallen Sun").
---
In less than a week, Idris Elba & series creator Neil Cross' broken but noble hero is back on the case- whether folks want him to be or not. Co-starring Cynthia Erivo, Andy Serkis, and Dermot Crowley (returning as Martin Schenk), Luther: The Fallen Sun finds a gruesome serial killer terrorizing London while brilliant but disgraced detective John Luther (Elba) sits behind bars. Haunted by his failure to capture the cyber psychopath who now taunts him, Luther decides to break out of prison to finish the job… by any means necessary. To get the word out, Elba has been hitting the press circuit, taking a ton of questions about the sequel film to the popular BBC series as well as on a variety of other topics. And one of those topics, to no one's surprise, was whether or not Elba was interested in and/or up for the role of James Bond. Well, it turns out that Elba not only had a pretty definitive answer to that question for the UK's Guardian, but the matter is also addressed in a fun way in "The Fallen Sun."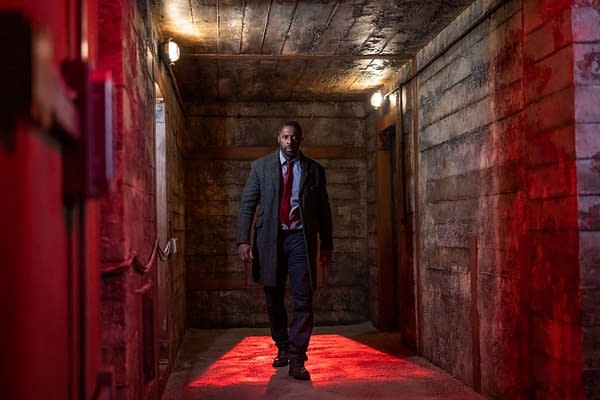 Though still "extremely close" with James Bond producers Barbara Broccoli & Michael G Wilson, there was never an offer in play to take on the iconic role. "I can't speak for them, but from my perspective, there's never been any sort of truth to any of it. It's a compliment, and it's an honour, but it's not a truth," Elba shared. But that doesn't mean it wasn't worth having a little "easter egg fun" with the rumor in "The Fallen Sun," which includes a "wink-wink-nudge-nudge" moment where John passes on a martini. With the feature film continuation of the hit BBC series set to hit theaters this month for a limited run, here's a look at the official trailer for Luther: The Fallen, hitting Netflix on March 10th:
Produced in association with the BBC, the streaming film is a sequel/continuation of the "Luther" saga that first began in 2010 on the BBC. Over the course of the show's five-season run, Elba would go on to earn two Golden Globe Awards and a Royal Television Society award for best actor award for his turn as John Luther. Directed by Emmy Award nominee Jamie Payne and written by Cross, Elba, Cross, and Peter Chernin, Jenno Topping & David Ready for Chernin Entertainment serve as producers. As far as executive producers go, we have Dan Finlay for Chernin Entertainment, Priscilla Parish for BBC Studios, and Kris Thykier.