Agents of SHIELD Season 5: 2 Sneak Peeks at Tonight's Season Finale
Tonight is the Marvel's Agents of SHIELD season 5 finale… NOT the series finale, as many of us thought/feared. ABC has decided to give it a sixth season, but with only 13 episodes, and a summer 2019 air date. They also says that it is not planned to be the final season. And with the move, the series doesn't have to address the fallout from Avengers: Infinity War. That said, the writers didn't know if there would be another season and wrote the finale so it would work as a series finale if need be. That means it could be very dramatic and emotional, and since Coulson's life hangs in the balance… they might really shake up the series.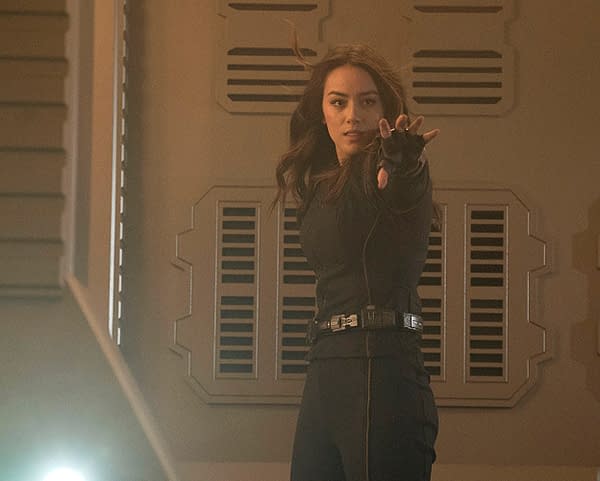 There is a sneak peek below for tonight's episode which features Glenn Tablot (Adrian Pasdar) in his Graviton gear trying to convince Robin (Lexy Kolker) to show him on a ball where on the planet she had seen him pulling metal up from the ground. Robin is having nothing of it, and you can see that Talbot is having an issue with keeping his temper. He threatens to take her power and use it himself, but she flat out tells him he's not going to do that.
The second sneak peek shows up Phil Coulson (Clark Gregg) trying to convince Daisy Johnson (Chloe Bennet) that she is the only one who can stop Talbot now. And by the sound of his breathing, Coulson is not doing well at all.
Marvel's Agents of SHIELD season 5 finale, 'The End', airs tonight at 9 p.m. ET on ABC.