"Star Wars: The Clone Wars" – Episode II: Attack Of The Clone Wars Retweets [REVIEW]
Back in July 2018, Lucasfilm Animation maestro Dave Filoni made our dreams come true by announcing at San Diego Comic-Con that Star Wars: The Clone Wars had been saved. The series was beloved by fans and marked the beginning of the latest Star Wars renaissance. Unfortunately, the show was unceremoniously cancelled in 2014 as a result of Disney's 2013 acquisition of Lucasfilm.
Set in the time period between Star Wars: Episode II – Attack of the Clones and Star Wars: Episode III – Revenge of the Sith, the show chronicles the horrors of the Clone Wars. Well-known characters such as Anakin Skywalker (Matt Lanter), Obi-Wan Kenobi (James Arnold Taylor), Padmé Amidala (Catherine Taber), and R2-D2 take center stage. However, Anakin's controversial padawan Ahsoka Tano (Ashley Eckstein) steals the show, becoming one of the most popular Star Wars characters to never appear in a live-action film.
As we impatiently wait for the February 2020 return of Star Wars: The Clone Wars, join me for "Retweeting The Clone Wars." Relive the classic episodes in 240 characters or less. Every week I will review seven episodes, starting with Season 1 Episode 1, with each review limited to the size on one tweet. Laugh, cry, cheer, and reminisce with me as I rewatch – and retweet – Star Wars: The Clone Wars.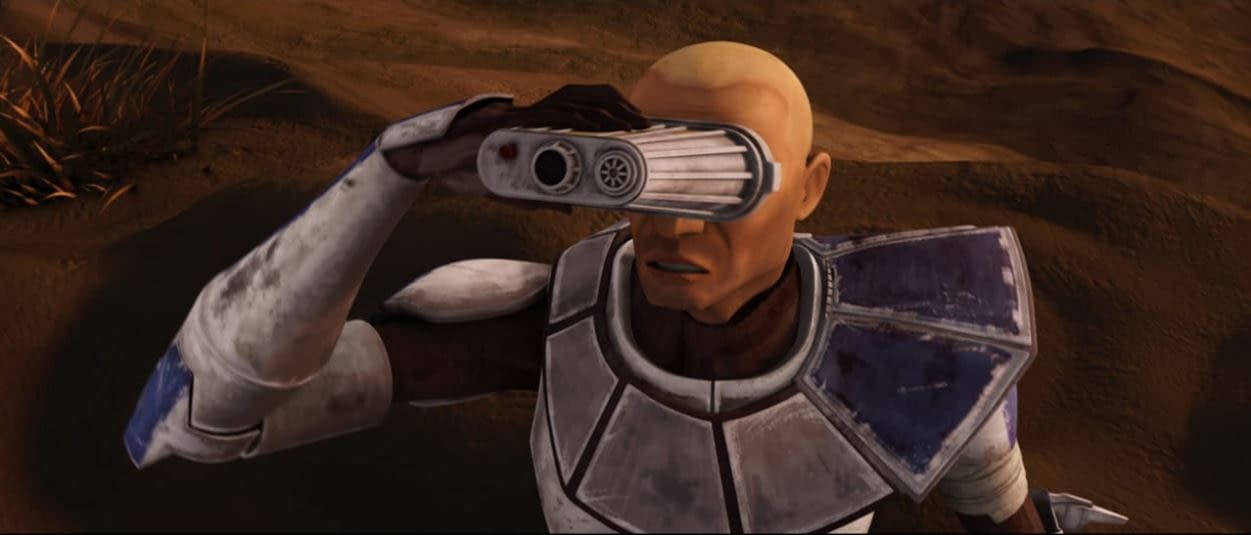 Season 1 Episode 8 "Bombad Jedi"
Rodians betray Padmé, but end up with immediate regrets. The return of Jar Jar Binks (Ahmed Best), surprisingly less annoying in animation. Padmé talks a big diplomacy game until she starts shooting. Maybe if Jar Jar were actually a Jedi, he would have accidentally won the war.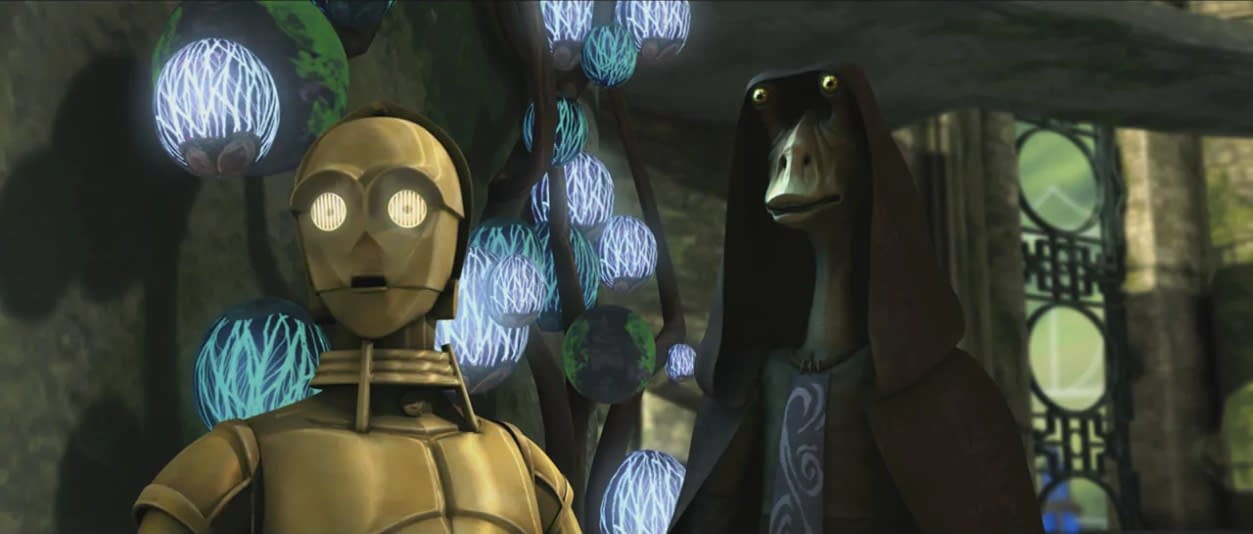 Season 1 Episode 9 "Cloak of Darkness"
Ahsoka and Master Luminara (Olivia d'Abo) are securing prisoner Nute Gunray (Tom Kenny). Ahsoka tries Anakin's tricks, Luminara is not impressed. They are attacked by giant juicer ships. For an assassin, Ventress (Nika Futterman) seems to make a gigantic mess wherever she goes.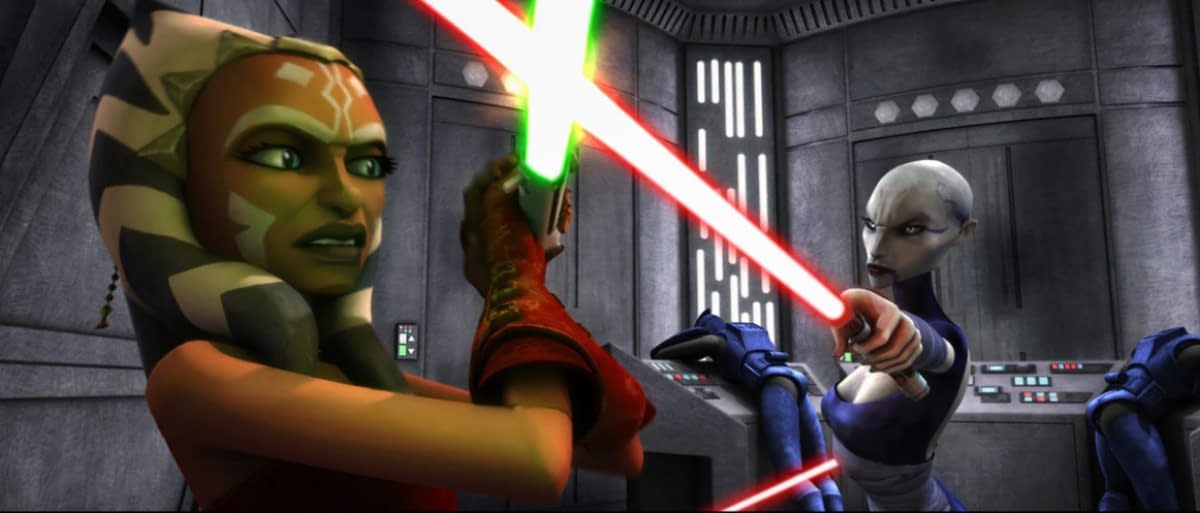 Season 1 Episode 10 "Lair of Grievous"
Master Kit Fisto (Phil LaMarr) and Nahdar Vebb (Tom Kenny), an overconfident redshirt of a Mon Cal Jedi Knight, are tracking fugitive Gunray. And, well, its a trap! Dooku's (Corey Burton) plan fails, Grievous and Fisto both survive. Does anyone actually follows the Jedi code?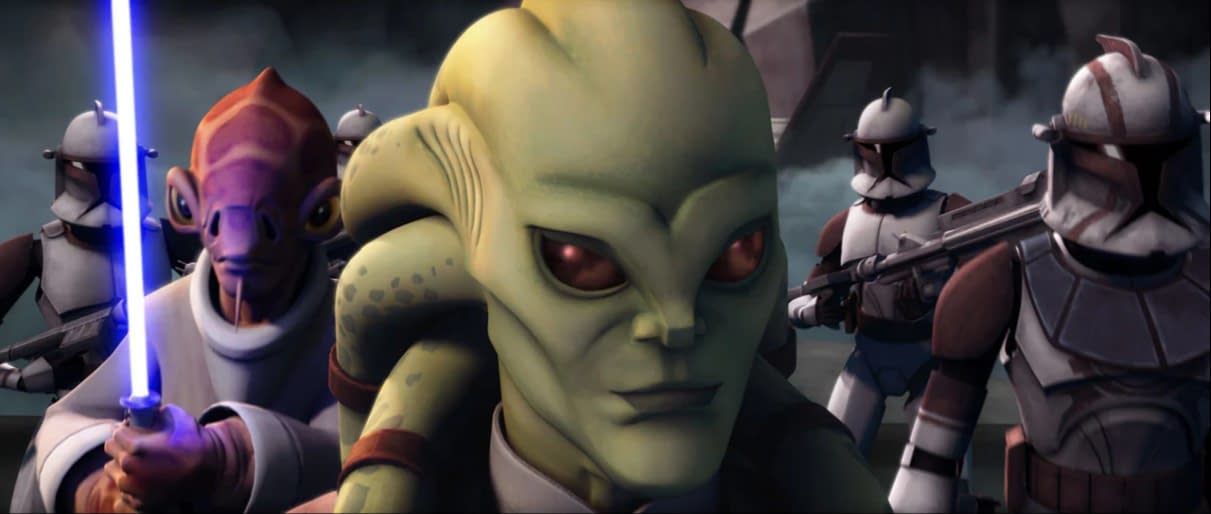 Season 1 Episode 11 "Dooku Captured"
Obi-Wan goes solo to find a captured Anakin, with no plan, and they crash-land on the same planet as Dooku. Ahsoka saves them AGAIN. Of course, they claim they were fine. Dooku leaves on a legit flying saucer. Does no one wonder who Dooku works for? Oh, hi Hondo (Jim Cummings)!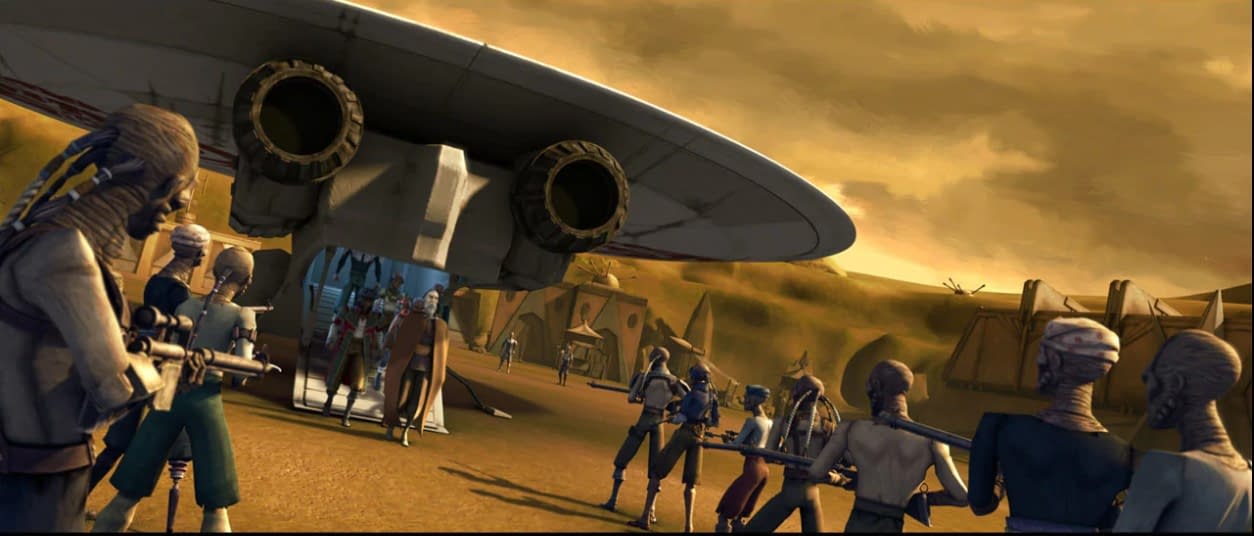 Season 1 Episode 12 "The Gungan General"
Sending Jar Jar to deliver a ransom is the #1 sign Palpatine (Ian Abercrombie) is evil. How many force users does it take to escape a jail cell? Jar Jar makes animal friends and influences clones, accidentally saving the day. Dooku escapes. But the Jedi leave Hondo on good terms.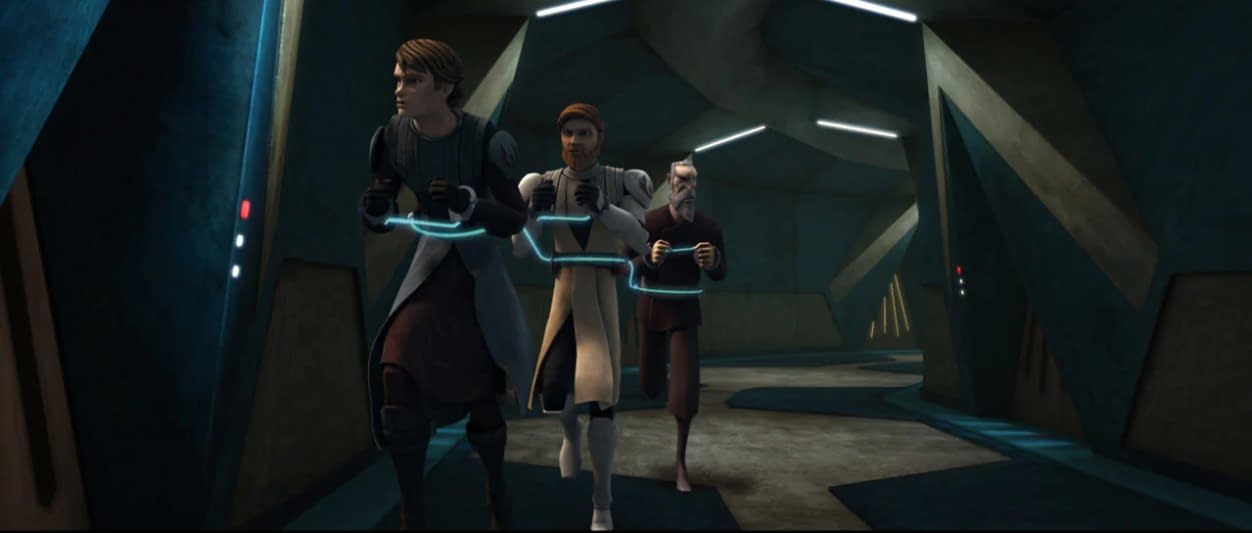 Season 1 Episode 13 "Jedi Crash"
Anakin and Ahsoka go to save Aayla Sekura (Jennifer Hale), and a kickass battle sequence is the result. Anakin "sacrifices" himself and Ahsoka almost gets everyone killed saving him. Aayla tells Ahsoka "Don't lose a thousand lives just to save one." If only Anakin had listened.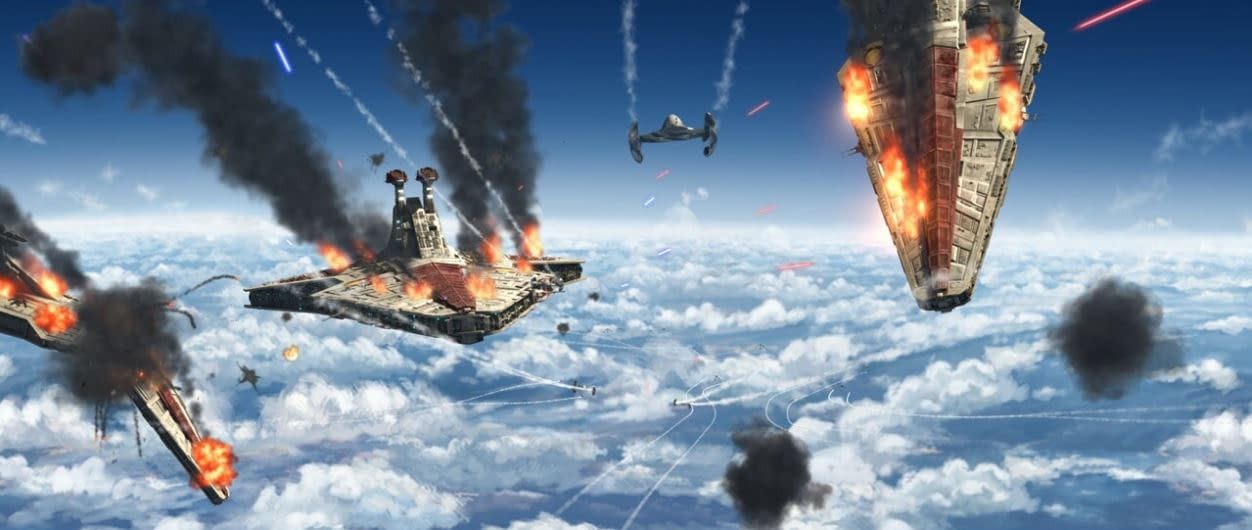 Season 1 Episode 14 "Defenders of Peace"
Everyone is saved by a village of pacifist raccoons with bad Irish accents. Separatists want to test a new life-destroying weapon on the locals. The village must decide between their ideals and their lives. The Republic protects and the young raccoons fight. But at what cost?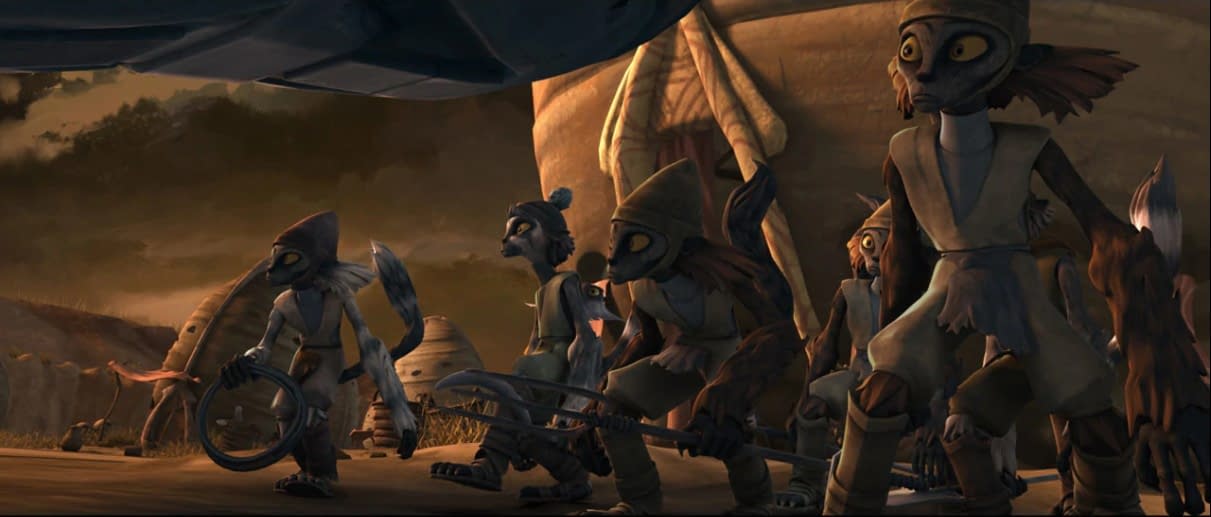 Star Wars: The Clone Wars Returns
Come back next week for more Retweeting 'The Clone Wars' – while Star Wars: The Clone Wars season 7 premieres February 2020 on Disney+.