Earlier this week, we reported on the burgeoning feud between Arrow star Stephen Amell and Guardians of the Galaxy star Dave Bautista, over the latter's upcoming No Holds Barred match with Triple H at WrestleMania, with Amell tweeting:
Just landed and found out about @DaveBautista v @TripleH — Really pumped for the match but also don't want to see a celebrity angle detract from an awesome wrestling card. 😶

— Stephen Amell (@StephenAmell) March 12, 2019
Though it seemed an obvious joke, since Amell himself has been involved in multiple celebrity wrestling angles in and outside of WWE, Bautista seemed to take the comment seriously, replying:
Considering that celebrity could actually fuck someone up, and that celebrity is a former 6x heavyweight champ, and that celebrity is there because he loves it, maybe it just adds to the card. Maybe. https://t.co/RGztvWphiQ

— Dave Bautista (@DaveBautista) March 12, 2019
Well, after that exchange, Amell responded again, fearing that The Animal might show up at a Hollywood event yelling GIVE ME WHAT I WANT and getting spit all over Amell's chiseled abs. Amell tweeted:
Hey Dave — I went out of my way to introduce myself to you in Atlanta at a convention so I could tell you what a big fan of yours I am. You couldn't have been more pleasant. My tweet was meant to poke fun at me. It clearly wasn't funny. Please don't kill me. https://t.co/eCrMVdCi27

— Stephen Amell (@StephenAmell) March 12, 2019
So does that put this feud to rest? Well, Bautista hasn't responded. Maybe he's muted Amell for his rude comments. Maybe Amell is looking for a job in the Marvel Cinematic Universe now that Arrow is ending? Maybe he doesn't want things to be awkward when Bautista jumps to DC to join his pal James Gunn on Suicide Squad? Or maybe Amell has worked himself into a shoot, brother. We'll keep you posted on this developing story for sure.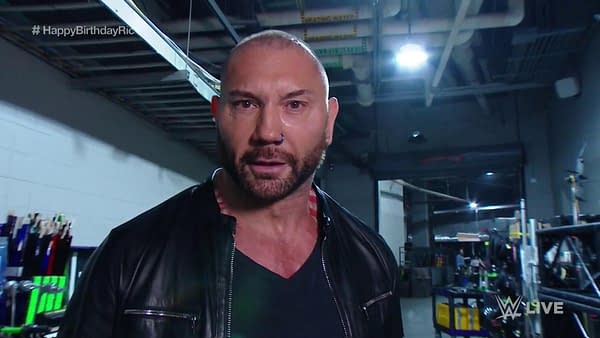 Enjoyed this article? Share it!