The Flash Future: Blackest Night, Forever War, Justice League & More
The Flash Showrunner/EP Eric Wallace discussed some of the storylines the show would've tackled with Season 10 and beyond.
---
Earlier today, we looked at what The CW's The Flash showrunner Eric Wallace had to share regarding his original plan to give DC's Legends of Tomorrow a proper one- or two-episode wrap-up during the ninth & final season before learning that the season had been reduced from 20 to 13 episodes. Now, Wallace is talking "bigger picture" with Swara Salih from The Nerds of Color (check it out here) in terms of the storyline arcs the creative team was aiming for if the show was moving forward with a tenth season. "Gosh, there's just so many. I'm so bummed! We were gonna do all kinds of things," Wallace revealed… including following up on John Diggle's (David Ramsey) moment involving a certain box with that green glow.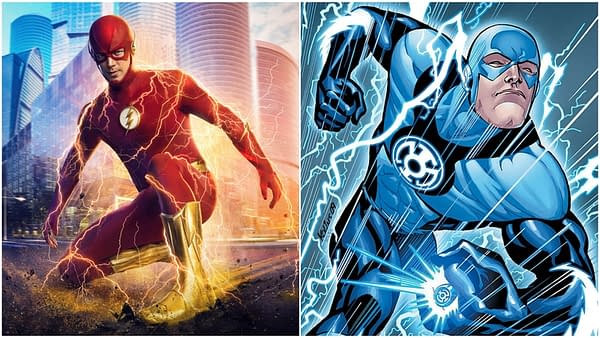 "I can tell you we were going to tackle 'The Forever War' storyline, which is something that I come up [with] for Season 10. That was going to be a season opener, and we've been hinting at it… I wanted to do a full-on crossover with as many characters as possible. 'The Blackest Night' storyline that we started hinting at last year with Diggle and the box. So yeah, it kind of bums me out that we're not going to do that. I wanted to bring Despero with his alien friends and have a full-on alien invasion. That would have featured the Justice League at the Hall of Justice coming in and helping Barry. We're not going to do that either. So these things happen," Wallace shared.
But with that said, the showrunner/executive producer added that quite a few things he wanted did make the cut. "Having said that, on my bucket list of things I did want to accomplish, you'd be surprised that over half of them are in, so there are spoilers I can't really talk about. We just took episode 200 and turned it into the series finale, so I'm very happy that we're actually getting to do that. And it's going to be an incredibly emotional story specifically for Barry and the fallout from it and how he and Iris kind of handle it."
The Flash S09E01, S09E02 & S09E03 Overviews & More!
The Flash Season 9 Episode 1 "Wednesday Ever After": SEASON PREMIERE – Barry (Gustin) creates a map book to guide him and Iris (Patton) throughout their future in order to keep her safe, but the results are not what he expected, and instead, they relive the same day over and over again. Joe (Jesse L. Martin) has a heart-to-heart with Cecile (Danielle Nicolet). A new big bad is introduced to Team Flash, and friends and foes, old and new, begin to descend upon Central City. Vanessa Parise directed the episode with the story by Eric Wallace and teleplay by Thomas Pound & Sarah Tarkoff.
The Flash Season 9 Episode 2 "Hear No Evil": NEW KID IN TOWN – Barry (Gustin) feels guilty for what happened to Caitlin, and Mark (Jon Cor) comes up with a plan which makes everyone skeptical. Meanwhile, Red Death looms in Central City and commands that failure is not an option. Joe (Martin) asks Cecile (Nicolet) to make a choice which leads Cecile to think about the greater good. Allegra (Kayla Compton) and Chester (Brandon McKnight) take a step in a new direction. Lastly, old friends pay an unexpected visit to S.T.A.R. Labs. Eric Wallace directed the episode written by Jonathan Butler & Kristen Kim.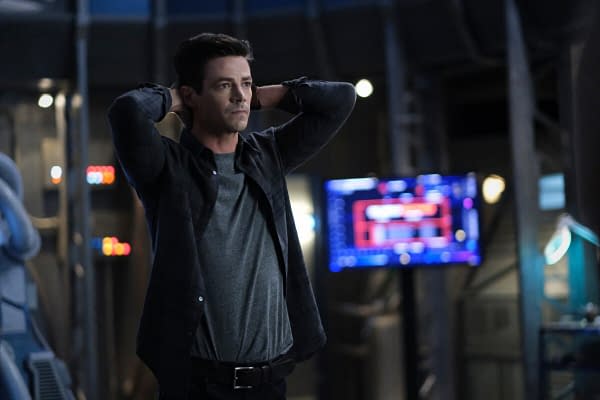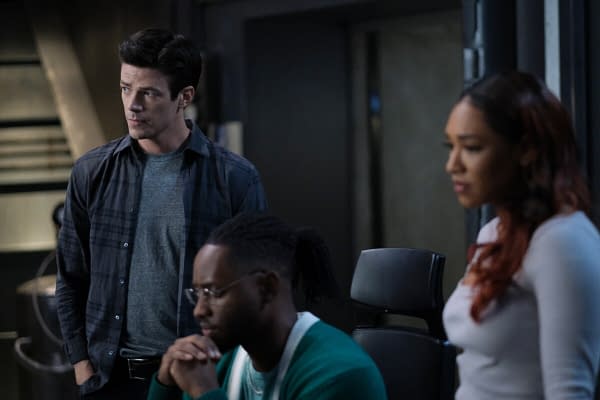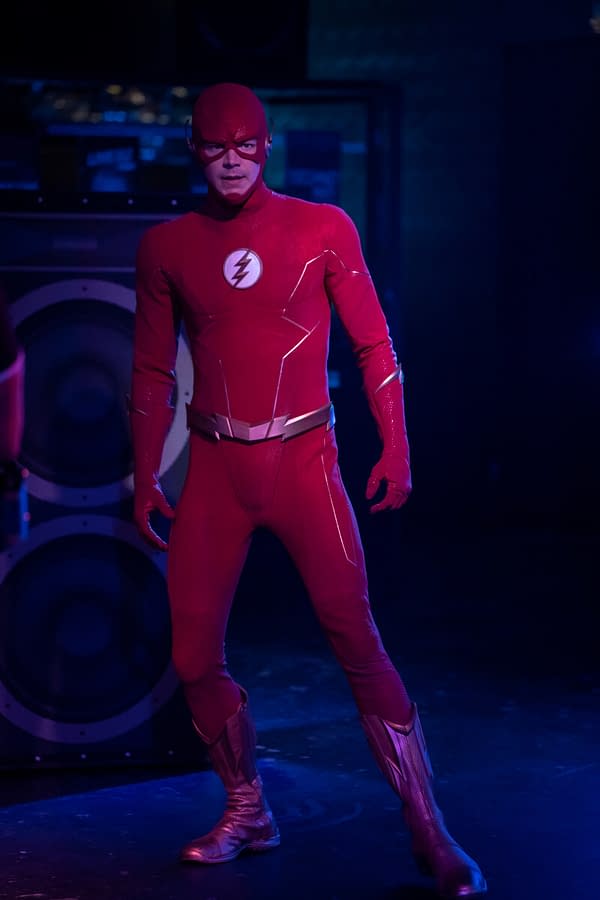 The Flash Season 9 Episode 3 "Rogues of War": ON THE MOVE – Barry (Gustin) and Iris (Patton) start to put together the pieces of what's happening in Central City and believe they know what the Rogues are after. Team Flash works together and recruits some unlikely allies to help, and the plan does not go as Team Flash expects. Meanwhile, Allegra (Compton) does her best to avoid having a conversation with Chester (McKnight). Brenton Spencer directed the episode, with a story by Sam Chalsen and written by Jeff Hersch & Jess Carson.
After defeating the Reverse Flash once and for all, the 13-episode Season 9 picks up one week later following their epic battle, and Barry Allen (Gustin) and Iris West-Allen (Patton) are reconnecting and growing closer than ever before. But when a deadly group of Rogues descends on Central City led by a powerful new threat, The Flash and his team – Caitlin Snow (Panabaker), Meta-Empath Cecile Horton (Danielle Nicolet), the light-powered meta Allegra Garcia (Kayla Compton), brilliant tech-nerd Chester P. Runk (Brandon McKnight), and reformed cryogenics thief Mark Blaine (Jon Cor) – must once again defy impossible odds to save the day. But as The Rogues are defeated, a deadly new adversary rises to challenge Barry Allen's heroic legacy. And in their greatest battle yet, Barry & Team Flash will be pushed to their limits to save Central City one last time.
Joining the cast for the show's final run are Javicia Leslie (Ryan Wilder/Batwoman), Nicole Maines (Nia Nal/Dreamer), Keiynan Lonsdale (Wally West/Kid Flash), David Ramsey (John Diggle/Spartan), Sendhil Ramamurthy (Ramsey Rosso/Bloodwork), Stephen Amell (Oliver Queen/Green Arrow), Rick Cosnett (CCPD Det. Eddie Thawne), Matt Letscher (Eobard Thawne(s)/Reverse-Flash), and Jessica Parker Kennedy (Nora West-Allen/XS).