The Idol Star/EP The Weeknd Responds to Reports of HBO Series Turmoil
Abel "The Weeknd" Tesfaye & others have responded to a Rolling Stone report that there is turmoil on the set of HBO & Sam Levinson's The Idol.
---
There were rumblings about creative issues going on behind the scenes of Sam Levinson (Euphoria), Abel "The Weeknd" Tesfaye, and Reza Fahim's Tesfaye & Lily-Rose Depp-starring The Idol back in April 2022. That's when we learned that director Amy Seimetz (The Girlfriend Experience, Atlanta) had exited the series after a number of the series' initial six episodes were finished. Reports were that "a change in creative directions" resulted in "changes to its cast and crew" and that sources were reporting that Tesfaye was concerned that the series was expressing too much of a "female perspective" (Levinson would take over a director). Since that time, three teasers for the drama have been released, but a Rolling Stone (RS) report that was released today is definitely not the kind of release the HBO Series was hoping for. In "'The Idol': How HBO's Next 'Euphoria' Became Twisted 'Torture Porn,'" sources referenced in the report claim that the production has become a mix of poor working environment, budgetary concerns, constant script changes, and more.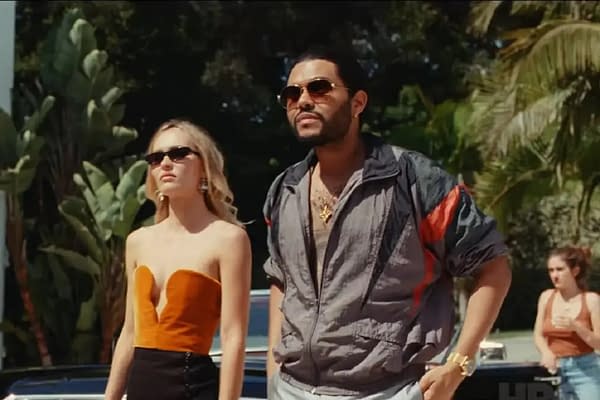 In the RS report, a number of allegations are made from sources reportedly involved with or close to the production. Since Levinson took over as director, those speaking with RS say that the cable series has "gone wildly, disgustingly off the rails," with "divisions among Levinson's inner circle" and poor communication among the production staff. On the budgetary/financial side, it's alleged that Levinson decided to scrap "the nearly-finished $54-75 million project to rewrite and reshoot the entire thing." In addition, sources called out Levinson for scenes that were later scrapped and that were referred to by one source as "torture porn." In one scene that didn't make the cut, "Tesfaye bashes in Depp's face, and her character smiles and asks to be beaten more, giving Tesfaye an erection." In response, according to the RS report, "Tesfaye's character would refuse to 'rape' her — which sent Depp's character into a spiral, begging him to 'rape' her because she believed he was the key to her success."
On the HBO series' part, a source reportedly close to the production spoke with Variety, clarifying that Levinson only scrapped the pilot and not all of the episodes that Seimetz directed. With regard to the alleged cut scene that was described above, Variety's sources claim that no one who has spoken with RS has seen the finished series and that its "female perspective" was still very much in place. The initial approach on the show and production of the early episodes, unfortunately, did not meet HBO standards, so we chose to make a change. Throughout the process, the creative team has been committed to creating a safe, collaborative, and mutually respectful working environment, and last year, the team made creative changes they felt were in the best interest of both the production and the cast and crew," HBO shared in a statement with Variety.
In a released statement to Variety, Depp defended Levinson, adding, "Sam is, for so many reasons, the best director I have ever worked with. Never have I felt more supported or respected in a creative space, my input, and opinions more valued. Working with Sam is a true collaboration in every way — it matters to him, more than anything, not only what his actors think about the work but how we feel performing it. He hires people whose work he esteems and has always created an environment in which I felt seen, heard, and appreciated." And Tesfaye took to Instagram in what appeared to be a post pushing back on RS's report, writing, "Did we upset you?" to accompany a clip from the series where Depp's pop star Jocelyn is pitched for a photo shoot for the cover of Rolling Stone. But as you're about to see, Tesfaye's Tedros isn't exactly impressed with the deal:
Here's a Look at What We Know So Far About HBO's The Idol
Written by Levinson, Tesfaye, Fahim & Joe Epstein, the six-episode drama is set against the backdrop of the music industry and centers on a self-help guru and leader of a modern-day cult who develops a complicated relationship with an up-and-coming pop idol. Depp and Tesfaye are joined by Troye Sivan, Jennie Kim, Debby Ryan, Rachel Sennott, Steve Zissis, Hari Nef, and Juliebeth Gonzalez. In addition, Melanie Liburd, Tunde Adebimpe, Elizabeth Berkley, Nico Hiraga, Anne Heche (in one of her last roles), Maya Eshet, Tyson Ritter, Kate Lyn Sheil, Liz Caribel Sierra, Finley Rose Slater, Suzanna Son, Moses Sumney, Jane Adams, Dan Levy, Jennie Ruby Jane, Eli Roth, Da'Vine Joy Randolph, Mike Dean, Ramsey, and Hank Azaria also star. Here's a look at the third official teaser for HBO's The Idol:
"When the multi-talented Abel 'The Weeknd' Tesfaye, Reza Fahim, and Sam Levinson brought us 'The Idol', it was clear their subversive, revelatory take on the cult of the music industry was unlike anything HBO had ever done before. Shortly after, the brilliant duo of Joe Epstein and Amy Seimetz joined forces with the rest of the team, and this dream became a reality," said Francesca Orsi, Executive Vice President, HBO Programming, at the time the series was first announced. Stemming from A24, Levinson, The Weeknd, Fahim, Epstein, Seimetz, Kevin Turen (HBO's Euphoria), Ashley Levinson (HBO's Euphoria), Nick Hall (HBO's The White Lotus), Sara E. White (Station 19), and Aaron Gilbert (for BRON) executive produce.