Hi, my name is Leigh. I am 6'3" tall, clock in at about 240 pounds, and have been knocked out of second story windows. I've been hit by several cars. I used to work with kids with terminal illness. And yet, I don't cry much.
It's not a machismo thing, I just don't like crying. Some things get me every time, like thinking about when my kids were born, or about happy times with missing friends. But entertainment media doesn't get me to cry too often.
The Magicians fourth season finale, "No Better Safe Than Sorry" pretty much busted my dried out empty husks of tear ducts and had those suckers streaming for the better part of 15 minutes.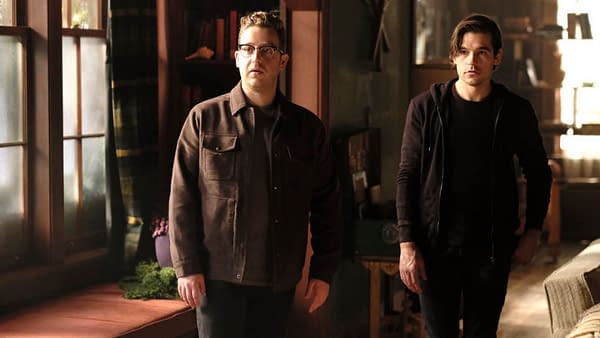 What did it? Was it the acting? No. While the performances from this ensemble cast was wonderful, that didn't do it. Nor did the script, which had our heroes in the finest form they've ever been in.
It was a cover of A-Ha's 1985 mega hit, "Take On Me." I'm getting a little choked up just thinking about it.
Let's throw up the spoiler signal while I find a big, manly handkerchief to dry my eyes.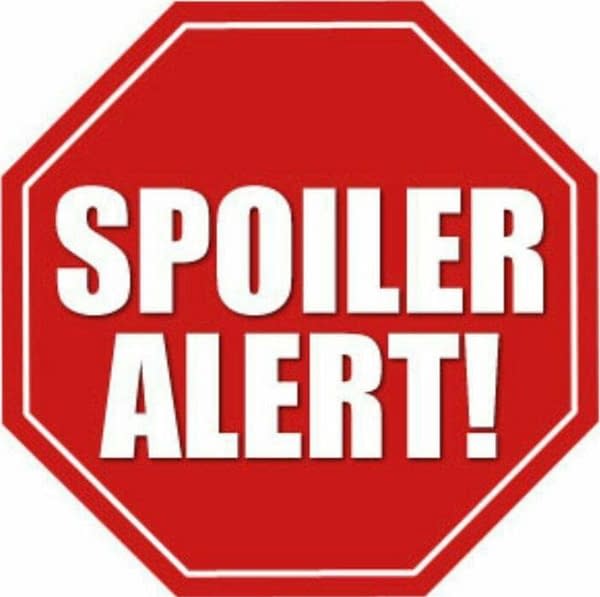 Okay, where were we? Oh, yeah. "Take On Me." This is a love song, right? It's amazing, though, that in the right circumstances, even the lightest, fluffiest of pop songs can become a testimony to a lost friend. And, oh, wow… did these kids lose a friend.
We'll get back to that in a moment.
Quintin (Jason Ralph) and Alice (Olivia Taylor Dudley) manage to distract the Sister Monster (Stella Maeve) long enough to let Penny (Arjun Gupta) attack her with one of Margo's (Summer Bishil) magic axes. They manage to bottle the Sister Monster's essence in a demon bottle, but they're running dangerously low on magic now, and Julia needs immediate help.
The Binder (Matt Frewer) informs Penny that Julia will remain in pain for Millennia unless a choice is made for her- a choice that she's not conscious to make. Should she live out her life as a mortal human, or become a god again, losing her humanity in the process?
Penny makes the choice for her, and the fallout is breathtaking and beautifully done. We're talking about those grey areas regarding consent and body autonomy that women deal with every day, and how men, even well meaning men, often times make decisions without understanding the effects those decisions have on the women around them.
And sadly, that choice robbed Julia of all magical ability. She's perfectly mortal now, so perfectly mortal that she can't cast spells anymore.
It's an issue that takes a lot more than a show about kids with magical powers to tackle, but hopefully this can lead to bigger conversations for people later.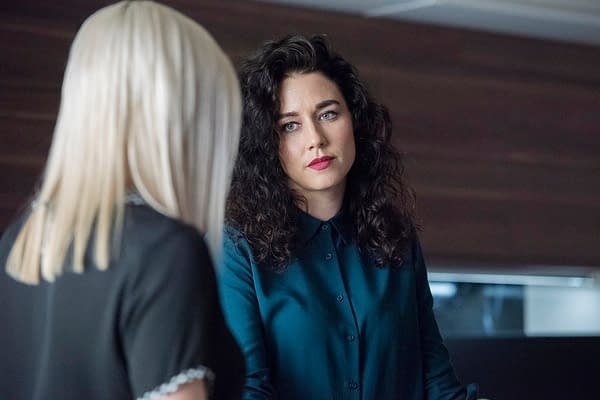 There is a void between positive and negative dimensions that the Monster Siblings can be hurled into, never to be seen again. Quintin (Jason Ralph) and Josh (Trevor Einhorn) have an incredibly amusing journey to the waiting room of the Old Gods, where they are given advice on containing the Monsters, and some extra tasty cake.
The way this show flings around humor. It's a gift.
Alice (Olivia Taylor Dudley), Quintin, and Penny decide to take the bottled-up Monster Siblings into the mirror dimension, but they don't have the magic to pull it off.
So, Kady (Jade Tailor) figures out a way to unite all the Hedge Witches on the planet (at least those that can be talked into it) in a desperate attempt to cast a powerful enough spell to pull off the mission.
It's beautiful. All these scenes of people performing the same tuts, casting the same spell, and the away team pulling off the first part of the mission, which allowed them to capture the Monster of Blackspire Castle and freeing Eliot.
Now comes the gut-punch- Alice throws her bottle into the void, entrapping the Monster Sister. Everett (Brian Markinson) shows up, though, demanding the remaining demon bottle so that he can ascend to godhood. Quintin refuses, and Everett smashes the mirror portal to the void.
Quintin uses his talent, repair of small objects, and mends the mirror- and throws the last demon bottle into the void.
There's a problem, though: magic cast in the mirror dimension will cause a reflexive defense mechanism, and the caster will be destroyed, which is exactly what happens to Everett… and Quintin.
The look on Alice's face as she watches him disintegrate. I will never, ever again question Olivia Taylor Dudley's acting ability.
Quintin finds himself in the Underworld with Penny 40, who appears to show him the ropes.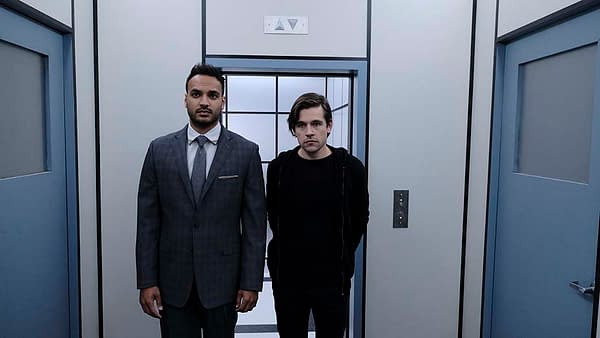 Quintin isn't sure about his sacrifice. He's been suicidal most of his life, and he's not sure if he gave up his life to make a difference, or just figured out the ultimate way to end his life.
Penny takes him to observe his friends. They've gathered around a fire, and they start to sing that A-Ha song. We already know this group has some great singers in it, but here they're all together, singing a very familiar song in a completely unfamiliar way.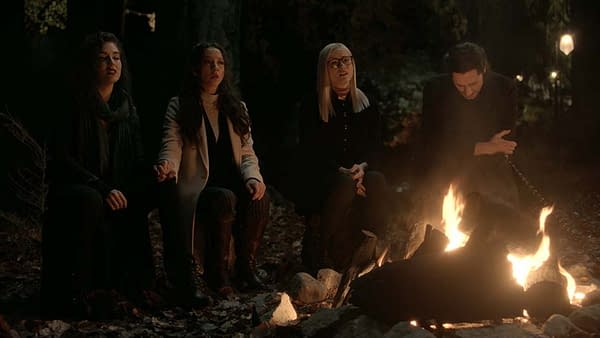 It will always be a song about loss for me now, but also a song about remembering the things that make life wonderful.
Julia's farewell to Quintin, with his old deck of cards, was so amazing. It was such an exceptional farewell to an old friend, and lovely to see.
Now, we're also faced with the reality of The Magicians without Jason Ralph, who has left the show after the fourth season. Quintin Coldwater is, for all intents, truly dead on the show.
How they managed to keep Ralph's exit secret in the information age might be the greatest magic trick of all.
Where does The Magicians go from here? I have no idea. The show has been renewed for a fifth season, which will debut in 2020.
Hopefully, I'll have myself composed a little better by then.

We can all help prevent suicide. The Lifeline provides 24/7, free and confidential support for people in distress, prevention and crisis resources for you or your loved ones, and best practices for professionals. If you, or someone you know is struggling right now, please contact the National Suicide Prevention Hotline at 1-800-273-8255.
Enjoyed this article? Share it!