The Penguin: HBO Max Series Casts Clancy Brown as Salvatore Maroni
Clancy Brown (Dexter: New Blood) has been cast as mob boss Salvatore Maroni in HBO Max's upcoming Colin Farrell-starring series, The Penguin.
---
With production underway on writer & showrunner Lauren LeFranc and HBO Max's upcoming Colin Farrell, Cristin Milioti, Rhenzy Feliz, Michael Kelly, Shohreh Aghdashloo & Deirdre O'Connell-starring The Penguin, the streaming series has turned to Clancy Brown (Dexter: New Blood) to recur as mob boss Salvatore Maroni in the spinoff series set in the universe of Matt Reeves' The Batman. First introduced in the comic books, Maroni is a powerful gangster in Gotham City and one of Batman's sworn enemies. Though Maroni's biggest impact on Batman lore was his disfiguring Gotham City D.A. Harvey Dent, who would go on to become the villain Two-Face.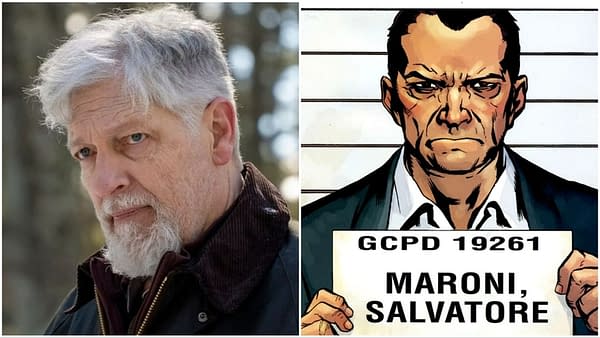 Here's a look back at what Farrell had to share about the spinoff series during his interview with Gold Derby:
Farrell Can't Wait for Us to See the Make-Up: "You'll be blown away by the makeup because it's just… I don't know how, and I don't know enough about the materials and about the different choices of skin tone that Mike Marino and Mike Fontaine are using. But the makeup is even somehow, in a very subtle way, even better. It's just more perfected."
Farrell Shares Production/Filming Update: "So I'm in New York now. I'll head back to Los Angeles tomorrow. We've spent the last two days, three days in New York doing makeup tests and camera tests with wardrobe and stuff and meeting some of the other actors… and we start shooting on the 27th or 28th of this month."
Farrell: "Penguin" Is Dark, But…: "The 'Penguin' show is dark, but I've just got such license to explore in it, and there's such a… I've spoken… referred to it before… such a freedom beneath the makeup. There's some permission you're given to explore in a way that's hard to give yourself when it's just your visage."
Farrell on "F***ing Great" Series Scripts: "I've read the first five of eight, and they're, without shadow a doubt, extraordinary scripts. They're so good, man… it's f***ing great stuff"
"The only thing I had an idea was that I wasn't nearly getting to explore the character as much as I wanted to. Because there was all this extraordinary work done by [makeup artists] Mike Marino and Mike Fontaine and his team, and I just thought it was the tip of the iceberg, pardon the pun, that we were getting to do the six or seven scenes that we did in the film. I was grateful for them, but I wanted more," Farrell shared during an interview with Variety ahead of last month's Golden Globe Awards ceremony. In fact, Mike Marino & Mike Fontaine's makeup work inspired Farrell to discuss Oswald's future with producer Dylan Clark. "Honest to god, any thought I had about an extended series was to do with Mike Marino's work. I just knew there was so much to do with it — age it up, age it down. He's just such a genius, Mike, so it was his work that was the inspiration, really," Farrell added. Now, here's a look at a video of the interview, followed by a clip of Farrell sharing what happened when he took a trip to a Starbucks in character after the first makeup test:
Based on characters created for DC by Bob Kane with Bill Finger, The Penguin is produced by Reeves' 6th & Idaho Productions and Dylan Clark Productions in association with Warner Bros. Television. Reeves, Farrell, LeFranc, Clark, and 6th & Idaho's Daniel Pipski & Adam Kassan serve as executive producers, and Rafi Crohn is a co-executive producer. Emmy Award-winning director Craig Zobel (Mare of Easttown) is set to direct two episodes and executive produce.