The Rookie Posts Behind-the Scenes Teaser for S05E18 "Double Trouble"
Returning to to our screens on March 21st, here's a look at a fun behind-the-scenes teaser for ABC's The Rookie S05E18 "Double Trouble."
---
So the last time we checked in on how things were going with ABC's Nathan Fillion-starring The Rookie ahead of its return next week with S05E18 "Double Trouble" (huge apologies for the screw-up in our last update), series star Eric Winter (Tim Bradford) was sharing a sneak preview of his "new look" for the episode that included a peek at some neck ink (or tats, or tattoos). Well, we get to see more of that – and a lot more of the cast & crew – in a behind-the-scenes teaser that was released, which offers a number of looks at how the episode came together. Now… where are those preview images?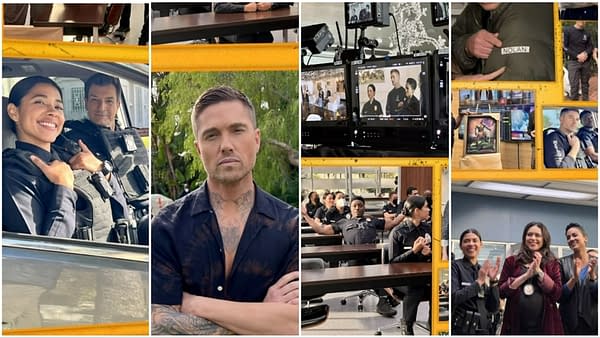 Here's a look at the behind-the-scenes slideshow teaser released for next week's return episode:
"Season 5 of [The Rookie] is wrapped, and what an awesome season it's been. BIG thank you to all our fans! What has been your favorite part of season 5 so far? Remember, we are back [on] March 21st on ABC! #imwatchjngyou #vamos #season6," wrote Winter as the caption to his Instagram post from last week, confirming that filming has wrapped on the fifth go-around:
With the popular series set to return on March 21st, here's a look at the promo for S05E18 "Double Trouble," offering a "mockumentary" look at the team in action:
ABC's The Rookie stars Nathan Fillion as John Nolan, Mekia Cox as Nyla Harper, Alyssa Diaz as Angela Lopez, Richard T. Jones as Sergeant Wade Grey, Melissa O'Neil as Lucy Chen, Eric Winter as Tim Bradford, Shawn Ashmore as Wesley Evers, Jenna Dewan as Bailey Nune, Tru Valentino as Aaron Thorsen, and Lisseth Chavez as Celina Juarez. Alexi Hawley is the series creator, writer, and executive producer. Mark Gordon, Nathan Fillion, Michelle Chapman, Jon Steinberg, Bill Norcross, Bill Roe, and Brynn Malone are executive producers of the series. Entertainment One (eOne) is the lead studio on The Rookie, a co-production with ABC Signature.