Today's Batgirl #28 sees Barbara Gordon flashback to moments that may not be forgotten…

While Old Lady Harley #1 who has her own history with the man, looks to a future where that may not be an issue as much… as well as the second best line in a superhero comic today (Black Panther Vs Deadpool has the best)…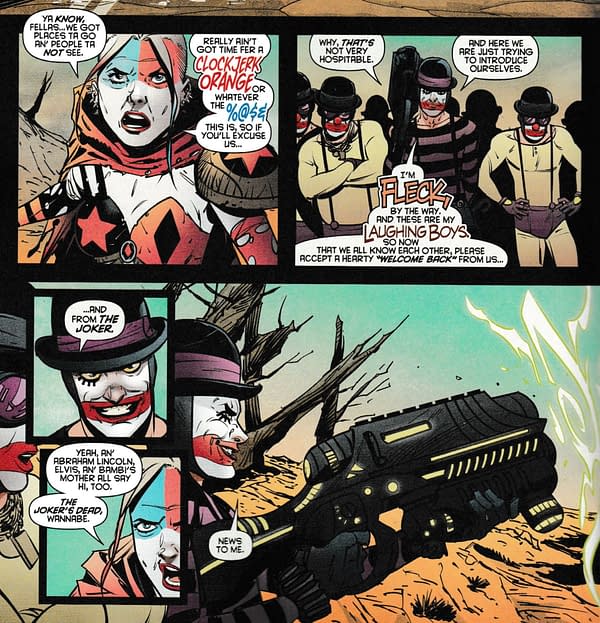 However Batman Beyond #25, sharing a future timeline it seems with Old Harley Quinn, is bringing someone back…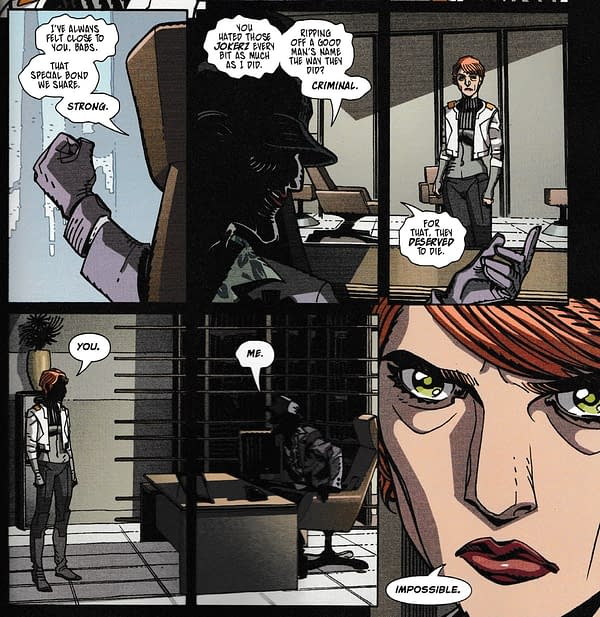 Somedays you just can't get rid of a Joker.
BATGIRL #28 FOIL
(W) Mairghread Scott (A) Paul Pelletier, Norm Rapmund (CA) Julian Totino Tedesco
Even millennial superheroes are moving back in with their parents! While recovering from the injuries she suffered battling Grotesque, Barbara Gordon's been living with her police commissioner dad while she recuperates. To get Barbara out of her funk, Jim Gordon hires her to do some I.T. grunt work at the GCPD. Unfortunately, he just gave full security clearance to one of the best hackers on the planet! Batgirl now has access to the police database in hopes of capturing Grotesque…who also seems to be using the database as well! Is this an inside job? In Shops: Oct 24, 2018 SRP: $3.99

OLD LADY HARLEY #1 (OF 5)
(W) Tieri, Frank (A) Inaki Miranda (CA) Mauricet
After liberating New York City from her now-feral Gang of Harleys, poor Harley wants nothing more than to slip back into retirement in her coastal (and heavily guarded) paradise. But the Laughing Boys Gang has another idea-they'll follow her to the ends of the Earth, to drag her back to their leader! It can't actually be…him! Right?! He couldn't possibly still be alive, could he? After all…Harley killed him herself with her bare hands! Should she turn to President Power Girl for help? Or flee to the 51st state, Atlantis? Step into an insane vision of a future DC Universe we all better hope we don't live to see! In Shops: Oct 24, 2018 SRP: $3.99

BATMAN BEYOND #25 FOIL
(W) Dan Jurgens (A) Cully Hamner (CA) Viktor Kalvachev
In this special oversize issue, legendary DC scribe Dan Jurgens is joined by superstar artist Cully Hamner (Batman and The Signal) to bring back the biggest baddie of them all in "The Final Joke."
The dedication of a new building commemorating a special Wayne family event-the 100th birthday of Thomas Wayne-brings out all of Neo-Gotham's familiar faces, including one who was definitely not on the guest list. The Joker makes his long-awaited return to Neo-Gotham, and no one is safe! Will he strike at Batman, Robin, Commissioner Barbara Gordon or the original Caped Crusader himself, Bruce Wayne? Decades after his last fight with the Dark Knight, the Clown Prince of Crime returns home to take his city back once and for all. In Shops: Oct 24, 2018 SRP: $4.99
Enjoyed this article? Share it!