Bathroom Bulletins: DC to Launch Heroes in Crisis Hotline Alongside Super-Mega-Crossover Event
On Wednesday, we learned the name of DC's next big super-mega-crossover event: Heroes in Crisis, a story by Tom King and Clay Mann about the superheroes of the DC Universe dealing with the trauma of all the violence (often inflicted by the superheroes of the DC Universe) at a mental health center called Sanctuary. The center is run by Superman, Batman, and Wonder Woman, and most of the DC heroes have visited to deal with their stuff, but whoops, now they're all dead and hilarity ensues in the event that's sure to make fans of Identity Crisis weep with nostalgia, and others, just weep!
But Bleeding Cool is excited to reveal that we have the scoop on DC's plans to promote the comic by opening a real Heroes in Crisis hotline ($2.99 per minute, get your parent's permission before you call*). This flyer was found crumpled up behind the toilet of a Jack in the Box in Burbank, California, by one of our loyal readers and sent in immediately so we could post it before our competitors (not that most of them will credit us when they repost it tomorrow morning anyway). Check out the flyer below, and don't forget to call multiple times if you really hate Jason Todd.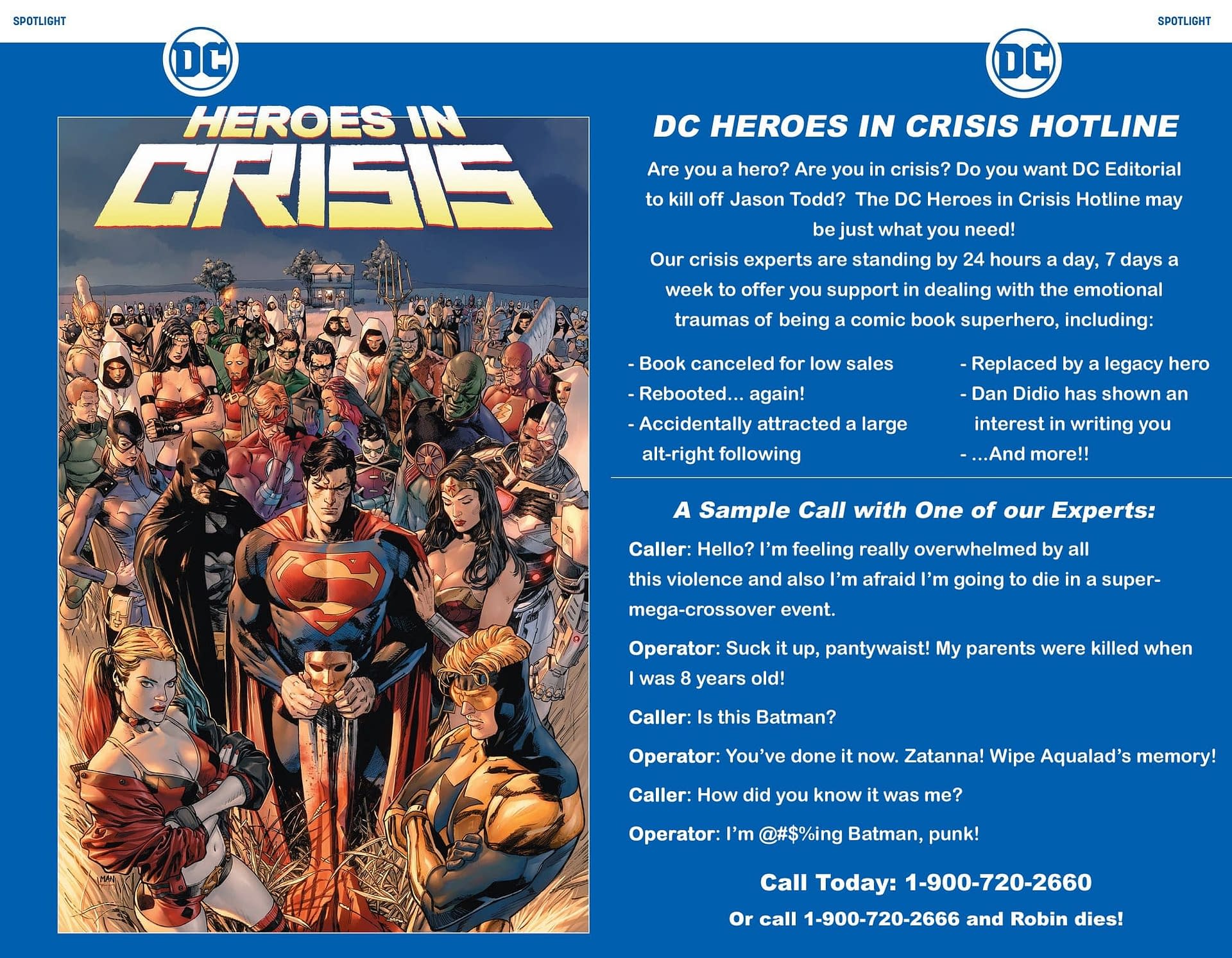 * Don't actually call
---
Bathroom Bulletins are rumors and gossip reports based on information sent to Bleeding Cool by the Pooper Scoopers, an elite spinoff of the Bleeding Cool spy corps known as Little Bleeders, who hide inside the stalls of restrooms at comic cons and anywhere comics professionals frequent, hoping to overhear scoops about tomorrow's steamiest piles of comic book news. Bleeding Cool is unable to verify the veracity of these reports, so please take them with a grain of salt and remember to flush and wash your hands when finished reading.
Read more Bathroom Bulletins here: