I love a good time travel fight. Bill And Ted's Excellent Adventure's realisation that they could get a future version of themselves to help them if they really, really tried to remember to do it later paved a way for Bogus Journey's stage fight where each participant keeps planning how to defeat the other by constantly going back in time to get things ready in advance.
Steven Moffat took advantage of that to full effect in his Comic Relief special Doctor Who And The Curse Of Fatal Death, as well as his superior short story Doctor Who: Continuity Errors. Mark Millar made it far creepier in The Authority, having his alternate version of The Doctor (name not a coincidence) go back in time to molest The Engineer as a young teenager, in the middle of their fight. Yeah. Where was social media then? But I first came across the principle in Harry Harrison's Technicolor Time Machine where a future version of the protagonist hands the current version the thing he had run out of time to make, even with time travel – by making it in the future instead.
Today's Extermination #5 does a very similar trick. Sure, they have to send the Original Five back to their timeline, with memories and physical changes erased. But, in mid fight with a couple of teenagers turning all the mutants into Hounds, they can make a pit stop along the way.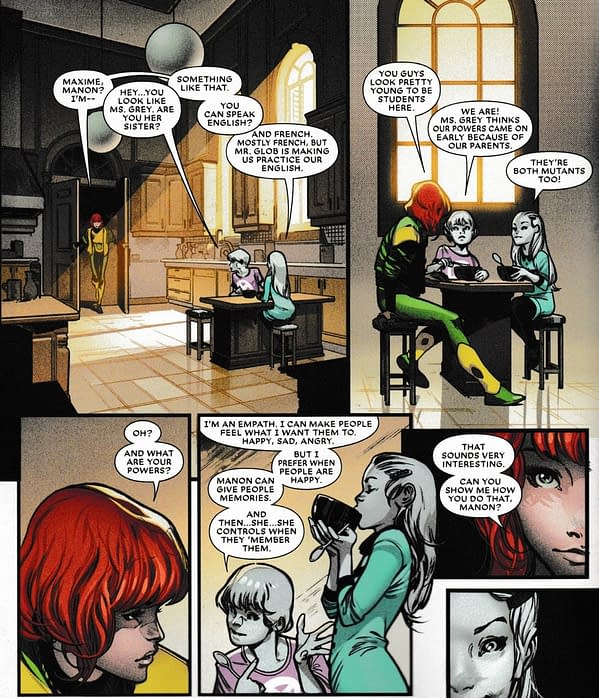 Find those teenagers, set up their defeat – and also save their own memories in the process. It is a very, very good time travel trick, even if it opens up a Bill And Ted-sized can of interdimensional worms. But at least all the toys get put back in their boz, aside from a Teen Cable destined to be killed by himself decades later…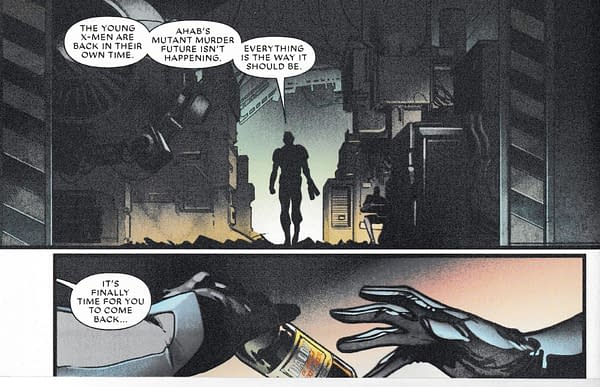 Oh and reuniting a boy with his father as well. What's not to love?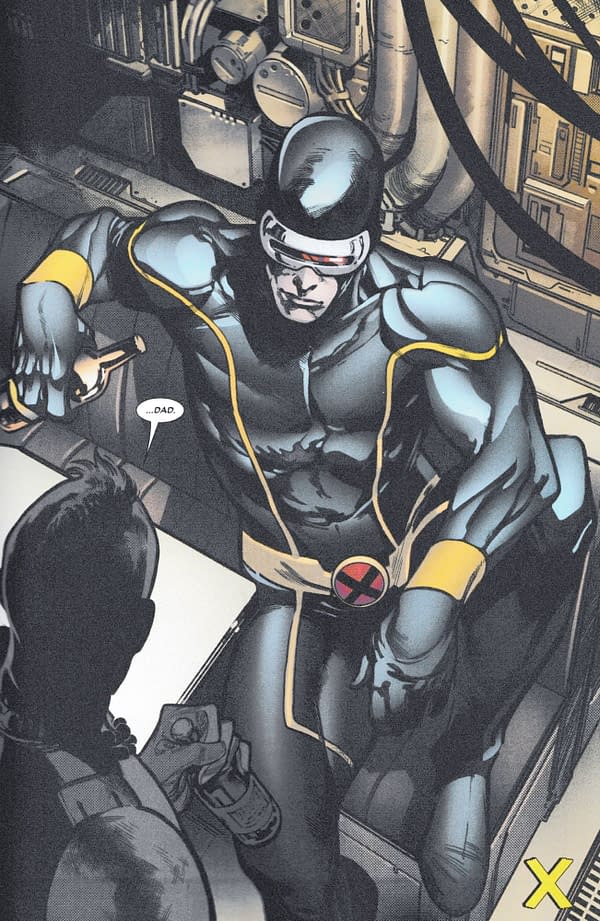 So how long has Cyke been hiding there? Was he killed by the Terrigen Mists? Is this a clone, a parallel dimension, anotehr time travel version, what? Answers, there are none.,. for now. But Cyclops is back. Good, he has some covers of Uncanny X-Men to appear on..
EXTERMINATION #5 (OF 5)
SEP180961
(W) Ed Brisson (A) Pepe Larraz (CA) Mark Brooks
• It all ends here!!!
• The original five X-Men have taken the fight back to Ahab…but at what cost?
• Who lives? Who dies? The X-Men will never be the same again.
Rated T+
In Shops: Dec 19, 2018
SRP: $4.99
Enjoyed this article? Share it!