Brian Bendis and Alex Maleev Switch From Scarlet to Leviathan
Yesterday's Cover #5 by Brian Bendis and David Mack continued the desecration of Esad Ribic in the public's eyes as Eastern European psychopathic agent-disguised-as-comics-artist Esad Simms, who Bendis-fill-in character-turned-reluctant-US-agent Max Fields may have turned, thanks to his arguments citing the example of Jack Kirby.
And also having fun with the internet.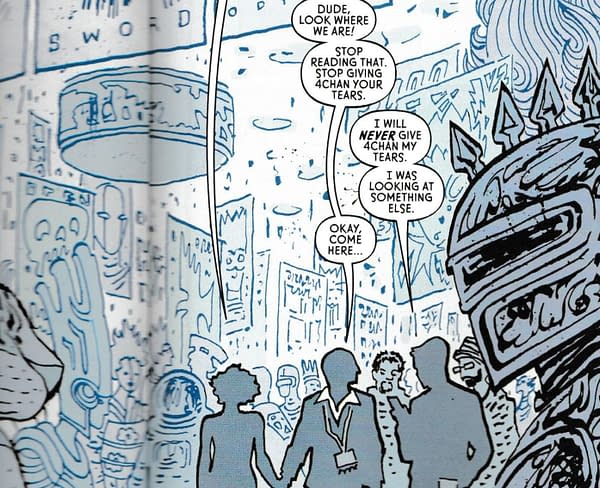 You know Bendis would give 4chan his tears. Anyway.
In the back of the issue we also got further confirmation of Leviathan, a series written by Bendis and to be drawn by his co-creator on Scarlet, Alex Maleev. Bendis writes, regarding Scarlet,
We wrap up the new series with issue #5. Then Alex has asked me to do some DC comics with him. He's always wanted to do DC comics with me. He's always wanted to do Batman and other characters with me. He's talked about it for years. So when I was coming to DC Comics, we knew we were going to bring our creator-owned stuff with us, but we also knew that there was an itch that needed to be scratched.

So our personal reward for finishing the fully painted SCARLET VOLUME 3 graphic novel is our fully painted contribution to DETECTIVE COMICS #1000. Our first proper Batman story in this landmark publishing event. We are so honored. It's already done and it's gorgeous. I'm very excited to be part of that project. ACTION COMICS #1000 and DETECTIVE COMICS #1000. Self-high-five!

After DETECTIVE #1000, Alex and I will be embarking on a major DC project. It's called LEVIATHAN. You will soon hear a lot about it. It's something so big, so monumental to the DC Universe, it was worth pausing our numerous creator-owned stuff for. This special event story lets Alex do everything he's ever wanted to do at DC.

Also, to be honest, we're still deciding if SCARLET continues or not. We know where the story goes, but we both really like our ending with Volume 3. Have no fear. If we don't do SCARLET again, we would do a different creator-owned project instead. We're not sure yet, but I just wanted to share our thoughts at the moment so nothing would seem like a big old shock later. And for those of you waiting for news on the TV show, so are we!!
Bendis first teased a Leviathan in the intro to a previous Action Comics opening splash page.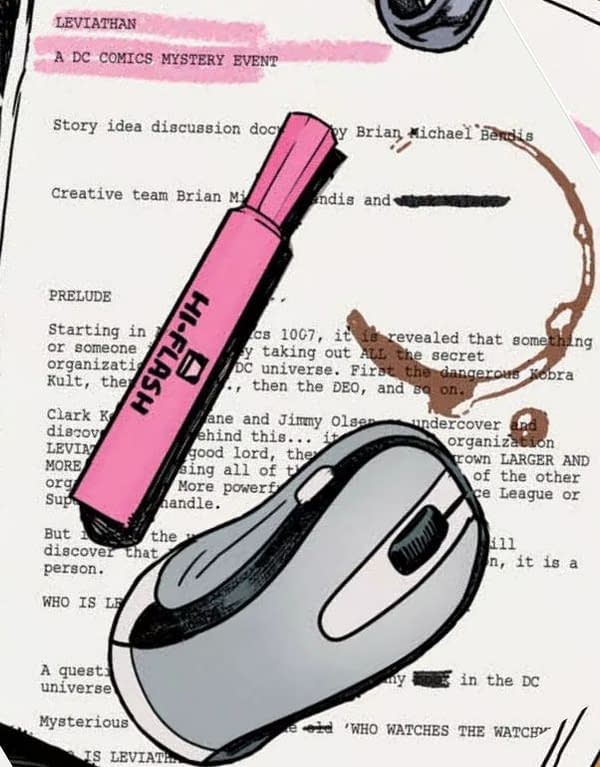 LEVIATHAN

A DC COMICS MYSTERY EVENT

Story idea discussion document by Brian Michael Bendis

Creative team Brian Michael Bendis and Alex Maleev.

PRELUDE

Starting in Action Comics 1007, it is revealed that something or someone is steathily taking out ALL the secret organizations in the DC universe. First the dangerous Kobra Kult, then Interecpt, then the DEO, and so on.

Clark Kent, Lois Lane and Jimmy Olsen go undercover and discover who is behind this… it is the spy organization Leviathan, and, good lord, they have somehow grown larger and more powerful using all of the myriad resources of the other organizations. More powerfull than even the Justice League or Superman can handle.

But in case the [UNCLEAR] will discover that Leviathan isn't solely an organization, it is a
person.

Who is Leviathan? A question that will be answered within my book in the DC universe [UNCLEAR]

Mysterious [UNCLEAR] the old 'WHO WATCHES THE WATCHMEN'?

WHO IS LEVIATHAN
Looks like we will be finding out in May… that's if John Layman doesn't make a complaint about the title. Bendis already had to change Red Mist to Red Cloud because of Mark Millar and Kick-Ass…