Ian Melton talked to Bruce Canwell for Bleeding Cool.
The only super-hero who started in "comicbooks" and still has his adventures published in strip format is Spider-Man. His newspaper comic has run since 1977, with co-creator Stan Lee's name attached to every strip. The Library of American Comics has been collecting these stories, starting from the beginning with the original Stan Lee/John Romita Sr. strips, and is up to four volumes of stories stretching from 1977 to 1984, with more to come. Bruce Canwell is the editor of this series of books and several others for the Library of American Comics, and at this point is the authority for Spider-Man's newspaper adventures…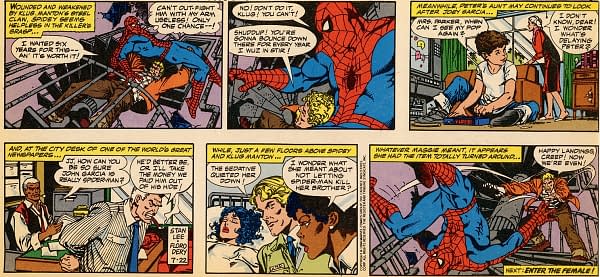 BLEEDING COOL: The Amazing Spider-Man newspaper strip series has had a few attempts to collect it. I know back in 1980 many of the beginning 1977 strips were cut together, colorized, and put in two mass market paperbacks, and one collection of random story-lines was put together with a LENGTHY Stan Lee introduction called The Best of Spider-Man. Two magazines, Comics Revue and Storyline Strips, also collected MANY of the dailies during the 1980s and 1990s and finally Marvel themselves published all the Stan Lee/John Romita Sr. strips in two books a few years ago, during a time when the Library of American Comics was already publishing other collections of great strips. What did the process look like in getting the rights to publish the Amazing Spider-Man newspaper strips?
BRUCE CANWELL: It was a pretty straightforward business deal, though it's also an example of the synergy that exists between LOAC and IDW. Editor Scott Dunbier at the IDW mother ship had already established a good working relationship with Marvel through his multi-award-winning "Artist's Edition" books, and that made it pretty easy for LOAC to acquire the reprint rights to the Spidey strip. As part of the agreement, Marvel gets to review and approve each of our books before it goes to print, and they've been top-notch in their professionalism — it's been a terrific working relationship, and we hope they feel the same.
BC: How did you get the job being the editor on the Amazing Spider-Man newspaper strip collections?
Bruce Canwell: Dean knows my affinity for Silver Age Marvel Comics, so when we acquired the rights to Spider-Man — which means Stan Lee scripts and, at first, all that wonderful, wonderful John Romita Sr. artwork — he thought of me to edit the series. It was going to be him or it was going to be me. He thought I'd have fun with it, and he was right!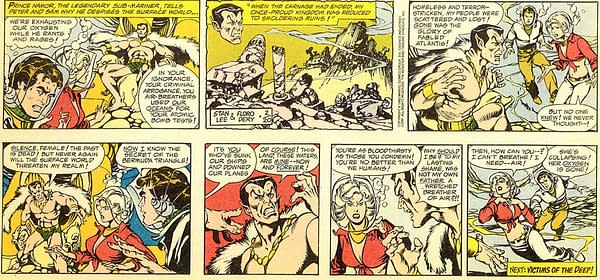 BC: Can you give a general history for the Amazing Spider-Man newspaper strips?
Bruce Canwell: In the latter part of the 1970s Marvel was looking to expand into other areas besides comic books. Since 1974, Spider-Man had been leveraged into a "Spidey Super Stories" segment of Public TV's excellent Electric Company series, and the Nicholas Hammond-starring Spidey TV series was under development. The Fantastic Four had been featured in a radio series that ran for 13 episodes and featured a young Bill Murray voicing Johnny Storm.
A newspaper version of Spider-Man seemed a logical extension of the web-slinging "brand" (though back in the 1970s, folks didn't speak of "brands" unless they were talking about things like dish soap!). Stan and John Romita — back before he had to be designated "John Romita Sr." — worked up some sample strips, Marvel shopped it to the various syndicates and landed their deal to get The Amazing Spider-Man into newspapers from coast to coast. The series launched on January 3, 1977 and is still running today, more than four decades later.

BC: Which artists have worked on the Amazing Spider-Man newspaper strip?
Bruce Canwell: The brilliant Steve Ditko co-created Spider-Man at Marvel Comics, of course, but to many avid readers of the Spider-Man comics of the late 1960s and early 1970s, John Romita is the Spidey penciler, and John is the newspaper strip's first artist. I interviewed him for the start of our series of books, the third time I've been fortunate enough to speak with him — he's very gracious with his time and willing to share his experiences and memories. An absolute prince of a guy! I have a tremendous respect for John Romita Sr., both as a person and as an artistic talent.
The Sunday Spidey pages have a long history of being drawn by Alex Saviuk, with inks by another longtime Marvel mainstay, Joe Sinnott, who to me was always "Mr. Fantastic Four," since I followed the FF while he was inking Kirby, Romita, John Buscema, Rich Buckler, George Perez, and John Byrne in a decade-plus of crisp, eye-catching work. Larry Lieber, Stan's brother, draws the daily strip, and has for many years — this current stint is Larry's second, since he was the second artist on the series, coming on board when Romita left. I spent almost two hours on the phone with Larry, talking about his career and his connection to Spider-Man — he utterly charmed me, a very genuine and warm man! Significant portions of the interview appeared in our third Spider-Man volume, and other segments of it will appear in the future, once Larry returns to the art chores.
In between "Jazzy Johnny" and the current team, a number of artists have contributed to the strip: Fred Kida, Floro Dery, plus several uncredited Marvel Bullpenners. John Romita told me that in the early days Kida and Frank Giacoia would occasionally help him by inking some panels when there was a deadline crunch. Sharp-eyed readers have spotted the work of George Tuska and Vinnie Colletta, among others, in several of the early '80s strips. Our fifth volume will feature a new artist coming aboard, someone even long-time readers would never associate with either Marvel Comics or Spider-Man. I'm sure anyone who has enough time on his hands can search the Web and learn the name of that "Big Name Talent" and his impressive list of pre-Spidey credits, but I'm not going to reveal his identity here. That mystery serves as an old-style Marvel tease for Volume 5!

BC: When did you start reading the Amazing Spider-Man newspaper strips?
Bruce Canwell: Believe it or not, I was only a sporadic reader of the Spidey strip for much of my life. The Boston Globe ran it, but about the time Stan and John were starting to cook, life was getting hectic and I would only occasionally see the Globe — maybe two or three times a month. I'd check in and see what was up with Spidey on those occasions, but I missed a lot more of the continuity than I saw. With the advent of the internet I would occasionally see a story on a site like this that referenced the comic strip and I'd read those stories, which gave me get a fresh look at the goings-on in the newspaper. Still, by that point I'd read hundreds and hundreds of Spider-Man stories in the comics books, so I wasn't compelled to dive into the strip. As you can probably tell, that's changed in the three years or so that LOAC has been developing and publishing our Amazing Spider-Man collections!
BC: Now the Amazing Spider-Man newspaper strip is something I have a great love for, as my local newspaper used to carry it back in the '90s and I can remember cutting them out and "collecting" them. I came back to the strips and read them online since 2005 on the King Features website. In trying to go back and read the old strips in the several tries to collect the series there are many strips that have never been collected or seen beyond their first publishing. What storylines do you know of that haven't been collected?
Bruce Canwell: Oh, man! There are decades of stories that have never seen the light of day since they were first published! Spidey faces more gangsters, robots, and diabolical masterminds than you can wiggle a web at — Aunt May gets romanced by, of all people, the Mole Man (starting in strips dated October 2010) — Kingpin, Kraven, and Doc Ock all make return appearances, while villains like Electro, the Hobgoblin, and Morbius take their bows in strip format — Peter's love life is never far from front-and-center in the strip — and a batch of Marvel heroes pop up as guest-stars from time to time. We just reprinted the Sub-Mariner's first co-starring appearance this year, in the fourth volume of our series.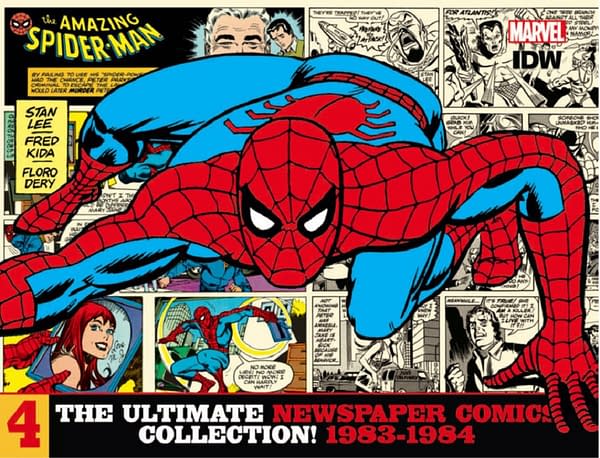 BC: How many of the Amazing Spider-Man newspaper strips have you read?
Bruce Canwell: I'm usually about two years ahead of whichever book we've most recently released — so I've been through the 1985-86 strips, given this year's fourth volume reprinted the 1983 and 1984 continuity.
BC: Have King Features always published the strip?
Bruce Canwell: Nope — Marvel did its original deal with the Register and Tribune Syndicate, the folks who brought The Family Circus and The Spirit into newspapers. If you look at the tiny-type indicia that's published between panels in every strip of LOAC's first four volumes, you'll see Register and Tribune is credited. It was in '86 when Register and Tribune was acquired by King Features, and the Spidey strip became part of the powerhouse KFS line-up.
BC: You've written some great introductions for Volumes 1 through 4 of the Amazing Spider-Man the Ultimate Newspaper Comics Collection and the latest volume, #4, has a great interview Jim Shooter, former Marvel Editor-In-Chief. First, can you tease any interviews you are working on for upcoming volumes?
Bruce Canwell: As I mentioned, John Romita Sr. and Larry Lieber have already spoken with me about the strip and we've included their input in prior volumes. I was also lucky enough to get about 20 minutes of Stan Lee's valuable time back in 2015; his comments were included in our second Spider-Man release.
To further preview our 2018 fifth volume and our website, I'll say that I have done in-depth interviews with family members of a Spidey artist who is no longer with us, and along with the insights provided by those fine folks, in our next book we'll be sharing with readers never-before-seen examples of that artist's work that his relatives were good enough to provide us. They gave us so much to work with, later this spring I plan to run a bonus feature on our website – maybe two! – so we can fully share with readers what we've learned about this under-appreciated talent.
BC: Second, who would you like to talk to about the Spider-Man newspaper strips that you haven't gotten to yet?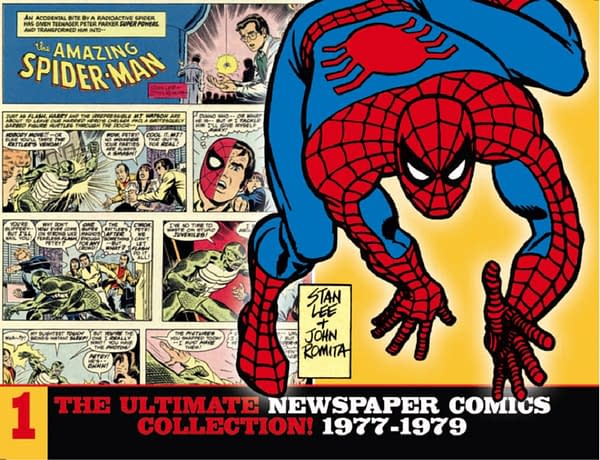 Bruce Canwell: I want to interview Alex Saviuk, who is a friend of my longtime friend, Lee Weeks. Lee tells me Alex is a top-notch guy, so I look forward to speaking with him sometime in the future. And Joe Sinnott, of course — I've met Joe a handful of times, and we're both big baseball fans, Joe of the Giants, me of the Red Sox. In those times I get to see Joe we talk both baseball and comics. Joe has some lovely paintings at the Baseball Hall of Fame, and any comics fans who also love baseball should look for his work at the Hall in Cooperstown, New York. I'll also approach Roy Thomas, for a variety of reasons, once the time is right.
BC: Interesting you mention Roy Thomas…
One thing that has been consistent about the Amazing Spider-Man newspaper strip is that Stan Lee's name is on EVERY strip. In fact even the strips published today he is credited as the writer, with his brother Larry Lieber the artist on the dailies and Alex Saviuk the artist on the Sunday strips.
However, one thing I read a few years ago in Alter Ego was Roy Thomas talking about working on the Spider-Man newspaper strips with Stan Lee, and Jim Shooter mentioned his work on the strip as well in your interview. One interpretation of this is that Stan Lee's name has just been on the strip and other writers write it for him. If this was true, Stan Lee wouldn't be the first creator to do this, as Bob Kane has his name on strips that he didn't draw in the Batman newspaper strips. However, your interview with Shooter suggests that someone else has been plotting the strip for a while, an artist draws the strip from those plots (mostly Larry Lieber for so many years) and then Stan dialogues the strips, meaning that he has been involved with the strip since 1977. Can you provide any information on this and what understanding you have of how it has worked on the Amazing Spider-Man newspaper strip?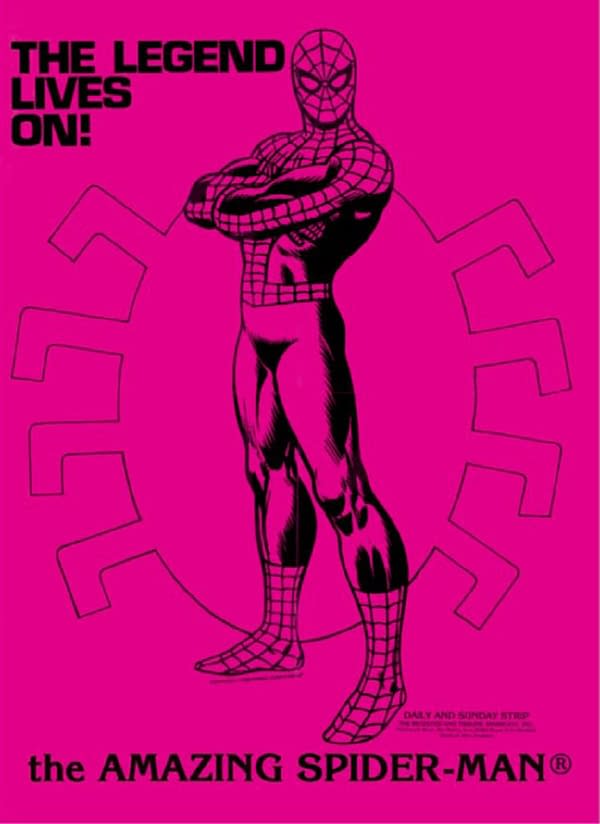 Bruce Canwell: Well, let's apply a little historical perspective to this topic. The comic strip game is a tough, tough business — it's not for sissies! Creators have to be working several weeks ahead of the current date, they have to be farther ahead on the Sundays than on the dailies (because of the additional production work that goes into the full-color Sunday pages), and they have to keep new ideas churning constantly, then writing, drawing, inking, and lettering those ideas to bring them to life on the page, and now on the screens of electronic devices.
That preamble is provided to make clear the reasons behind my next statement: it is not unusual in the history of comic strips for uncredited assistants or "ghosts" (they're two different things) to help produce the comics features we grew up seeing every day. Go back to the very early 1930s — before Alex Raymond could give us Flash Gordon and, later, Rip Kirby, he assisted the Young brothers on their two strips, first Chic's Blondie (yes, that Blondie!) and Lyman's Tim Tyler's Luck. LOAC has reprinted all that work, and it's easy to see Raymond's touch, especially on Tim Tyler's Luck. Al Capp's claims of mistreatment and underpayment when he was assisting Ham Fisher on the Joe Palooka feature spawned a bitter feud than ran for almost two decades between those two men, and we've been covering that nasty battle in our Li'l Abner series. Norman Rockwell's nephew, Richard, spent 35 years assisting Milton Caniff in the production of Steve Canyon. There are scores of other examples of the practice. It's not unusual, and the strenuous requirements of the job can sometimes demand it of even the biggest names in the business.
Therefore, yes — it's pretty common knowledge that Stan has had uncredited plotting assistance on the series, but Stan has "given voice" to the series through his scripts. In occasional modern-day articles I see snark being directed at Stan's scripting, even scoffing at his classic Silver Age Marvel work. That just makes me shake my head at the sheer ignorance being displayed by the authors of such articles. Who are considered the best dialogue writer in today's comic books? Brian K. Vaughan? Tom King? Dan Slott? Ellis? Bendis? Someone else? When my contemporaries and myself were reading the comics of the Silver Age, Stan Lee was those guys. His pop culture references, his ability to provide distinctive speech patterns for a diverse stable of characters, his wisecracks and playful sense of humor — he was head and shoulders above his peers in the 1960s, and you don't evolve through a Peter David and onward to today's "realistic" scripters like King and Slott and the others if there's no Stan Lee back there in the 1960s and '70s. All of which is my way of saying — if Stan wanted help plotting Spider-Man, that's A-OK by me as a reader if it freed him to provide the scripts.
BC: All good points, and means that really Stan Lee has really been writing and scripting Spider-Man steadily since 1977. Even if Stan Lee is having others plot the strip, that is a very impressive accomplishment to have been writing and working on the strip for over 40 years now! Are there other strips that have had creators have that kind of longevity?
Bruce Canwell: Sure, definitely, lots of 'em. Blondie started in 1930, creator Chic Young worked on it until he died in 1973, and it's continued onward through the work of others ever since. Beetle Bailey and Peanuts both launched in 1950. Peanuts ran new content until Sparky Schulz passed away in 2000, and Beetle is still going strong today! Whether as a Sunday or a daily, Flash Gordon ran from 1934 into the first part of the 21st Century. And that's far from a comprehensive list – comic strips were woven into the fabric of American pop culture for a looooong time!
BC: Now the newspaper strip is a very different read from the comic books and in its early years really focuses on 1) several old school villains Dr. Octopus, Dr. Doom, and the Kingpin, 2) Peter's relationship with Aunt May, and 3) Peter's many different girlfriends, including Mary Jane and a WIDE variety of non-comic book created women, usually a new one for every storyline. Because of this and a focus on non-comic book created villains, and the very Stan Lee dialogue, the comics strip has a negative "reputation" despite its longevity. Where do you feel the reputation came from?
Bruce Canwell: I think it comes from an aspect of comics fandom that can be summed up as, "THIS version of the character isn't MY version of the character." And hey, I can understand that, because it's played a part in my life, too. I grew up a huge Fantastic Four fan — the FF remains on the short list of characters I'd love to get a crack at writing — but when John Byrne came in to write and draw the series I found it entirely off-putting, for a variety of reasons that aren't important here. As most folks know, the majority of readers heaped praised on Byrne's FF work, which only added to my frustrations — why wasn't everyone seeing that Byrne's Fantastic Four wasn't the Fantastic Four?
What I eventually realized was that the problem lay with me. It wasn't that Byrne's FF wasn't the FF, it was that his FF wasn't my FF. It was OK for me to react negatively to it, because of the years I had invested in the characters and their stories up to that point — but it was also OK for others, coming at John's work from their own perspective, to like what he was laying down. Anyone trying to assign a "reputation" to the Spidey strip would probably benefit from accepting that the newspaper strip Spider-Man isn't their Spider-Man, and getting on with life.
BC: Do you feel it is a deserved reputation?
Bruce Canwell: For those who have that negative impression of the series — hey, it's a free country. You're entitled to your opinion, and to invest your entertainment time and money where you get the biggest bang for the buck.
But think of how many different versions of Spider-Man we've now seen — the original Stan/Steve/Romita version, the 1967 cartoon series version, the Spidey Super Stories version, the Nicholas Hammond TV version, the Spider-Man and His Amazing Friends version, and, and, and, and … all the way up to the current Peter Parker (and the current Miles Morales) in the comics and the Tobey Maguire/Andrew Garfield/Tom Holland big-screen versions. I think it's a Mugg's game to pass judgment on any of these versions. They all exist, each of them connects with some and aggravates others. Over the years, the trick I've learned — when applied to anything, including Spider-Man — is to focus on the stuff I like and spend as little time as possible on the stuff about which I'm less enthusiastic. It's easy to emphasize the negative, but more rewarding to stress the positive. A lifetime of reading comics has taught me it's more rewarding to work on the side of the light than on the side of the darkness.
BC: Which early storylines do you feel earned it this reputation? (The Peter Parker / childhood molestation arc for example?)
Bruce Canwell: I doubt any specific plot line or series of plot lines has fed any existing anti-Spidey-strip sentiment that may exist, but rather a more general reaction to the tone and emphasis of the strip compared to the tone and emphasis of the comic books.
Spider-Man is one of the few modern-day strips that could address the topic of child abuse, no matter how successful or unsuccessful one views that particular story. It takes a certain amount of courage to put such a "hot button" issue into a series intended for the general audience. You know, some circles today are dismissive of Spider-Man # 96-98 from 1971, the "drug issues" that were published without the approval of the Comics Code Authority, an unheard-of move at that time. I was there, I bought those issues off the stands when they were first published, and as a kid about age ten they made an impression on me and reinforced other anti-drug messages of the day. Addressing complex social topics in a medium like comics, where it's often difficult to deal in complexities, is always a tightrope act. Whether in the comic books or the comic strip, Spider-Man deserves a degree of credit for daring to give it a try.
BC: Actually that arc is coming up soon in the Ultimate Collection. The next volume I believe, correct? And what big tease do you have for Volume 5 story-wise?
Bruce Canwell: You're right on target – the child molestation story will be included in our next Spidey volume. I'd say the big tease for Spider-Man Volume 5 – aside from the artist aspects we've already discussed – is that Mary Jane Watson is about to move into the forefront of the strip with Peter. So for MJ fans, when it comes to our next release – "Face it, Tigers … you just hit the jackpot!"
BC: What are the strengths of the Amazing Spider-Man in newspaper strip form? It has gone now in this year into its 40th anniversary (surprised no one has made a big deal about that) so the adventures of Spider-Man obviously work in the strip format…
Bruce Canwell: I think the Spidey strip has a couple big things going for it. First, Spider-Man and Peter Parker are both unique characters, in that they're both closer to The Average Person than most superheroes. They don't have earth-shattering powers like Superman or a bottomless reserve of money and gadgets like Tony Stark or Bruce Wayne. They aren't old gods like Thor or New Gods like Orion. That means both Peter and Spider-Man struggle for every success they achieve, and that resonates with persons in all walks of life, since very few of us ever get anything handed to us.
Second, the Spidey strip brings a flavor of superheroics to the general audience that used to buy and read newspapers each day in large numbers, and now often uses the internet to get its daily dose of news and features (including comic strips). From the 1970s through the 1990s, this strip was the primary connection between superheroics and Joe and Jane Citizen. Today the superhero movies probably fill that role, but the Spidey strip is still there day-in, day-out, as opposed to motion pictures that are released once-every-so-many-months, and that steady availability is a lure that holds some power.
BC: Now despite an avoidance of other super-heroes in the newspaper strips for over a decade (except for I believe two appearances and storylines with the Sub-Mariner) the series didn't have "guest stars" until 1992 with Dr. Strange, then Daredevil, and the Mutant Agenda story-line with the Beast. What other super-heroes have shown up in the strip?
Bruce Canwell: I'm sure I couldn't do a comprehensive list without consulting my notes, but off the top of my head I can say Wolverine makes a guest-starring appearance, the Hulk pops up a couple of times, I know the Thing has made an appearance because I'm a big Ben Grimm fan (in the Mole Man / Aunt May arc), and Tony Stark and the Iron Man armor are featured in one storyline. Oh yes — Rocket Raccoon from the Guardians of the Galaxy teamed up with Spidey just within the past year! Add in a batch of familiar Marvel villains like the Shocker, Egghead, Tyrannus, Sandman, and Electro. The result is that readers often get a flavor of the larger Marvel Universe — at least, the comic strip version of that Universe.
BC: I know in my readings of the strips that starting in the 1992 the guest stars became much more common starting with Dr. Strange and then Daredevil, both which make a lot of sense. The Punisher also in 2004's strips, and the Mutant Agenda crossover between the comics and the strips with Spider-Man and the Beast versus the Hobgoblin (which was later adapted into the Spider-Man Animated Series). Are the plans as of right now to continue collecting the strips until the collections reach the current day strips? (The 2017 years' worth of strips would be the beginning of Volume 20.)
Bruce Canwell: We've been pleased by the numbers on our first four LOAC collections, and we'll keep producing them as long as sales warrant. If the public wants newspaper-Spidey, we'll keep 'em coming!
BC: Personally I'm really looking forward to Volumes 6 and 7 as the 1988 and 1989 strips are the ones I remember reading the most with JJJ's nephew doing the daily comic strip of Spider-Man as a comedy strip, and Aunt May and the Russian Wrestler … some of the arcs are pretty weird (laughs). Looking at other material though, are there plans at any point to collect the Incredible Hulk newspaper strips? In addition, the other two Marvel related newspaper strips — Howard The Duck, and Conan The Barbarian — have not been collected (or in Conan's case not fully collected) so any possible plans for those?
Bruce Canwell: We've expressed interest in all three strips — I'm a huge fan of the original Howard the Duck run, so I keep whispering to Dean about Howard — but so far no agreements have been reached. Only time will tell …
Enjoyed this article? Share it!