You'll have read about Comic Connections, the only surviving comic book shop in Oxfordshire, on Bleeding Cool a few times. Opened in Banbury in 1994m it has run for over 25 years by its owner and founder, Glyn Smith, has just celebrated his 63rd Birthday. Well, Glyn wants to make sure that Oxfordshire's longest-running and indeed only remaining comic book shop is still open after he retires.
A short while ago, Glyn approached Jamie and Karl of Collectors Assemble, a relatively recent comic book shop addition to the town of Leamington Spa to see if they were in a position to purchase Comic Connections. And they were. The deal has just been signed.
Glyn will still be working in the store for now, though taking more of a back seat, fulfilling online sales and chatting to regulars. The owner of Collectors Assemble, Jamie, will be working in the store full time, along with new full-time employee, Ewen, a longtime comic store employee from Scotland.
For customers, the subscription discount will change from 20% to 25% for those who pay in advance, something much appreciated in this time of Brexit price increases.
They will also be making the Comic Connections stamped Loyalty card digital. We will be changing your cards over to our digital Loyalty Scheme. We are happy to accept any Comic Connections stamped cards that have been completed (10 stamps) and will exchange for £5 credit, per complete loyalty card. This can be used on back issues and Graphic Novels.
And they will have a celebratory night for the newly acquired store on Thursday 21st November between 5:30 and 9pm, for drinks, chat and nibbles, and to chat about the new store, an open invitation for both Banbury and Leamington customers.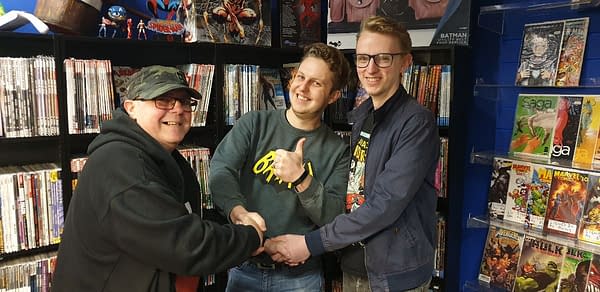 Enjoyed this article? Share it!