Brandon Graham on His "Diss Track": It Was Not Intended to Win Anyone Over
Brandon Graham is a cartoonist whose work you may be familiar with from the likes of writing a Prophet and Prophet: Earth War reboot, his TokyoPop series King City, and Elevator from Meathaus from back in the day, his more recent anthology from Image, Island, Multiple Warheads and 8House, as well as contributions to Shutter, The Wicked + The Divine and Transmetropolitan. But he started drawing pornographic comics, and it is fair to say that this aesthetic still informs much of his work.
He was one of the principal figures behind criticism of Brian Wood for his treatment of women a few years ago. In recent years he has also picked up a degree of criticism regarding how he both portrays and treats women, with stories going back to his college days. However, he has recently worked with a number of prominent women comics creators including Emma Rios, Kelly Sue DeConnick and Marian Churchland and his Island and 8House projects were seen by some as a way to encourage and promote minority voices in comics.
In April, cartoonist Carta Monir posted a thread regarding Brandon, in which she solicited negative stories about him.
Brandon was denying, equivocating, and replying on Twitter. Those responses have now been deleted, but this was screencapped.
As the stories began to grow, Nick Hanover ran an editorial on Loser City called On Brandon Graham, Weaponized Loyalty and Recognizing Abuse Tactics which detailed issues that people had with Graham and how some of his previous supporters were changing their minds about the man:
Comics seems particularly vulnerable to predators like Graham because not only are there far fewer opportunities than hopeful pros, the opportunities that are available are frequently acquired through networking. Someone like Graham legitimately was able to give opportunities to people and establish himself as a key ally to trans creators in particular– indeed he was one of the few people consistently getting trans creators published, making it all that much easier for him to convince potential targets he was necessary for their careers and to also convince people that any action against him would cause the network he had built for them to crumble.
As criticism was mounting, Graham deleted his Twitter account again. Yesterday he posted to Tumblr what he refers to as his "diss track", in which he answers critics, insults them, and doubles humblebrag down on his personal life too.
(UPDATE: The original has now been removed and replaced. It is still available on Google cache. Here's what was the first page)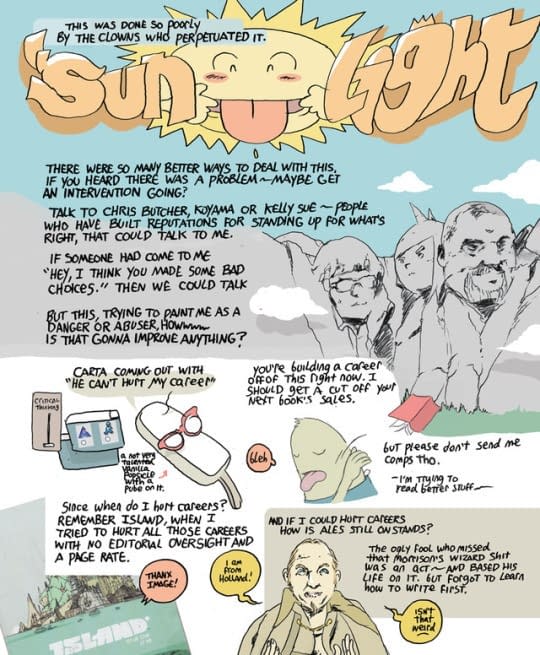 It has now been replaced by the following image entitled 'bullies'.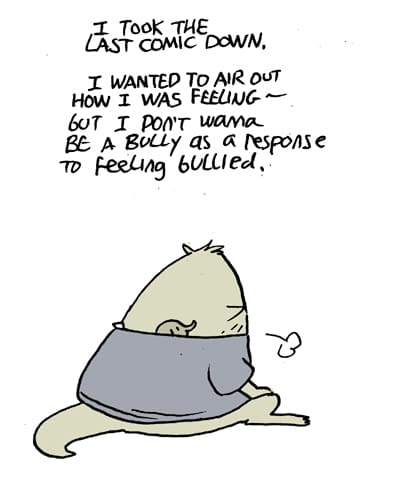 And the floodgates opened…
https://twitter.com/itsnero/status/1003714231965872128
https://twitter.com/comicsreporter/status/1003819864052715522
This attention has given the chance for some to spread attention to the work of those affected. But also, inevitably, will produce more Tumblr posts. Brandon told me:
I made that comic after one of the roughest weeks of my life, feeling really gaslit about allegations against me. While no one would even tell me what I was actually being accused of or give me any hope of improving the situation.

I feel like a big part of my work and career has been me speaking honestly about what was going on in my head, for good or ill. So having something this big hanging over me while feeling like I was unable to speak on it or even defend my own experience was beyond frustrating.

I should be clear, that the comic was not intended to win anyone over– I'm miles beyond any interest in playing politics or being part of any scene that has more interest in my failure than success — it was meant as a "f-ck you" to people who threw around my name- along with some clarity for my own sake.