Comixology Bestseller List 28th September 2018 – Batman: Damned #1 Rank Higher in Week 2 Than In Week 1
Matthew Snyder writes,
Welcome to the Comixology Bestseller list, your guide to see how well your favorite titles are selling digitally. Every week I'll post the ranking of every new title, plus a ranking of the best selling volumes & graphic novels. As always, I hope you find it interesting and informative.
DC brought out the big guns this week, and as a result, has finally snapped its 6-week winless streak in the Top 10. The final score: DC 7, Marvel 2, Image 1. This Wednesday was so competitive, in fact, that X-Men Red, The Flash and Titans got knocked out of the Top 10 for the first time. So don't get worried if your favorite titles are a few spots lower than usual. It's just one of those weeks.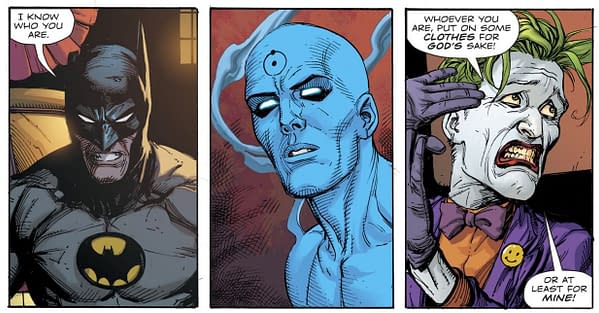 Doomsday Clock is an absolute juggernaut, and with Saga in hibernation, it reigns supreme among the digital landscape (not bad for an "unauthorized sequel"). Tom King once again proves to be DC's golden goose, with Heroes in Crisis debuting at No. 2. And here's a truly impressive stat: Since the start of this column, none of Tom King's DC books has failed to make the Top 5 (although with fan reaction to Heroes in Crisis, we'll see if that holds).
But then I saw something truly stunning: an issue ranked higher in its second week than its first. That never happens. It goes against everything we've learned about digital comic sales. And yet, here it is: Batman: Damned #1 ranked at No. 3, one spot higher than last week. How could this possibly be?
Let me guess. Was it the national attention BatPenisgate brought? If that's the case, I should feel bad for anyone who spent $6.99 on this to find out the digital version was the censored version. However, if you thought buying a $7 comic was the only way you could see a penis online, I must inform you that you are not using the internet very well. Therefore I will assume you bought it solely on Brian Azzarello's suspenseful writing and Lee Bermejo's gorgeous artwork, and I shall bid you good day.
Justice League Odyssey also had an impressive debut at No. 6. What DC has done with the Justice League brand this year has so far been a huge success. Sales were dipping with Justice League of America, with Batman's side team hitting No. 25 in the New Issue Rankings with its last issue. Trading that series in for Dark and Odyssey looks like a smarter move each month. Dark will soon be shifting to every third Wednesday, hopefully giving DC more firepower during one of its softer weeks.
Well, that about wraps it up. See you next week, and… hold on one second, I went the entire article without saying one good thing about Marvel. Well, I do pride myself in being fair & balanced. Alright, it appears Amazing Spider-Man held up well after first arc. That's a good sign. The X-books would've ranked higher in a slower week. You'll get 'em next time, Marvel. And I suppose Spider-Geddon could've done worse. (Sorry folks, I have to say something nice about Marvel each week. Otherwise, the Marvel execs who read this will get anxious and press the big red relaunch button in the middle of their conference room).
Top 25 Overall:
Doomsday Clock #7
Heroes in Crisis #1
Batman: Damned #1
Action Comics #1003
Amazing Spider-Man #6
Justice League Odyssey #1
Justice League Dark #3
Detective Comics #989
The Wicked + The Divine: 1373
Extermination #3
X-Men Red #8
The Flash #55
Return of Wolverine #1
Titans #26
X-Men Blue #36
Wonder Woman #55
Star Wars: Doctor Aphra #24
The Terrifics #8
Marvel Two-In-One #10
Spider-Geddon #0
Star Wars: Poe Dameron #31
Jessica Jones #3 (Marvel Digital Original)
Black Panther #4
Infinity Wars: Iron Hammer #1
Peter Parker: The Spectacular Spider-Man #310
New Issue Rankings:
Doomsday Clock #7
Heroes in Crisis #1
Action Comics #1003
Amazing Spider-Man #6
Justice League Odyssey #1
Justice League Dark #3
Detective Comics #989
The Wicked + The Divine: 1373
Extermination #3
X-Men Red #8
The Flash #55
Titans #26
X-Men Blue #36
Wonder Woman #55
Star Wars: Doctor Aphra #24
The Terrifics #8
Marvel Two-In-One #10
Spider-Geddon #0
Star Wars: Poe Dameron #31
Jessica Jones #3 (Marvel Digital Original)
Black Panther #4
Infinity Wars: Iron Hammer #1
Peter Parker: The Spectacular Spider-Man #310
Domino Annual #1
Old Man Logan #48
Batgirl #27
Sentry #4
Edge of Spider-Geddon #4
The Punisher #2
Old Man Hawkeye #9
Batman Beyond #24
Death of Superman, Part 1 #9 (99-cent digital first)
Man-Eaters #1
Moon Knight #199
The Silencer #9
Scarlet #2
Batman: Kings of Fear #2
Fence #10
Spider-Man/Deadpool #39
Ben Reilly: Scarlet Spider #24
Stranger Things #1
Venom: First Host #5
Wayward #29
Die!Die!Die! #3
Doctor Who: The Thirteenth Doctor #0: The Many Lives of Doctor Who
Harbinger Wars 2: Aftermath #1
Raven: Daughter of Darkness #8
X-O Manowar #19
Moon Girl and Devil Dinosaur #35
Faith: Dreamside #1
Dream Daddy #2
The Realm #9
Witchblade #8
Rags #1
Redneck #15
Beasts of Burden: Wise Dogs and Eldritch Men #2
Shanghai Red #4
Cyber Force #6
Jim Henson's Labyrinth: Coronation #7
Red Sonja Vol. 4 #21
Archie Meets Batman '66 #3
Cold Spots #2
Gold Digger #256
My Little Pony: Ponyville Mysteries #5
Hillbilly: Red-Eyed Witchery From Beyond #2
Vampirella/Dejah Thoris #1
Tarot, Witch of the Black Rose #112
Grimm Fairy Tales #20: Age of Camelot
Mickey Spillane's Mike Hammer #4
Goblin Slayer Side Story: Year One #15
Bone Parish #3
Regression #11
Fearscape #1
The Thrilling Adventure Hour #3
Beyonders #2
Goblin Slayer #28
StarCraft: Scavengers #3
Oh S#!t It's Kim & Kim #2
Teen Titans Go! #60 (99-cent digital first)
Xena: Warrior Princess Vol. 4 #8
High Heaven #1
Bubba Ho-Tep and the Cosmic Blood-Suckers #3
Executive Assistant: Iris #5
Modern Fantasy #4
Gamma #1
Rolled & Told #1
Betty & Veronica Vixens #10
Grave Danger #3
Goblin Slayer: Brand New Day #5
¡Fantasmagoría! #1
WWE: NXT Takeover: Redemption
Dissension #3
Friendo #1
The Long Con #3
Old Issue Rankings:
Batman: Damned #1
Return of Wolverine #1
Batman #55
Justice League #8
Mister Miracle #11
Avengers #8
Thor #5
Amazing Spider-Man Annual #1
The Immortal Hulk #6
Infinity Wars: Soldier Supreme #1
Venom #6
West Coast Avengers #2
The Wild Storm #17
The Life of Captain Marvel #3
Star Wars #54
Fantastic Four #2
Edge of Spider-Geddon #3
Doctor Strange #5
Teen Titans #22
X-Men Gold #36
Injustice vs. Masters of the Universe #3
Mr. and Mrs. X #3
Multiple Man #4
Star Trek: The Next Generation: Through The Mirror #5 (50% off)
Nightwing #49
Best Selling Collections:
X-Men Gold Vol. 5: Cruel and Unusual
Venom & X-Men: Poison X
Dark Nights: Metal- Deluxe Edition (70% off)
Saga Vol. 9 (33% off)
Dark Nights: Metal- Dark Knights Rising (70% off)
Crisis on Infinite Earths (75% off)
X-Men Gold Vol. 4: The Negative Zone War
Identity Crisis (New Edition) (62% off)
Dark Nights: Metal- The Resistance (65% off)
X-Men Gold Vol. 1: Back to the Basics
Saga Vol. 8 (58% off)
All-Star Superman (20% off)
Blackest Night (54% off)
X-Men Blue Vol. 1: Strangest
Dark Days: The Road to Metal (60% off)
Batman: The Complete Hush (12% off)
X-Men Blue Vol. 3: Cross Time Capers
Final Crisis: New Edition (62% off)
Batwoman by Greg Rucka and J.H. Williams (12% off)
The Sandman: Overture (65% off)
Saga Vol. 7 (58% off)
Justice League: No Justice (15% off)
The Omega Men (2015): The End is Here (12% off)
Flashpoint (54% off)
Batman: The Black Mirror (23% off)
X-Men Blue Vol. 2: Toil and Trouble
X-Men Gold Vol. 3: Mojo Worldwide
Wonder Woman: Earth One Vol. 1 (23% off)
Joker (2008) (23% off)
X-Men Gold Vol. 2: Evil Empires (64% off)
Green Arrow (2011) By Jeff Lemire and Andrea Sorrentino Deluxe Edition (38% off)
Saga of the Swamp Thing (23% off)
Infinite Crisis (2005) (62% off)
Batman: The Killing Joke (23% off)
Superman: The Death of Superman (2016 Edition) (54% off)
Star Trek: TNG: Mirror Broken (44% off)
Saga Vol. 6 (58% off)
Batman (2016) Vol. 4: The War of Jokes and Riddles (23% off)
Sleeper Book One (8% off)
Dark Night: A True Batman Story (67% off)
Kingdom Come (23% off)
Injustice: Gods Among Us: Year One – The Complete Collection (12% off)
Death: The Deluxe Edition (20% off)
Batman: Arkham Asylum- 25th Anniversary (23% off)
Sheriff of Babylon: The Deluxe Edition (80% off)
Supergirl: Being Super (23% off)
Gotham Central Book 1: In the Line of Duty (23% off)
Superman: American Alien (26% off)
Saga Vol. 4 (58% off)
Saga Vol. 5 (58% off)