'Creator Resource' Website Aims to Create Community Where Comic Creators Have Each Other's Backs
A group of comic book professionals consisting of Stephanie Cooke, Beth Barnett, Rosie Knight, and Eric Kim have launched a new website with the purpose of providing tools and resources for comic book creators, including information on page rates, copyrights, contracts and more.
A press release announced the new site Monday, with plans for growth that include connecting aspiring creators with established pros for advice, along with databases and articles about topics like grants and fellowships, anthologies, using Kickstarter to publish a comic, comics and pop culture websites for publicity, and a listing of comic book creators. The Page Rates section picks up where the Fair Page Rates website left off in 2016.
"The aim of the site is to create a community where we have each other's backs," said Cooke in the press release. "Our industry is at its best when we lift each other up and look out for each other, and Creator Resource wants to help do exactly that with resources and tools that will help to educate."
The site's mission is to become "a one-stop-shop for information on all industry needs, with a focus on transparency to benefit the worldwide comic book community." With that in mind, the site's home page loudly declares: comics are for everyone.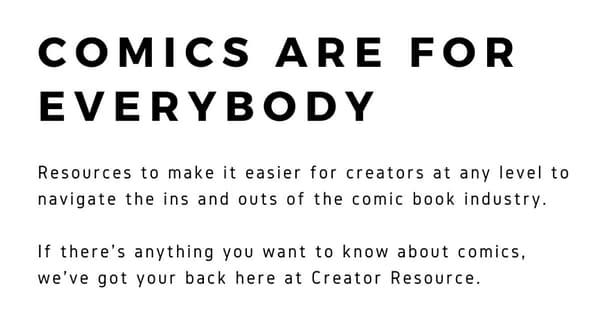 You can bookmark the Creator Resource website here.