Just a little Frankensteining before today's announcements… but no Three Jokers.
Event Leviathan: Checkmate #1 (of 6)
(W) Brian Michael Bendis (A) Alex Maleev
The results of the Event Leviathan miniseries established a new world order among the espionage agencies of the DC Universe, now united under the single banner of the mysterious Leviathan!
Leviathan has agents and acolytes all over the world, but what exactly are they following? What's the secret behind Leviathan's power? The planet's last, best hope against this rampant threat is an unlikely collection of allies that will form the new Checkmate! The most dangerous spies in all of DC must team up to take the world back from Leviathan before all is lost.
Green Arrow, The Question, Lois Lane and Talia Al Ghul are the last line of defense against Leviathan, but there's a secret hero working from the shadows that could mean the difference between victory or defeat for this new version of Checkmate. Who is it?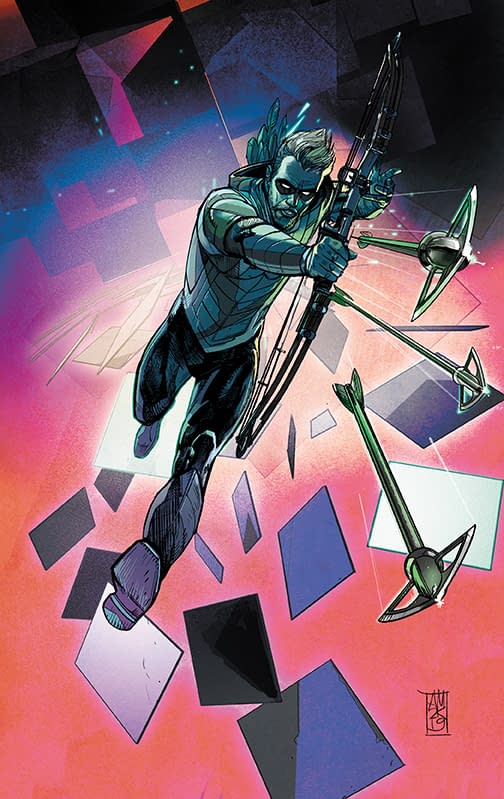 THE LAST GOD: TALES FROM THE BOOK OF AGES #1 ONE SHOT
ON SALE 04.29.20 $4.99 US | 40 PAGES FC | DC BLACK LABEL AGES 17+
In Phillip Kennedy Johnson and Riccardo Federici's The Last God, the city of Cain Anuun serves as a rich and layered backdrop to a story of fantasy, adventure and horror. The evil armies of the Last God are marching across the mythical city, laying waste to everything in its path and a group of unlikely allies are the last line of defense against absolute destruction.
On April 29, The Last God: Tales from The Book of Ages is debuts in comic book retailers and participating digital retailers. This one-shot is written by series writer Johnson, with art by Federici, along with cover artist Kai Carpenter and others; this is the official sourcebook detailing the rich history of the people, locations, schools of magic and creatures found throughout Cain Anuun. For role-playing-game fans, this sourcebook also includes 5E compatible content to run your own quests with playable races, subclasses, magic items, monsters and more, courtesy of Nerd Poker podcast "dungeonmaster" Dan Telfer. The sourcebook also includes new maps and illustrations from master cartographer Jared Blando.
The Last God: Tales from the Book of Ages provides everything fantasy and RPG fans need to gain both a deeper understanding of the world of Cain Anuun, as well as all the tools to build campaigns and adventures within the world of The Last God.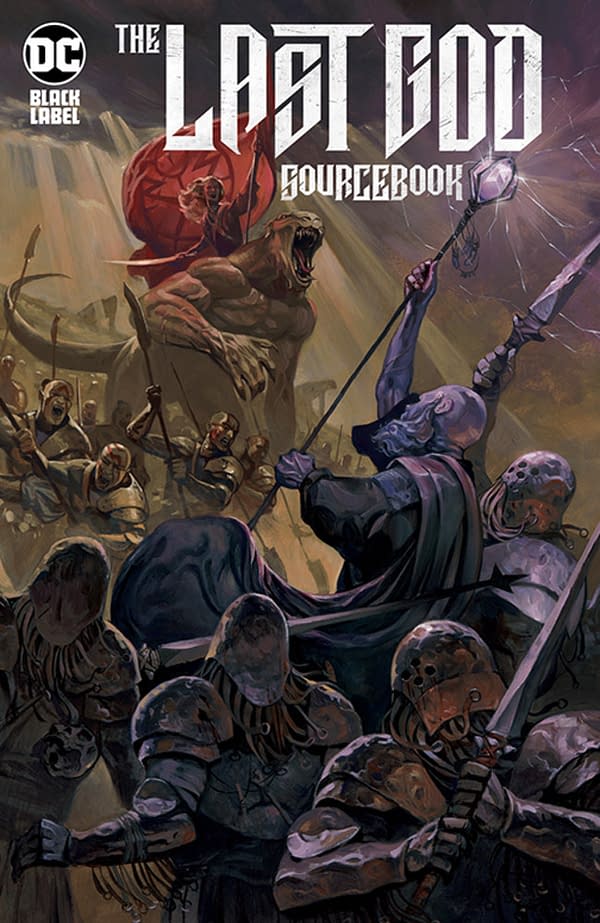 The Catwoman 80th Anniversary 100-Page Super Spectacular #1
(W) Ed Brubaker, Paul Dini, Ann Nocenti, Tom King, Mindy Newell (A) Cameron Stewart, Adam Hughes, Mikel Janín, Will Pfeifer, and Emanuela Lupacchino
DC's feline fatale celebrates an 80th anniversary this year, and that calls for a grand soiree, invite only, attended by some of comics' top creators! Stock up on both catnip and champagne!
Since the character first appeared alongside Batman in 1940's Batman #1, Catwoman has become an icon to millions of comic book fans. The undeniable magnetism between Batman and Catwoman has been one of comics' most reliable constants: wherever Catwoman goes, Batman is sure to follow, if only to take her down. As deadly as she is beautiful, infamous cat burglar Selina Kyle uses her nine lives to walk the razor's edge between light and darkness in Gotham City.
To honor this publishing milestone, on April 15, 2020, DC will celebrate Catwoman's 80th anniversary with a landmark one-shot, Catwoman 80th Anniversary 100-Page Super Spectacular #1. Featuring a cover by series writer/artist Joëlle Jones, this must-have tribute comic includes stories by Ed Brubaker, Cameron Stewart, Paul Dini, Ann Nocenti, Adam Hughes, Tom King, Mikel Janín, Mindy Newell, Will Pfeifer, and Emanuela Lupacchino, as well as pinups by Steve Rude, Tula Lotay, Jim Balent, and others.
In a story that expands their monumental run, writer Ed Brubaker and artist Cameron Stewart will reprise their Catwoman collaboration with a new 12-page story, "The Art of Picking a Lock," that takes place near end of their original dynamic story line that started with iconic storyteller Darwyn Cooke. And no stranger himself to writing dangerous antiheroes, Harley Quinn co-creator Paul Dini debuts a new character for Selina Kyle's anniversary in a story about an exotic cat taxidermist who intends to add Catwoman to their collection!
With additional stories by Mindy Newell (Catwoman, Wonder Woman, Lois Lane); the bestselling Batman team of writer Tom King and artist Mikel Janín; Ann Nocenti (Catwoman, Katana); and many more, Catwoman 80th Anniversary 100-Page Super Spectacular #1 is sure to delight fans of DC's notorious jewel thief.
In addition to Jones's dynamic cover, fans and collectors can also look forward to eight variant covers spotlighting Catwoman throughout the decades, drawn by some of comics' premier artists:
1940s variant cover by ADAM HUGHES
1950s variant cover by TRAVIS CHAREST
1960s variant cover by J. SCOTT CAMPBELL
1970s variant cover by FRANK CHO
1980s variant cover by STANLEY "ARTGERM" LAU
1990s variant cover by GABRIELE DELL'OTTO
2000s variant cover by JIM LEE and SCOTT WILLIAMS
2010s variant cover by JEEHYUNG LEE
The Catwoman 80th Anniversary 100-Page Super Spectacular #1 is a prestige format comic book retailing for $9.99 and available at local comics retailers and digital retailers on April 15, 2020. Please consult your local comic book store for more information regarding the decade variant covers.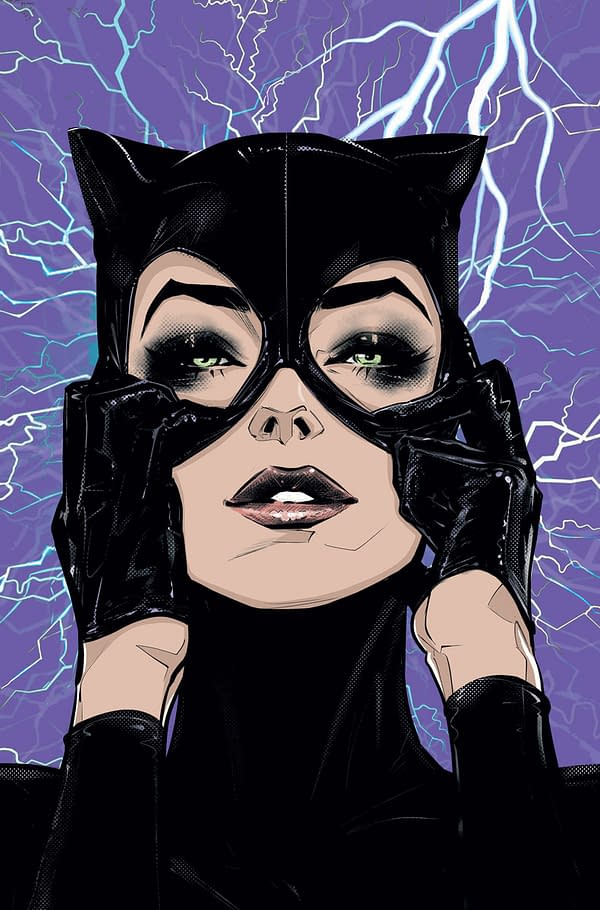 STRANGE ADVENTURES #2
written by TOM KING
art by MITCH GERADS and EVAN "DOC" SHANER
cover by MITCH GERADS
variant cover by EVAN "DOC" SHANER
What is the truth about Adam Strange? When an activist who publicly accused him of war crimes ends up dead, the public begins to doubt Strange's stories about his adventures on the planet Rann—and he's even starting to doubt himself. It's going to take a special investigator to get the truth, and he's going to have to tear apart Adam Strange's life and reputation to do it.
A special miniseries set on two worlds, it takes two artists to bring Strange Adventures to life. Mitch Gerads tackles the earthbound sequences, while Doc Shaner launches us into space. And it's all written by Tom King, the Eisner Award-winning writer who brought you Mister Miracle, Omega Men, and Sheriff of Babylon.
ON SALE 04.01.20
CARD STOCK COVERS
$4.99 US | 2 OF 12 | 40 PAGES
MY VIDEO GAME ATE MY HOMEWORK
(W/A) Dustin Hansen
U.S. Price: $9.99
ON SALE 4/21
Meet Dewey Jenkins, a 13-year old school kid who's about to fail science class. Follow Dewey on an amazing adventure that leads him and his friends to a virtual world where they will have to overcome all sorts of digital creatures and solve a number of puzzles in order to get home.
MY VIDEO GAME ATE MY HOMEWORK is a funny, fast-paced adventure that shows the importance of cooperation and teamwork and the importance of using your own unique abilities to solve problems. It's illustrated in Hansen's light-hearted, cartoony style, and filled with lots of sight gags and nods to videogaming conventions.
DUSTIN HANSEN spent years directing and creating video games before becoming a writer and illustrator. His published works include the MICROSAURS illustrated chapter book series and his fan-favorite GAME ON! VIDEO GAME HISTORY FROM PONG AND PAC-MAN TO MARIO, MINECRAFT, AND MORE.
Enjoyed this article? Share it!