Detective Comics #956 was published this week. Reviewers for outlets that DC Comics refer to as their media partners received digital copies the previous Friday. Bleeding Cool does not receive such advance copies.
But it seems that over the weekend a change was made.
A last minute change was made to the printed copies that didn't make it to the review files.
DC PR representatives state that "In order to keep storylines tight, the last page of Detective Comics #956 has had a lettering/dialogue change that delays a big reveal until a future issue."
DC issued the corrected version, saying "Your coverage should not reference this change in any way, shape or form. Consider this email your embargo. Your review coverage should be limited to the story beats as seen in the issue that hits newsstands and comic book stores this Wednesday. Please hold your knowledge of any changes until you see these plot points appear in print."
They did however also say "Hint: stay focused on THE FLASH #22 on sale 5/17 for big reveals there, and then back to DETECTIVE COMICS #957 on 5/24."
Before concluding "Thanks for your help on this, and our apologies for putting you in a position to sit on a big spoiler. We have confidence that you'll adhere to the embargo placed here."
This is how the printed page looks. Anyone fancy breaking their embargo?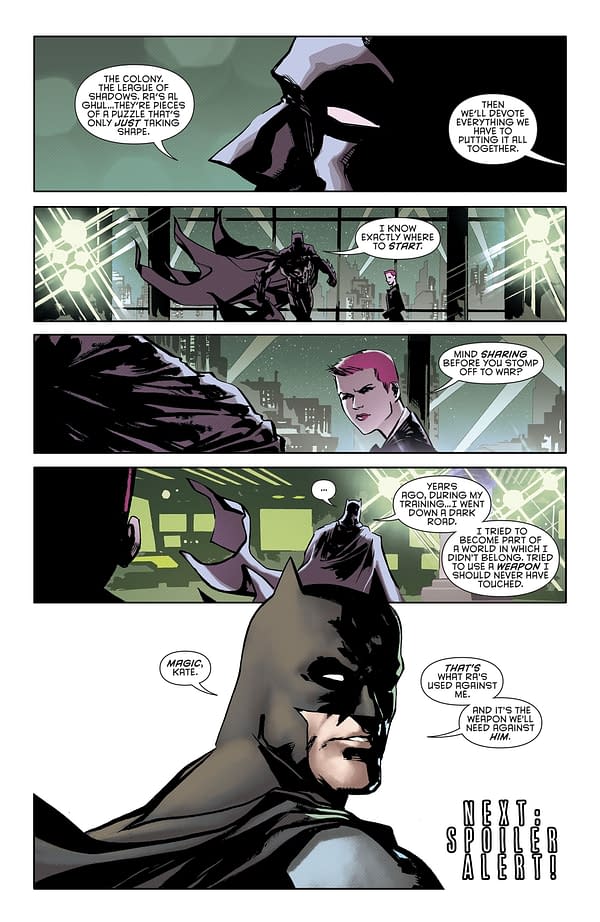 Enjoyed this article? Share it!