Just in time for the release of the new movie, Birds of Prey (and the Fantabulous Emancipation of One Harley Quinn, DC has announced they will be running ads for their comic books in cinemas.
A 15-second commercial for Harley Quinn: Breaking Glass, the original DC graphic novel by Mariko Tamaki and Steve Pugh, will play at Regal cinemas before the start of movies and will be paired with a 15-second Birds of Prey movie promotion, offering fans a chance to win Harley's mallet.
https://vimeo.com/380279450/941c5fa42c
Movies that will feature the 15-second Harley Quinn: Breaking Glass commercial include: Last Christmas, Black Christmas, Black and Blue, Knives Out, Just Mercy, Jumanji: The Next Level, Jojo Rabbit, Joker, A Hidden Life, Harriet, Invisible Life, The Good Liar, The Grudge, 1917, 21 Bridges, Bad Boys for Life, Bombshell, Clemency, Cunningham, Dark Waters, Ford v Ferrari, Like a Boss, Midway, Parasite, Pain and Glory, Richard Jewell, The Song of Names, Star Wars: The Rise of Skywalker, Uncut Gems, Zombieland: Double Tap, Underwater, Once Upon a Time…in Hollywood, No Safe Spaces, The Last Full Measure, The Gentlemen, The Turning, Gretel & Hansel, The Rhythm Section, and Traitor.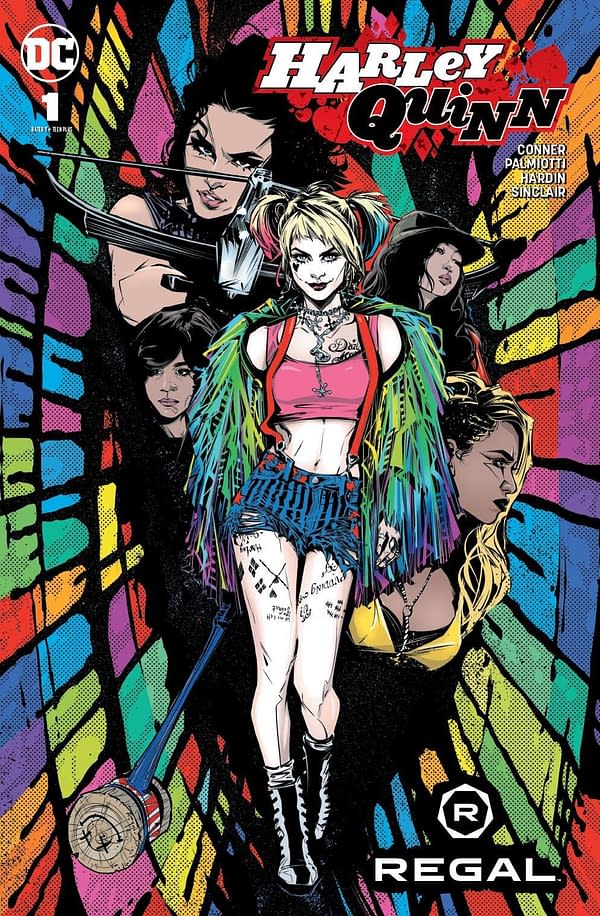 Additionally, Regal will distribute 75,000 Birds of Prey special edition comics featuring a reprint of Harley Quinn #1 (2016), with a cover illustration by Joelle Jones depicting the movie versions of Harley Quinn and the Birds of Prey. Moviegoers will receive the comic as a gift with each ticket purchase. The Birds of Prey special edition comic will include ads for both current releases and backlist titles to drive fans into comic shops for more. Warners hasn't had the greatest luck with in-cinema giveaways – this was once done with the release of The Matrix, with original stories by the likes of Neil Gaiman and Geof Darrow being given away, only for the powers that be to realise that kids were picking up free comics with rude words and bottoms in them. They were withdrawn, making an instant collectible. I am sure lessons have been learned.
Regal Cinemas is one of the largest theater chains in the United States, with 7,178 screens in 546 theaters in 42 states along with the District of Columbia and Guam. While in Canada, has been running in Landmark Cinemas, in 148 screens at their top locations, until February 6th. The locations include: Landmark Cinemas 24 Whitby; Landmark Cinemas 8 Fort McMurray; Landmark Cinemas 24 Kanata; Landmark Cinemas 8 London; Landmark Cinemas 10 Orleans; Landmark Cinemas 7 Saskatoon; Landmark Cinemas 16 Country Hills, Calgary; Landmark Cinemas 8 St. Albert; Landmark Cinemas 10 Pen Centre, St. Catharines; Landmark Cinemas 10 Waterloo; Landmark Cinemas 10 Kingston; Landmark Cinemas 10 Shawnessy, Calgary; Landmark Cinemas 12 Guildford, Surrey; Landmark Cinemas 10 New Westminster.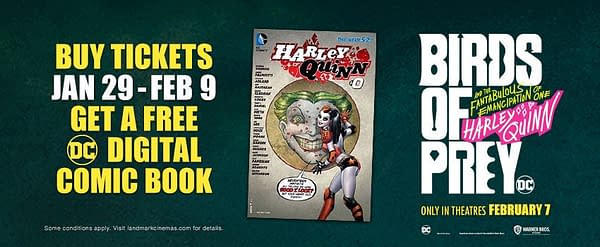 Tickets purchased here will unlock a promo code for a free Harley Quinn #0 digital comic book. Landmark Cinemas operates 46 theatres on 330 screens throughout western Canada, Ontario and Yukon Territory. Birds of Prey (and the Fantabulous Emancipation of One Harley Quinn is in cinemas on February 7th.
Enjoyed this article? Share it!