Music video director Samuel Bayer, with a certain Smells Like Teen Spirit video in his back pocket, has directed a trailer for his upcoming All Time Comics superhero line created with his brother Josh Bayer from Fantagraphics. The video features musician Steve Jones and starring LaMonica Garrett, Denise Schaefer and Maitland Ward with stunts by Eddie Braun and the JC Action Team, Jackie Chan's stunt crew.
And it looks like this.
https://www.youtube.com/watch?v=kSpluHfRICY
It's timed to coincide with the release of All Time Comics: Crime Destroyer, the first issue in the line.
All Time Comics is a shared superhero universe featuring four heroes: Atlas, Blind Justice, Bullwhip, and Crime Destroyer. Crime Destroyer will make his first appearance in print in All Time Comics: Crime Destroyer #1, featuring the writing of Josh Bayer, inks by Benjamin Marra and the last art by legendary artist Herb Trimpe, who co-created Wolverine.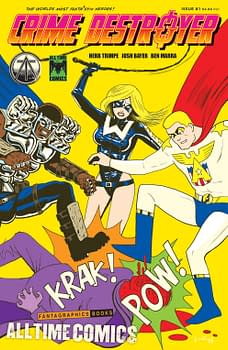 For the trailer, Crime Destroyer is played by LaMonica Garrett, an actor and longtime comics enthusiast. "On Sons Of Anarchy, I got to chase bad asses on their insane bikes, now I get to play the bad ass, destroying crime in my customized 1972 Firebird," says LaMonica Garrett of Crime Destroyer's car, a souped up muscle car with dual front-mounted 45 caliber machine guns. "I'm a nerd when it comes to comic books and superheroes, it felt like dream to finally play one… Hopefully it's just the beginning."
In the trailer, Bullwhip must rescue one of the villain's victims, a starlet portrayed by Maitland Ward, best known for her role in Boy Meets World and her cosplay appearances at comic book conventions. "I've been dressing up in elaborate cosplay outfits for years," said Maitland Ward. "As a fan of comics and superheroes, it's wild to participate in a project like this one, where I'm kidnapped by the one and only Steve Jones and tied to an Evel Knievel style rocket."
While Witness: the Crime Destroyer car from the trailer will be parked outside Meltdown Comics, 7522 Sunset Blvd, Los Angeles, and tonight, fans can also meet Josh and Sam Bayer, as well as LaMonica Garrett, Denise Schaefer and Maitland Ward.
Plus, the first 50 partygoers will get free All Time comics t-shirts. Doors open at 7pm. You've got time if you leave now.
Oh! And that open bar….
We created 2 count 'em 2 signature

cocktails

for the event:

Bullwhip
2 oz Pink Grapefruit juice
1 oz Vodka
¼ oz Salerno
1 Red Vine straw/ Whip

Crime Destroyer
2 oz Bourbon
1 oz Averno
Chocolate Aztec bitters

We'll also be serving a traditional Hemingway Daiquiri and calling it:

Atlas' Liquid Courage
1 ½ oz. rum
¾ oz. lime juice
½ oz. grapefruit juice
½ oz. maraschino
½ oz. simple syrup
Enjoyed this article? Share it!