Infinity Wars Finds a Place for the Warps But Loses a Guardian of The Galaxy (SPOILERS)
The Infinity Wars event running at Marvel promised it would end with a fallen Guardian. And I suppose, if I'd really thought about it, I could have worked out who. It seems to easy in hindsight. But I didn't see the clues until it was too late. Well played Gerry Duggan and Michael Deodato. Today we have Infinity Wars #6 and Infinity Wars: Fallen Guardian #1. Probably should be read in that order.
Spoilers, obviously. The Infinity Wars has given us the Infinity Warps. As Gamora has followed in her father's footsteps, using in Infinity Stones to half the universe's population (or just the Earth's population, it was a little hazy on that) by combining every lifeform with another and warping them together.
Of course, for one Guardian, that was always the way. And so when some of those people were separated into two, Drax was split into The Destroyer… and Arthur.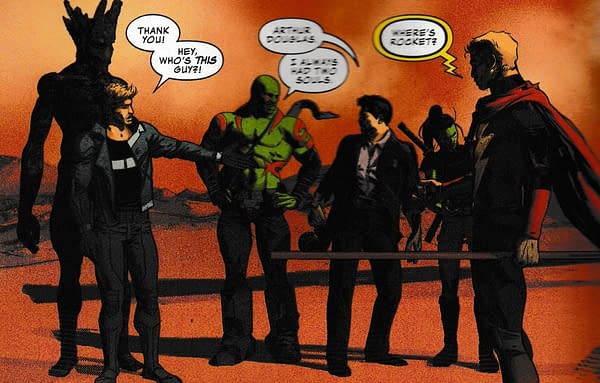 He always had two souls. In his Iron Man #55 origin, that wasn't clear, Draz formed from the immutable soil…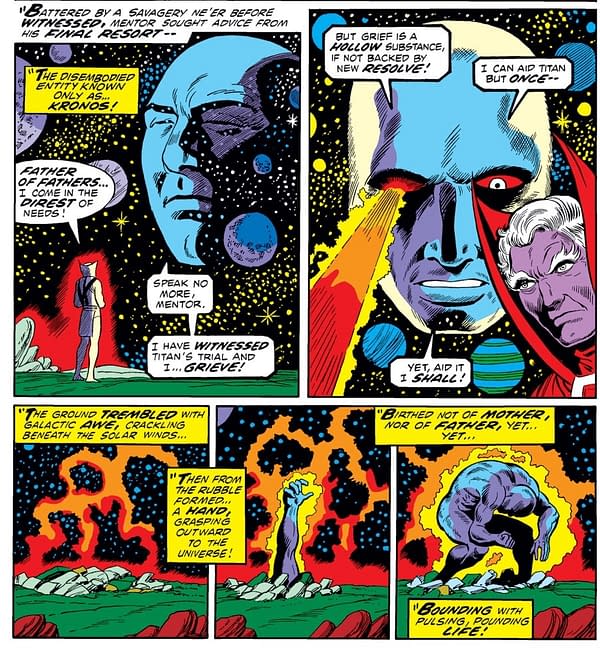 But later his origin was amended to become a normal Earth human with a family leaving Las Vegas, attacked randomly by Thanos.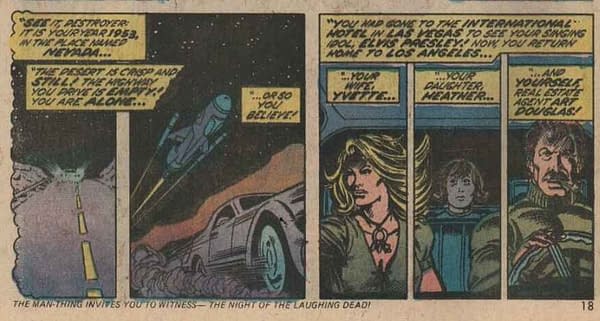 Real estate agents Art Douglas, his wife Yvette and their daughter Heather.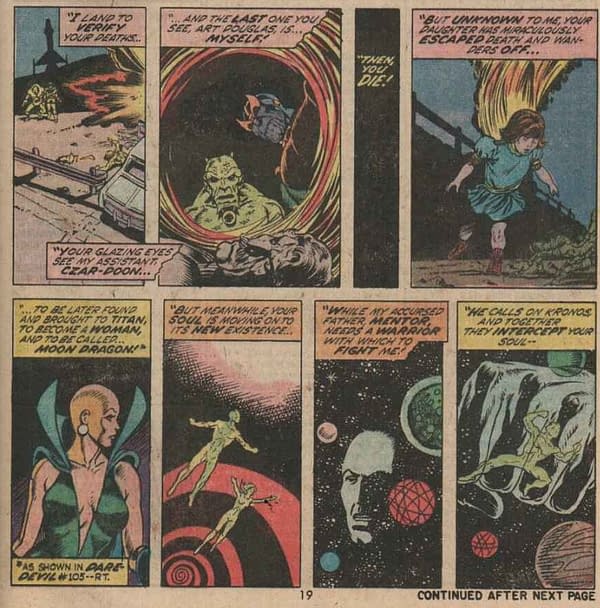 With Arthur Douglas' soul chosen for revenge – and his daughter to become Moondragon.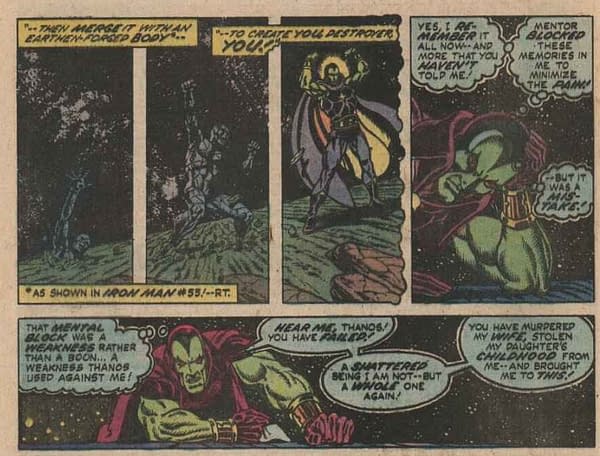 And then combined with the being created as Drax The Destroyer. And now, in Infinity Wars pulled back apart, their unique nature used to hold reality apart…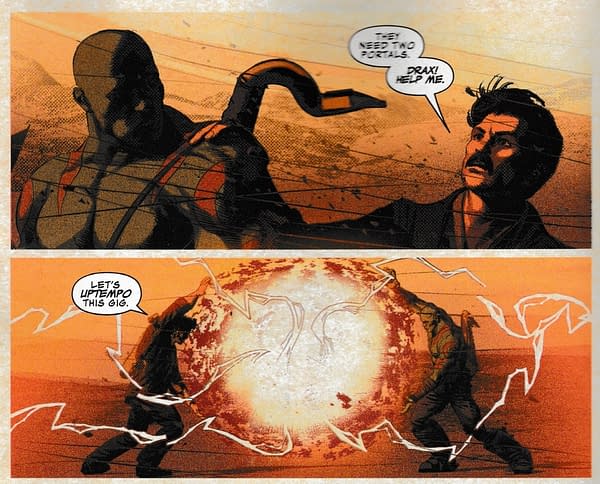 …while an attempt to deal with the moral questions raised by the existence of the Warps is struggled with.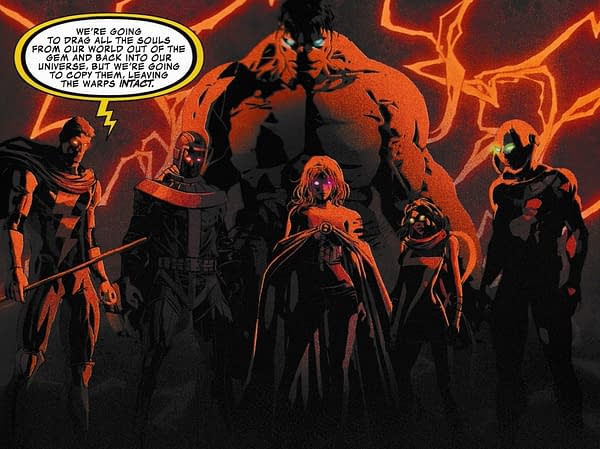 Basically the Infinity Warps world will survive, and the Marvel Universe recreated from copies of those combined souls. So, yeah, the Marvel Universe is now a Copy File Location reality. Everyone okay with that?
And it's a one way mission for the two of them.


Though they do manage to survive in their own ways and own realities, Drax The Destroyer is gone. But Arthur Douglas has his own happy ending in the Infinity Warps world…
And everything he could have wanted continues for both Arthur…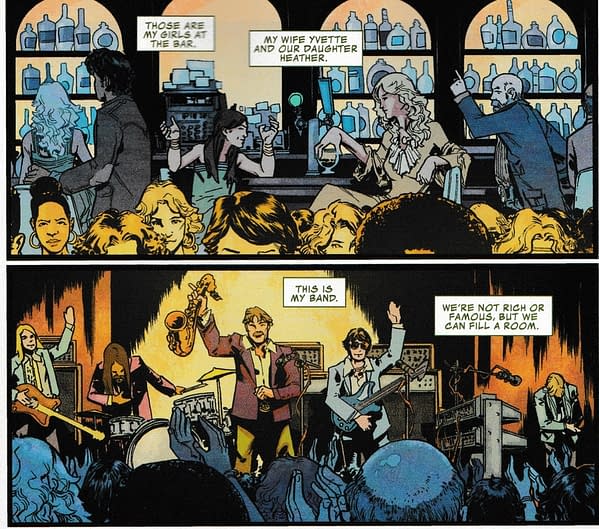 … and The Destroyer. Which means he can abandon the Guardians Of The Galaxy movie look and return to the Destroyer look we know of old…
As for everything else, Infinity #Infinity is still to come…
INFINITY WARS #6 (OF 6)
(W) Gerry Duggan (A/CA) Mike Deodato
INFINITY'S END.
Rated T+
In Shops: Dec 19, 2018
SRP: $5.99

INFINITY WARS FALLEN GUARDIAN #1
(W) Gerry Duggan (A) Andy MacDonald (CA) R. B. Silva
In the stunning climax of INFINITY WARS, one of the Guardians of the Galaxy makes the ultimate sacrifice. Look back at the life of a fallen Guardian and the empty space they leave behind in what's left of the universe.
Rated T+
In Shops: Dec 19, 2018
SRP: $4.99