Jim Lee Draws Spider-Man, Michonne and Spawn For San Diego Comic-Con's 50th Anniversary
Jim Lee may be planning a DC/Image Comics crossover. But this may be the closest you'll get for some time, as it brings in all manner of characters as well. The 50th San Diego Comic-Con is happening in July and the DC Comics publisher has drawn the front cover with inks by Scott Williams and colours by Alex Sinclair.
And it features Superman, Batman, and Wonder Woman from DC Comics, Spider-Man, Captain Marvel, Black Panther from Marvel, Hellboy from Dark Horse, Spawn and Michonne from Image, and the Teenage Mutant Ninja Turtles from IDW…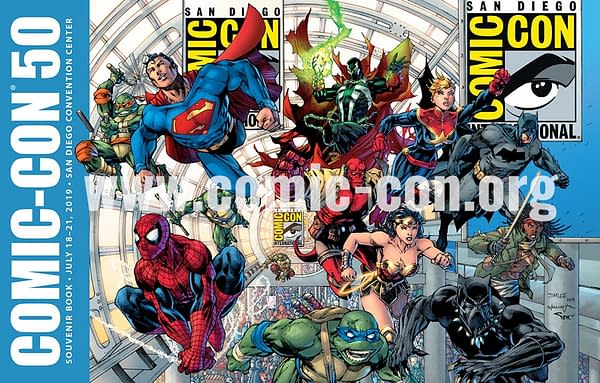 Jim had this to say about working on this year's cover: "The honor was mine getting to do this historic cover for the world's preeminent pop culture event. What an amazing 50 years! Comic Con was the start of it for me and from my very first Con back in 1987, it's been a huge part of my life. I've watched it transform the business and usher in a world I don't think any comic book reader back in 1987 would ever have imagined to come to be. Thank you, Scott and Alex—you two continue to elevate and enhance everything you guys touch and this cover is a testament to the teamwork that we have forged and the sheer talent you bring to every project."
This also marks the first time since 1975 that Comic-Con's Souvenir Book has featured a wraparound cover (that cover featured Will Eisner's The Spirit poolside at the El Cortez Hotel in San Diego). Click here to see all of their Souvenir Book covers over the past 50 years.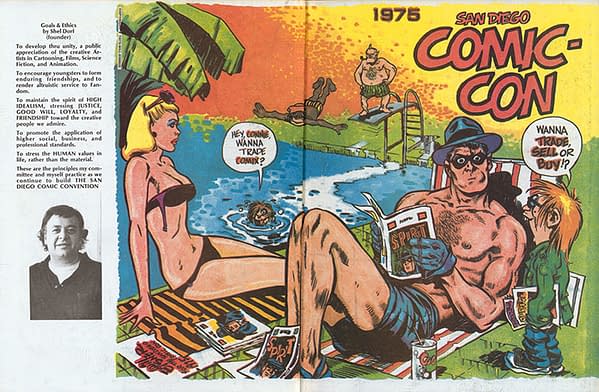 Comic-Con's Souvenir Book is available free to all 2019 attendees (while supplies last). This 280-page, full-color, trade paperback book features a pictorial history of Comic-Con's past five decades, featuring over 530 photos and artwork from the event's past, along with special features, including an in-depth history of Comic-Con by Eisner Award-winning author Bill Schelly. The Souvenir Book is available onsite only at Comic-Con 2019, July 18–21th at the San Diego Convention Center. And then on eBay straight afterwards.