Marvel Unlimited Fills Gaps in Excalibur, Power Man, Punisher, and Gambit This January
Marvel Comics has revealed the list of classic comics being added to Marvel Unlimited this month. This time around, there's no new series hitting the binge-reading service, with Marvel instead choosing to fill in some gaps. The first gap getting filled is a chunk of Excalibur issues (#35-41) from 1991 including The Promethium Exchange, a three-part story by Scott Lobdell and Mark Badger as well as colorists Glynis Oliver and Brad Vancata and letterers Chris Eliopoulos and Spike that featured the characters from Avengers: West Coast as guest stars. Once those issues hit, Marvel Unlimited will have an uninterrupted run of Excalibur all the way through Excalibur #67, though gaps remain later in the series.
Following December's addition of the first chunk of issues of The Punisher's first ongoing series, Marvel Unlimited will add issues #11-23 this month. Power Man will add issues #32-47, giving that series an unbroken run from Power Man #17 to Power Man #49 (and starting with Luke Cage: Hero for Hire #1-16). Finally, Gambit's first ongoing series adds issues #13-24, giving that nineties treasure an unbroken run from #1 to #25. So if you're a fan of reading long runs on classic series, January will be a good month for you.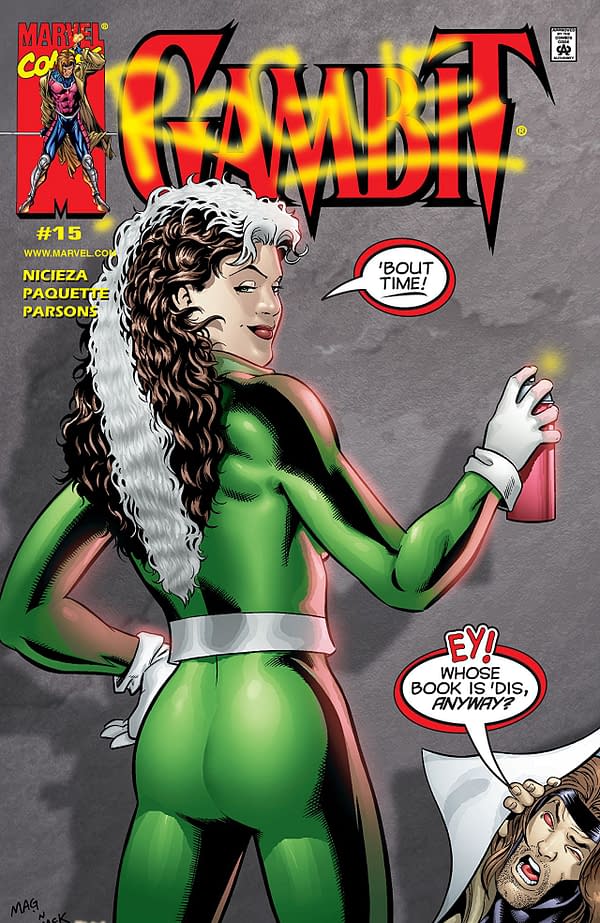 Of course, Marvel also adds the usual recent releases on a time-delayed schedule this month, and may add more classic comics not mentioned in the press release. Check out the full listing here:
A crop of new ongoing titles are coming your way, so now's the perfect time to join Marvel Unlimited!

Writer Nick Spencer's AMAZING SPIDER-MAN is here! Novelist Ta-Nehisi Coates picks up the shield for CAPTAIN AMERICA! Plus, Carol Danver's full backstory in THE LIFE OF CAPTAIN MARVEL and X-23 's fan-favorite series!

The binge worthy Marvel Digital Originals kick off, starting with CLOAK AND DAGGER and JESSICA JONES! And, 2018 breakout COSMIC GHOST RIDER comes for baby Thanos, while we proclaim DEATH OF THE INHUMANS! Plus, INFINITY WARS' opening salvo, and love and marriage in MR. AND MRS. X!

And stay tuned for these new additions from classic series like GAMBIT (1999) #13-#24, THE PUNISHER (1987) #11-#23, EXCALIBUR (1988) #35-#41, POWER MAN (1974) #32-#47, and so much more! Get the full list right here:

WEEK OF 1/7
ANT-MAN & THE WASP #3
ASTONISHING X-MEN #13
AVENGERS #4
BEN REILLY: SCARLET SPIDER #21
CAPTAIN AMERICA #1
COSMIC GHOST RIDER #1
DEADPOOL #2
DEATH OF INHUMANS #1
DOCTOR STRANGE #3
HUNT FOR WOLVERINE: WEAPON LOST #3
IMMORTAL HULK #2
INFINITY COUNTDOWN: CHAMPIONS #2 SERIES COMPLETE!
MARVEL RISING: SQUIRREL GIRL/MS. MARVEL #1
SPIDER-MAN/DEADPOOL #35
SPIDEY: SCHOOL'S OUT #3
STAR WARS #50
STAR WARS: THE LAST JEDI ADAPTATION #4
WEAPON X #20
X-MEN: GOLD #31

WEEK OF 1/14
AMAZING SPIDER-MAN #1 WRAPAROUND COVER
AMAZING SPIDER-MAN: RENEW YOUR VOWS #21
CHAMPIONS #22
DAREDEVIL #605
DARTH VADER #18
DEADPOOL: ASSASSIN #3
DOMINO #4
EXILES #5
HUNT FOR WOLVERINE: ADAMANTIUM AGENDA #3
INFINITY COUNTDOWN: DARKHAWK #4 SERIES COMPLETE!
MS. MARVEL #32
NEW MUTANTS: DEAD SOULS #5
OLD MAN LOGAN #43
QUICKSILVER: NO SURRENDER #3
STAR WARS: THRAWN #6 SERIES COMPLETE!
THE PUNISHER #227
THE UNBEATABLE SQUIRREL GIRL #34
X-23 #1
X-MEN: BLUE #31

WEEK OF 1/21
AVENGERS #5
CABLE #159 SERIES COMPLETE!
CLOAK AND DAGGER – MARVEL DIGITAL ORIGINAL #1
DARTH VADER ANNUAL #2
HUNT FOR WOLVERINE: CLAWS OF A KILLER #3
IMMORTAL HULK #3
INFINITY COUNTDOWN #5 SERIES COMPLETE!
JESSICA JONES – MARVEL DIGITAL ORIGINAL #1
MARVEL SUPER HERO ADVENTURES: MS. MARVEL AND THE TELEPORTING DOG #1
OLD MAN HAWKEYE #7
PETER PARKER: THE SPECTACULAR SPIDER-MAN #307
RUNAWAYS #11
SPIDER-GWEN #34 SERIES COMPLETE!
SPIDER-MAN/DEADPOOL #36
SPIDEY: SCHOOL'S OUT #4
STAR WARS #51
STAR WARS: POE DAMERON #29
THE LIFE OF CAPTAIN MARVEL #1
THOR #3
TONY STARK: IRON MAN #2
WEAPON H #5
X-MEN: GOLD #32
X-MEN: RED #6

WEEK OF 1/28
AMAZING SPIDER-MAN #2
DEADPOOL: ASSASSIN #4
HUNT FOR WOLVERINE: MYSTERY IN MADRIPOOR #3
INFINITY WARS PRIME #1
MARVEL 2-IN-ONE #8
MOON GIRL AND DEVIL DINOSAUR #33
MOON KNIGHT #197
MR. AND MRS. X #1
MULTIPLE MAN #2
OLD MAN LOGAN #44
SENTRY #2
STAR WARS: DOCTOR APHRA #22
STAR WARS: LANDO – DOUBLE OR NOTHING #3
THE PUNISHER #228 SERIES COMPLETE!
VENOM #4
X-23 #2
X-MEN: BLUE #32
X-MEN: GRAND DESIGN – SECOND GENESIS #1
X-MEN: WAKANDA FOREVER #1