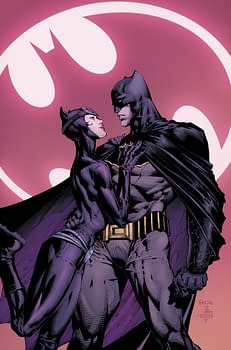 Writer Tom King has been hyping Batman #24 as a turning point for the character of Bruce Wayne. There are hints that he will be retiring as Batman, all part of a plan by Dr Manhattan to "take him off the board". It looks like it may be a pivotal issue.
(W) Tom King (A) Clay Mann (A/CA) David Finch, Danny Miki

"Aftermath"! Gotham City is at peace…but a war is coming. Armed with the terrifying knowledge gained from the mysterious button, Batman prepares for the coming storm by making a proposition to one of his enemies-one that will change everything for the Dark Knight and his allies!
But Brits are going to have to wait at least a week. In a letter to British retailers, Diamond Conic Distributors state "due to a Diamond shipping error Batman #24 regular and variant editions are not in your deliveries for next week and will not be released June 7th in the UK. We will update you next week with the revised release date for them in the UK. Diamond UK would like to apologise for any inconvenience that this may cause."
I can almost hear the sound of ComiXology employees rubbing their hands together…
Enjoyed this article? Share it!