NYCC '15: The IDW & Top Shelf Panel With Legacy Of Spock, Rom, Micronauts, Fear & Loathing, 30 Days, And More
On Friday morning, the with the con officially already kicking at 11:15 AM, IDW and Top Shelf gathered quite a crowd to talk about their current and upcoming books.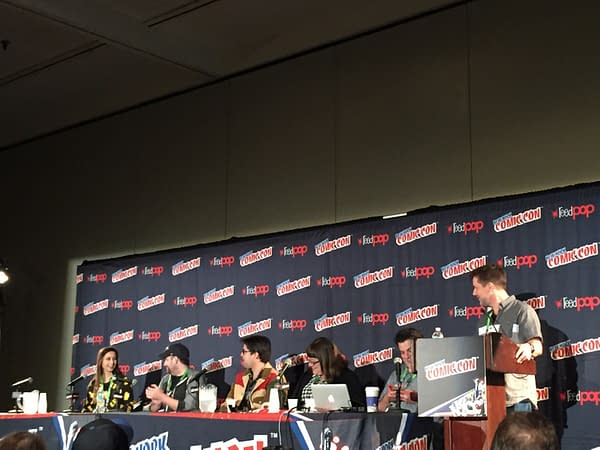 Chris Ryall, Sarah Gaydos, John Barber, Elsa Charretier, and Mike Johnson took part in the panel. They started off with a reminder about Archie Cover Month coming up celebrating 75 years of Archie this December. It's a way to do "playful things with our own licensed characters", Ryall said.
Coming up in January, new book Luna the Vampire arrives full of "sci-fi space fun" and plenty of "gross". Gaydos described it as a "little different" from what you usually see at IDW, but this was a pitch they just had to pick up.
Jem and the Holograms, upon mention, got a round of applause, and Barber announced Dark Jem, "when Jem goes dark". It was one of the "original pitches" for the series, and the "whole first year" built to this storylikne, he said.
The Transformers event coming next summer in July called Transformers: Titans Return will show that "titans will rise and sentinels will fall".
Starting in March, All Hail Optimus will arrive with Transformers #50, presenting Earth as part of the Galactic community, whether they want to be or not.
Ryall commented that we live in an industry now that doesn't like "high numbers" and does reboots constantly, but Teenage Mutant Ninja Turtles also hit 50 this year. IDW usually don't do books that run so long, but were committed to these books, but also these creators, he said.
Ghostbusters International coming in January 2016, is going to be more of a "global thing" where the characters are able to investigate ghosts and myths in other countries, Ryall said.
The Infinite Loop has been a highlight for editor Gaydos, and she reminded that the collected trade of this series is coming out in November. It's a book that's not licensed, so IDW doesn't want it to "fall through the cracks". Charretier gave IDW a copy of the book one year ago based on their French edition, and during that time it's been published. Charretier works mainly in digital, with minimal layouts. She has also contributed covers, like TMNT and Edward Scissorhands. She has gotten to make covers for properties that she's always been a "big fan of", she said.
Mike Johnson spoke briefly about Starfleet Academy, which he described as a "fun book" with a "more lighthearted tone" than you might see in the main Star Trek series. He said there will be two different sets of cadets in the story, with the story set in the week before the previous film. There's a free ashcan preview comic at IDW's booth 1844, at NYCC this weekend.
Star Trek proper, is a series that has hit issue #50, and it comes out soon. It's the start of an arc that features the Trek characters interacting with the Mirror, Mirror universe.
Today, IDW announced a new major arc of Star Trek called Legacy of Spock which is going to be a 4 issue arc which tells the story of New Vulcan. We follow Nimoy, an older Spock, along with the 10 Vulcans left after the homeworld is destroyed. It's a reflection and celebration of Nimoy Spock for fans, writer Mike Johnson said. It's coming in March.
Ryall said there will be more TV news for Dirk Gently fans coming soon.
The upcoming Mars Attacks picks up after the Martians have "won the war" and presents the "human resistance", written by John Layman, also coming in March. Art will be by Andy Kuhn.
Wynona Earp is one of the series that will have a TV show this coming Spring, and a series of comics will re-launch in tandem with the TV show. It's coming in February 2016. She'll be killing demons and taking on more challenges then.
The team on Micronauts will be writer Cullen Bunn and artist David Baldeon, coming in February 2016.
Regarding Rom: The Space Knight, Chris Ryall and Christos Gage will be writing, and David Messina, and Paolo Villanelli will be the artists. It's coming in May for Issue #0 and July for Issue #1 in 2016. They are going to be launching it in a very big way for Free Comic Book Day with Issue #0.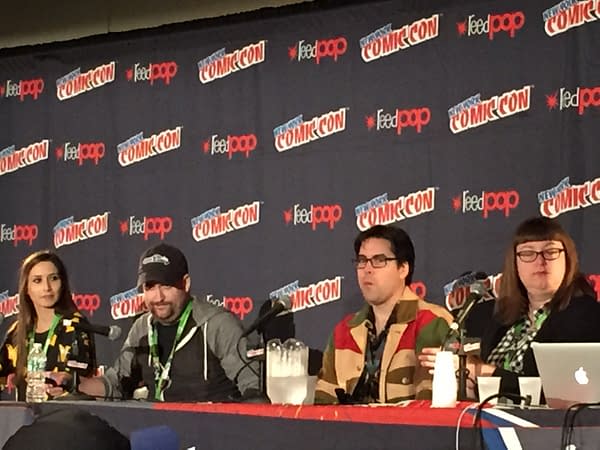 Troy Little spoke about adapting Fear and Loathing in Las Vegas, by Hunter S. Thompson, for Top Shelf. He had never working a Hawaiian shirt in his life before working on the book, but felt obliged to for process as both adapter and artist. Gaydos said the book was "unexpected" since previously she and Little had worked on Power Puff Girls. "There is puffing in both series", Little quipped. Ryall said a "normal adaptation" wouldn't have worked, but the book has a "unique look and vision" that isn't about imitating Ralph Steadman. Little said he loved the movie, but he wanted more "amped up action" and "cartoony expressions" that he wished to capture. Speaking of how he worked, Little said he took the novel and pulled things out to remove if it didn't flow, but all words and dialog are Hunter's original words. Any time Little added any of his own, he ended up removing them later. The book is currently for sale at the convention for its launch.
One of the new Artist's Editions that IDW has coming for next year is the Best of DC War with Sgt. Rock. It's coming in March 2016. Art by Alex Toth, John Severin, and more will be featured.
George Perez: The Avengers Artist Select Series Compilation will be coming from IDW. Comic Con today. The book will be a compilation, high end and deluxe, and George Perez will be signing bookplates for it, according to Chris Ryall.
Ryall announced that the seminal series from IDW, 30 Days of Night, will be returning in 2016 by original writer Steve Niles, and Locke & Key artist Gabriel Rodriguez. It's going to be a "very different thing" than what people might expect. It's called 30 Days, which shows a difference in title. Both Steve Niles and Gabriel Rodriguez have been with IDW a long time, and these two will "reinvent" and "recreate" the series next year, according to Ryall.