One-Punch Man Is The Only Superhero That Matters – Look! It Moves! by Adi Tantimedh
Adi Tantimedh writes,
The only new anime series I care about this Fall season has been One Punch Man.
I'm tired of all those other anime series about teenagers in high school getting empowered while being coy and nervous around girls. They all do the same things and none those new shows this season have done anything new.
Then there's One Punch Man, a spoof of superheroes that manages to have its cake and eat it too. Saitama is a bald, bland-looking dude who's so unassuming nobody ever notices him. They don't realise he's the greatest superhero in the world. He's so strong that he can take out any enemy with a single punch, turning them into a shower of organs and giblets. The problem is, since he became so powerful, he has lost all enthusiasm for fighting and superhero-ing. He wishes he could meet an opponent that really challenged him and doesn't become a red splat-stain the moment Saitama taps him. As he tries to come out of his rut, he makes new friends among his peers, including an earnest cyborg out for justice, a powerless costumed bicyclist, a master of martial arts and a even a complete fraud.
(I could swear the notion of a "one punch man" was a joke that became a meme on the Warren Ellis Message Board back in the 90s, but my memory is hazy. When I first heard about the manga a few years ago, I thought someone had finally decided to turn the meme into an actual series…)
For the detailed background of the series, I'll leave it to YouTuber Anime Balls Deep to give you the rundown:
So One Punch Man is a piss-take of superhero, but it also manages to be the best superhero series out there right now. It boils away all pretense to arrive at why people like superheroes to start with: the power fantasy, but with a twist. Saitama has a hero is so powerful he's completely invincible, but instead of being arrogant, insane or overly earnest, he's just bored. He barely has any ego beyond vaguely wanting to be better-known, but he's also lazy and doesn't really need to do anything. That's what happens when you're all-powerful. And the creators know that Saitama has become a deus ex machine – no fight lasts long with him, so they deal with how other ridiculous heroes try to cope before Saitama finally shows up to clean everything up. And the series gleefully revels in the ridiculous names of superheroes and supervillains.
You could say One Punch Man is a Japanese comedy comedy version of Superman, commenting on the original archetype of the guy in a cape and tights who's superstrong and can leap in the air with a single bound. This is if Superman was a bit lazy and jaded. Saitama claims to have become strong from just relentlessly training for years, but nobody else has his strength, and he doesn't have any other explanation for his strength and invincibility either. And for someone completely comfortable with his powers, he has no real agenda, fights out of obligation, and only really wants the acknowledgement of peers he can hang out with. His is a very Japanese affability. He lives in a modest flat and decided to become a hero because the bad economy has kept him from finding a steady job in an office. He buys food from the local supermarket and the only thing that really gets his adrenaline pumping is getting there in time for their weekly special discounts on groceries. The Hero Association, a professional organisation that ranks and employs all the superheroes in Japan to protect the country, is run by bureaucrats whose mediocre wa of categorising superheroes split the heroes themselves into squabbling egomaniacs fighting over fans and rising up in their ranks so they can have gainful employment as heroes and gat validation for their fragile egos. The top-ranking heroes are mostly self-absorbed and selfish egomaniacs more occupied with their status than saving the world. You could read this as a satire of corporate culture where rivalry and insecurity are cultivated to keep the employees on edge. The only sour note is its stereotype of a flamingly gay superhero that's redolent of Japanese homophobia where you just know the creators have never (knowingly) met a gay man in their lives.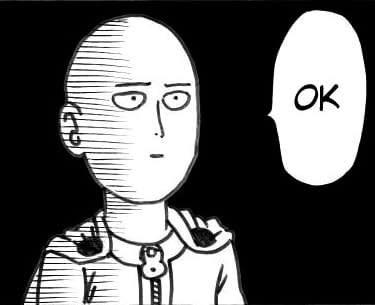 And where the series has its cake and eats it too is in the over-the-top fights and setpieces that you would find in Hollywood blockbusters like Man of Steel, except they gleefully embrace not just the shock and awe of destruction, but also the utter silliness as well. One Punch Man may have started as a crudely-drawn webcomic its creator made to amuse himself, but it has become the most unpretentious and fun take on superheroes that cuts through all the self-consciousness and pokes at the self-importance of much of Marvel and DC these days. For a superhero comedy, it's the most direct and honest take on the genre I've ever seen.
One Punch Man is now streaming on viz.com, daisuki.net and hulu.com
Punching just at my weight at lookitmoves@gmail.com
Follow the official LOOK! IT MOVES! twitter feed at http://twitter.com/lookitmoves for thoughts and snark on media and pop culture, stuff for future columns and stuff I may never spend a whole column writing about.
Look! It Moves! © Adisakdi Tantimedh