When BleedingCoolNYC Met Up and Made Cunning Plans
On Saturday night, we held our first BleedingCoolNYC meet up for our contributing writers/filmmakers/columnists and the result was a fairly intriguing glimpse of what later 2013 and 2014 is going to be like for the site. There were many cunning plans made. Expect to see some new columns on comics history, gaming, cosplay, more reviews, and even more events coverage in the coming months.
We plotted and schemed about San Diego Comic Con 2014, and even about New York Comic Con 2014, gathering feedback from writers about how to make for the best coverage of events for you, the readers, and also for our operatives, based on our observations of NYCC 2013, which was, in terms of coverage, our best NYCC ever.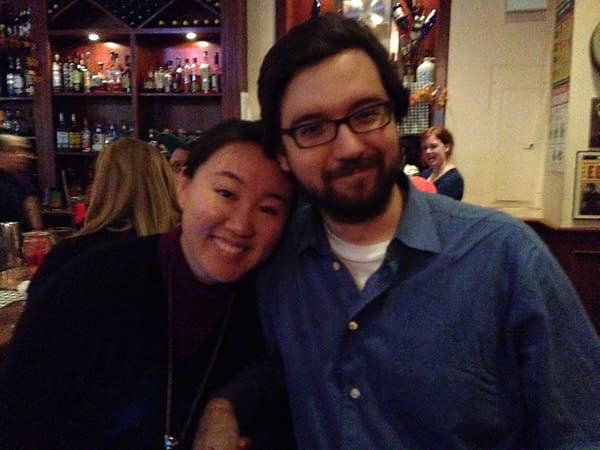 But there was also plenty of good food, drinks, an entire suitcase full of free comics and graphic novels for the Bleeding Coolers who attended. I mean that–an entire suitcase of work from several different publishers ranging from DC and Vertigo to Dark Horse, Marvel, Valiant, and more. It was Christmas in November, and best of all, the suitcase wasn't still full when I had to lug it home.
In attendance were:
Nikolai Fomich, reporter at SDCC 2013, NYCC 2013, and regular contributor to the site with his fiancee Min Wang, our Cosplay photographer extraordinaire Endymion Mageto, Bleeding Cool's longest running columnist Adi Tantimedh ("Look! It Moves!"), Daniel Celko (who turned up in Steampunk gear fresh from an event), reporter at NYCC 2013, Elizabeth Heyman, reporter at NYCC 2013 and contributor, Patrick "thrillems" Willems, filmmaker of Aquaman, The Teen Drama, and of course, myself, Hannah Means-Shannon, senior New York Correspondent at Bleeding Cool.
There was also virtual presence from our boss Rich Johnston who managed to Facetime with us from London to gossip, gesticulate, and dance wildly to the pub's music before signing out.
In short, 2014 is looking pretty rosy for our site, so stay with us and enjoy the ride as these fine folks bring their contributions to you. They are stellar and we're glad to have them here at Bleeding Cool.
Hannah Means-Shannon is Senior New York Correspondent at Bleeding Cool, writes and blogs about comics for TRIP CITY and Sequart.org, and is currently working on books about Neil Gaiman and Alan Moore for Sequart. She is @hannahmenzies on Twitter and hannahmenziesblog on WordPress. Find her bio here.