When Diamond Comic Distributors Flexed Its Censorial Muscles…
Bill Schanes, former VP of Purchasing at Diamond Comic Distributors, is continuing his reminiscences of comics distributor days gone by – including his own company Pacific Comics, both a distributor and a comics publisher, with Steve Geppui and Diamond. Both a competitor and a vendor with Diamond. He writes on Facebook,
In 1981, Pacific Comics started to publish full color comic books, which at that time, there was DC Comics, Marvel Comics, Archie Comics, Harvey Comics and Warren Magazines, plus Starlog Magazine. There was also the underground comix publishers, Print Mint, Rip Off Press, Last Gasp, plus others, and a few new age publishers (ground level publishers) like Star Reach Productions and Eclipse Comics as well.

We were so fortunate that our very first full color comic book was by the biggest name in the business, Jack Kirby. Captain Victory was his first of 2 creator owned titles for us (Silver Star came later). We decided to have a lead feature, and then a much shorter back up feature in each of our comic books. Most of the back up features would focus on newer creators, who we wanted to give exposure to their works.

We now had the "King" coming back to the industry (Jack had left comics to work in the animation field), so we knew this would be huge news.
Jack Kirby back in the comics industry? It was…
We had gained tremendous support from comic book specialty retailers, distributors and the media. As we continued to add titles, we started to branch out from the superhero genre into science fiction, fantasy, horror and humor.

We had come to a special relationship with incredibly talented team of April Campbell and Bruce Jones, who acted as editorial packagers on a wide range of new titles, some of which would stretch the boundaries of which might be considered politically correct at the time. Over the course of a couple of years, April and Bruce created Alien Worlds, Twisted Tales, Pathways To Fantasy, Somerset Holmes, and several others as well.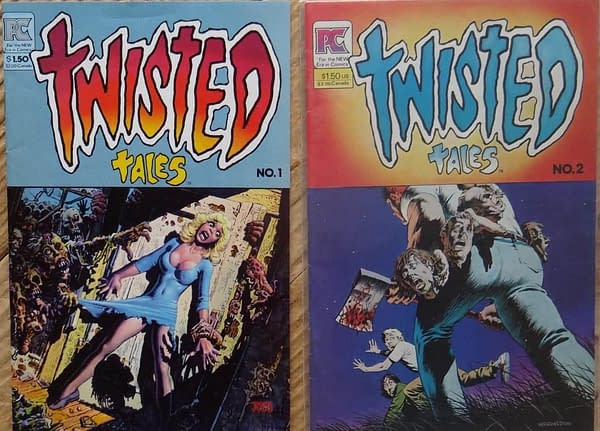 I'd like to say it was a more prudish time but these things come in waves…
One of our largest distributors at that time was Steve Geppi's Diamond Comic Distributors. We were aware that Steve was very conservative, and only distributed a few publishers prior to Pacific Comics (Archie, DC, Harvey, Marvel, as well as Starlog magazine). That was Diamond's entire monthly product offerings. Other distributors offered much wider product ranges, Capital City, and our own distribution company to name just two.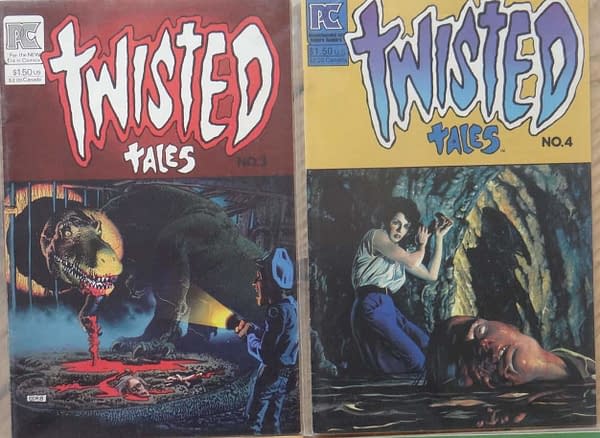 As Alien Worlds and Twisted Tales started to be published, we had received a very strongly worded letter from Geppi's Comic World (which was Steve Geppi's chain of comic book specialty retail stores on the east coast). The letter went to great length as to how offended they were by the editorial direction some of our titles were heading in, and they wanted to let us know under no circumstances would any of the 6 stores support those controversial titles, and would also limit how deep the store chain would continue to support the more traditional titles. They also referenced potential concerns with some of their leases, as they didn't want the property management company who held the lease to say Geppi's Comic World was in violation due to unacceptable editorial matter. This letter was signed by each of the store managers, their general manager Bob Cook, and Steve Geppi. This hit us hard, and we were very worried other major distributors would follow suit. The other distributors didn't object, or we would have been in real trouble.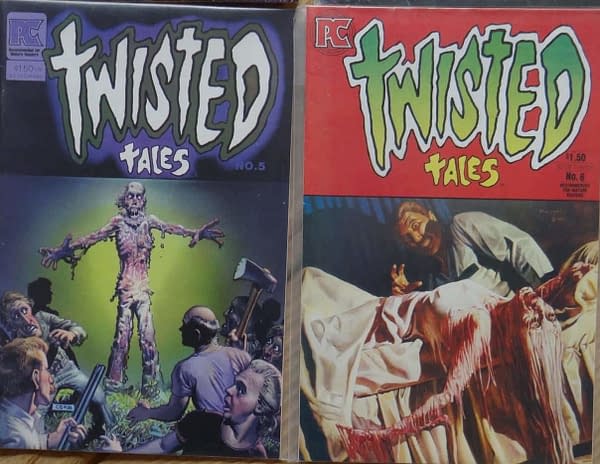 Diamond Comic Distributors was not a direct market monopoly – at least, not then. And Geppi's World was a small chain of comic stores. But things come around…
A few years later, after Pacific Comics closed its doors in the summer of 1984, I took about a few months off to contemplate what I wanted to do next. Ironically I ended up moving to Baltimore to work for Steve Geppi, quickly getting promoted to Vice President Of Purchasing, and being the person ultimately in charge of what types of products and publications Diamond would be offerings to its comic book specialty retailers. The monthly product selection grew from 100-150 items on a 2 page order form to well over 3,000 items in any given month, in a 600 page full color illustrated catalog.
And thus we have the comics market today. But those censorial reactions didn't entirely dissipate… I do hope Bill tells us what happened with Miracleman #9 soon…