IDW Announces Weird Love Today With A Volley of Valentine's Cards
From the much-beloved for the strange and off the wall retrospective content imprint Yoe Books! via IDW, we will be receiving new bi-monthly comic Weird Love in May 2014. If you're thinking, "Aw, how sweet", think again.
This series collects all the "sexy, bizarre, sick, twisted, politically incorrect, kinky 'romance' comics of the 1950s and beyond". And knowing Yoe Books!, hopefully it'll eventually be lavishly presented in a highly desirable large format hardback with archival-standard pages full of weirdness. But I doubt anyone will wait that long to have a gander.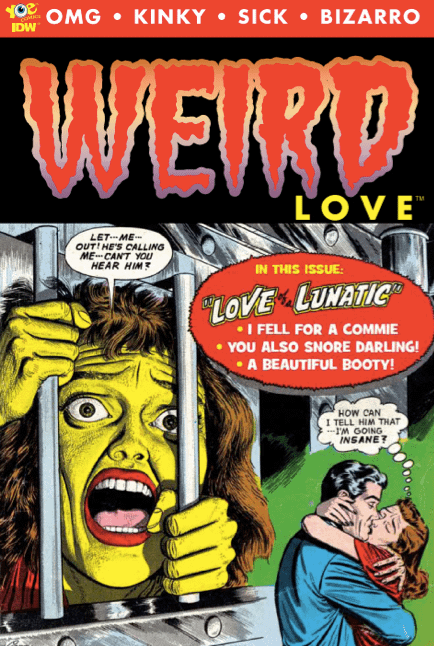 The announcement is enough to make anyone's heart swell with hope for Valentine's Day after all, amid all the froo-froo you're probably surrounded by today.
Craig Yoe's descriptions are rather enthralling:
Amazingly in the repressed 1950s and the any-thing-goes 1960s in some so-called 'romance' comics, there were some stories jaw-dropping sick, perverse, strange, kinky, twisted, and by today's standards horribly politically incorrect. Only some kind of depraved person would now reprint them. So, I am very excited and proud to be reprinting these gems!
And IDW have been sending custom-made Valentine's Day cards out to promo some of the art in the book and its personality. So, from Bleeding Cool to you, readers, your very own Weird Love Valentine: