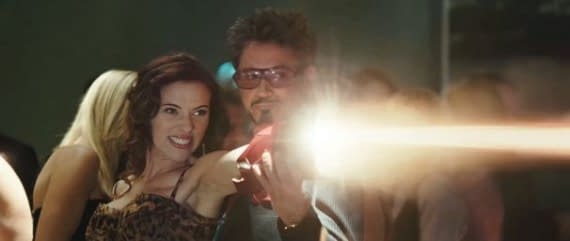 I don't really have a quasi-narrative anecdote for this one. Sure, I sat in line for two hours, but nothing really happened. I met some cool people and had an interesting "Avatar" discussion, but nothing really exciting happened.
So….On to the movie.
I didn't originally plan on doing a recap of Iron Man (and if you're a regular Bleeding Cool visitor, you can probably just ignore this), but today I encountered several people who had never seen it, which, when going to see a sequel, is a pretty important thing.
Iron Man is about a weapons manufacturer, Tony Stark, who, after being blown up by his own tech, has a change of heart and decides to become a hero. After he was blown up, Tony was taken to a cave and forced to create weapons for a group of terrorists, but ends up, with the help of a fellow captive, engineering a suit of iron that allows him to escape. When Tony gets home he announces that he's no longer a weapons maker. Tony's ex-business partner doesn't like this, teams up with the terrorists, creates his own suit of iron (I.e. the Iron Man suit) and they fight. Tony wins, of course, and that's it.
A pretty simplistic summing-up, but you all get the picture.
Iron Man 2 is about Tony Stark dealing with all the shit headed his way after revealing that he is Iron Man and the tech is all his and not the government's.
It's a pretty well written film, but there are a couple little things that stood out. The first and most prominent is a sub-plot involving Tony potentially [spoilers!] dying a slow death from Palladium poisoning (we're told that Palladium is what powers the arc-reactor in Tony's chest). This normally wouldn't be a problem, but this sub-plot is resolved half-way through the film with (surprise!) Tony living. The plot does involve Nick Fury showing up to cure Tony (kind of) which leads to something imperative to the plot, but Nick spends about two seconds with the death sub-plot and then switches the topic, drops off a package, and leaves (There is no reason that they couldn't have skipped the death-plot and just had Fury drop of the package). The death-plot actually leads to more plot holes (I.e. Tony finding about, in a strange and circumspect way, about a new element and creating it (about five minutes after Jarvis tells him, "it's impossible to synthesis.")) It's a dead-end kind of thing with no value that doesn't really have anything substantial to do with the overall plot. It's really just used an excuse to explain Tony's raucous Iron Man-ing While Intoxicated, which is a pretty useless plot point anyways. The IMWI does give us some very important scenes, but they're completely out of character and seemed a little forced. That's the biggy. There is minor one (Natasha Rushmore, as she's called in the film, is a notary, but for some reason she follows Tony and Pepper (Tony's assistant) around the whole movie, and I thought that it was a little odd that they left that unexplained). And, my last "script" complaint (even though I guess this technically a directorially or maybe an editing complaint): there's a scene where Tony is driving on the highway. Not doing anything, just driving. It's serves no purpose other than to get some money from Audi, and it had no place in the film.
The film had the same plot structure as the original (Talk, talk, talk, big fight, the end) which isn't necessarily a bad thing, it just loses some points for originality.
No real directorial complaints. Favreau does a pretty good job of nabbing great shots and getting good performances out of the whole cast. And, he even does a pretty good job in his role as Happy Hogan (Stark's bodyguard).
The acting? I have the opposite of complaints for the acting. In fact, I will go out of my way to commend the acting. Downey and Paltrow give incredible performances, as does the rest of the main cast ( Sam Rockwell, Scarlett Johansson, Mickey Rourke, and Don Cheadle). Rockwell does "bad guy" like no other; both humorous and a little frightening all at once. Rourke is another one that you just buy into completely. I mean, he just looks and acts like he was made for the role; he makes it his own, and if you're a fan of his other work, go see this movie just for him. We get a clever cameo from Stan Lee and even one by Olivia Munn (which doesn't mean much unless you know who she is). The cast was really the stand out part of the film for me, which isn't to say it was a bad film, it was just an incredible cast. There is something that irked me throughout the movie, though. And that was the re-casting of Rhodey (Terrence Howard in the original but Don Cheadle in 2). I don't know why they re-casted him, and I don't really care. Sure, Don Cheadle did a great job, as he often does, but there was just something about the fact that this is the same character with a different build, different voice, different face, it just…just alienated me a little bit. But, all in all, there was nothing more the actors could've done to improve the quality of the film.
Not much to say about the music. It was good, music we've all heard before. I was a little disappointed that, for a movie whose soundtrack consists solely of AC/DC songs, there was barely any AC/DC in the actual movie. There was some but not as much as everyone was probably, or at least I, was expecting.
The FX guys did a good job, no complaints there.
That's pretty much it. I'd give this move two thumbs up. But, if I was going to get a little more precise, I'd give it a 7.5/10. It's a pretty good movie, worth the money, great cast, but, there wasn't anything really original about it and there were some script problems that really stuck out. Like everyone's been saying: Good. Just not as good as the original.
p.s. big shout-out to Devin Pike and RedCarpetCrash for hooking me up with tickets to the advanced screening.
Iron Man 2 is released in the USA on Friday.
Enjoyed this article? Share it!