Keeping The Adrenaline Pumping in Locke & Key—Joe Hill at Baltimore Comic Con
Joe Hill and Gabriel Rodriguez are wrapping up their best-selling series Locke & Key soon, with the first of the two-part final segment released this week. IDW presented a spotlight on Joe Hill at Baltimore Comic Con to a packed room and Hill had plenty to say in conversation with IDW's Dirk Wood about his influences, upcoming projects, and the processes that have gone into creating, and completing the elaborate mythology of Locke & Key, though we may not have seen all there is to see of Key House even when the series itself reaches its conclusion. Hill addressed the audience with his trademark fervor and humor, delving into his past as a writer, and speaking candidly about his future projects as well.
Hill cited comics legend Alan Moore one of his top 5 favorite writers early on in the discussion, providing a clue to his penchant for creating intricate storylines, when Wood asked how important it is to understand the questions raised by the series. Hill said that during the early days of working on the comics, he was able to interview Alan Moore and Moore said, essentially, "only a complete asshat would raise questions they didn't have answers to in the story", which felt like it was describing Hill in his own mind. This led him to try to work out more fully the trajectory of the series. At that point, he and Rodriguez came up with an "18 page Key House Bible" that documented everything from the revolutionary war until the moment when Wendell Locke gets shot in face in Issue #1. That enabled them to "litter the comic with easter eggs to reach back to events not yet revealed" as the series progressed.
The problem with a long running series with a big mythology like X-files, is that 'mysteries get stacked higher", said Hill, so that there's "no way to ever have an answer for all of this bullshit". He and Rodriguez didn't want to get in situation where "we could never have a satisfying wrap up" to the series. Ironically, it was the cancelled Fox TV show shoot that helped them to craft a satisfying ending, Hill revealed. The two were on set for a week watching the filming of the pilot, and afterward would go to a bar and talk, "making up new keys and new situations". In the space of two nights together, they finally "hammered out the end of the story". Hill promised to avoid discussion of the final two issues, Alpha 1 and 2, in the panel, "besides all the major characters dying on page 2", he joked. He was joking, and there was laughter, but also a little squirming because you never really know what's going to happen in the series, to be fair.
It turns out that Neil Gaiman also had a part to play in influencing Locke & Key, along with Alan Moore. "When I grew up one of the writers who mattered most to me in the world was Neil Gaiman", Hill said, and this made him want to create his own long-running comic series to "test" himself and see if he could tell an interesting story "month after month" a la Sandman and Moore in Swamp Thing.
The panel also had plenty of discussion about Hill's upcoming IDW series WRA1TH which sprang from Hill's "day job as a novelist". His novel NOS4A2, a car's vanity plate in title, is about a "deeply disagreeable man" who "drives a car run by human souls" instead of gasoline, though the predator also has a sense of humor. Villain Charlie Manx, takes "little kids for long rides" in his car, and drains them of their "life force", but also dumps them in a place called Christmasland. Hill found he still had topics that he wanted to explore around the novel's mythology, and so settled on a 7 issue comic about Christmasland, with Rodriguez doing covers for the comics. The story will be set in 1989, and feature 4 convicts who wind up in Christmasland and have to "fight their way out". Hill clarified that if you've read the novel, you'll find the comic particularly funny, but if you haven't, the comic still contains all the necessary information to bring new readers up to speed.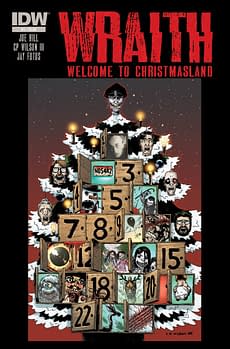 Wood brought up one topic on the minds of many fans, whether Hill and Rodriguez will be working together in the future. Hill said that he and Rodriguez are actually currently working on a "Superhero one-shot" for one of the Big Two and that even though Locke & Key is drawing to a close, there will be more (since there already are some) one-shots set in the past of the series in the future. Eventually, the two will have produced enough one-shots to "fill out a 7th book called "Locke & Key: Golden Age", Hill explained, all set in the past of Key House.
The question and answer period for Hill's panel was particularly intense and detailed, but Hill was at no loss for explanation and explication about his comics and also his prose works.
Regarding the inspiration behind character Charlie Manx, Hill said that "It didn't begin with the man, but with Christmasland, because Lon Cheney said "there's nothing funny about a clown at midnight". The quote, which Hill described as "such a Fucking great line" is "saying something about juxtapositions, that something harmless, sweet, and fun in the WRONG setting" becomes tremendously unsettling. Christmas music is lovely in the right season, Hill said, but if you find yourself in July in woods, when it's overcast, and go by old house that's boarded up, then hear Christmas music playing inside, even if it's "pouring" rain, "you're not going in there…". The audience erupted in laughter and agreement at his description.
Hill commented on how he initially came to work with Rodriguez on Locke & Key by explaining that "being amazing" was a "major factor" in choosing Rodriguez as artist. When Hill was presented with the work of 3 artists to pick from by IDW editor Chris Ryall, Hill suspected he was being influenced by Ryall since the 2 other artists were particularly lacklustre and Rodriguez was simply spectacular. "Gabe shares my feelings about how effective horror works", Hill said, since it's not a matter of "spraying intestines at the reader", to create an effective horror comic.
Hill actually intended Locke & Key to be "a corrective to 80's slasher films" which contain "generic teenagers like a jock, stoner, smart kid, and last girl" who simply get knocked down like "faceless bowling pins", leading you to root for the villains like Freddie Kreuger since you know they, at least, will survive. "I don't want to root for a serial killer", Hill laughed, and so he committed himself to creating real characters who were "loveable, sweet, funny, and have "internal life". Hill feels that once readers emotionally identify with the protagonists, once they are in danger, the adrenaline really starts pumping for the reader. "That's how good horror works", he said, "It's about empathy not sadism and brutality". Rodriguez was an artist who could show that, which is why he was perfect for the job.
Commenting on what other genres he had worked in aside from horror, or would consider working in, Hill said that he has actually written sci-fi work in his novella Gunpowder, set on another world where a single parent figure takes care of a clan of "half savage boys" in a frozen wasteland, and he plans to do more novellas in the same setting. But switching to fantastic writing versus realism was a decision he made fairly early on after trying very hard to create "mainstream fiction" that just "didn't stick" for him. Growing up, he had Fangoria posters on his walls and readNeil Gaiman, Alan Moore, Frank Miller, Sir Arthur Conan Doyle, and Ray Bradbury, but found himself trying to establish himself as a writer in prose that "wasn't where his heart was". So after "2 or 3 years" of attempting mainstream prose, he suddenly wrote "Pop Art", the story of a friendship between a "real" and "inflatable boy" that felt like a revelation. He was suddenly having more "fun" than in years of his previous writing. It was time for a change, and he was ready to let his "freak flag fly".
But not all his upcoming work will necessarily be "ghost stories", for instance, his novel underway at the moment, The Firemen, will be "less like Hellhouse, and more like The Andromeda Strain, less like Matheson, and more like Crichton". He's taking a little time off comics, he warned, to work on his prose after producing 50 published comic scripts in a relatively short space of time. But to the relief of everyone crammed into the IDW panel, Hill will be back. Comics are endemic, thankfully, to his storytelling craft.
Hannah Means-Shannon is senior New York Correspondent at Bleeding Cool, writes and blogs about comics for TRIP CITY and Sequart.org, and is currently working on books about Neil Gaiman and Alan Moore for Sequart. She is @hannahmenzies on Twitter and hannahmenziesblog on WordPress. Find her bio here.