By Michele Brittany, one of our West Coast Correspondents for Bleeding Cool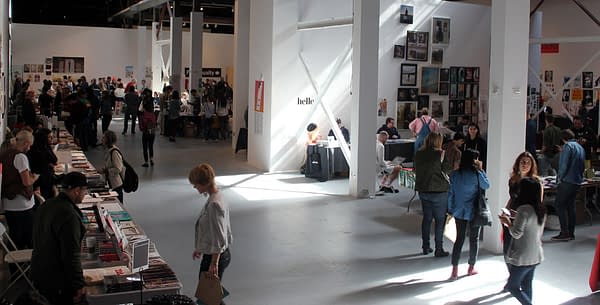 Late morning light streamed through several long rectangular skylights in the high ceiling above as my eyes adjusted in the entryway to the Geffen Contemporary at the Museum of Contemporary Art building located in the Little Tokyo district of Los Angeles. When I arrived, the 2nd annual Los Angeles Art Book Fair was underway late Saturday morning, February 1st. As the companion to the New York Art Book Fair held each the autumn, the west coast version attracted over 260 booksellers, independent publishers, and artists from around the world and gathering together under one roof for the three-day free event. Picking up a colorful pink-peach oversized folded program, I found that publishers were grouped according to their subject matter. Where to start was the first question that came to my mind. It seemed most logical to start in one corner of the building and make my way across to the other end.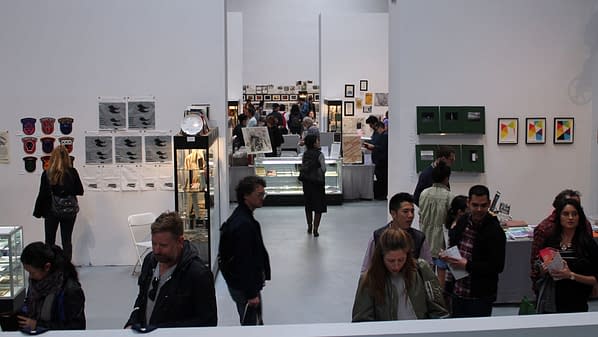 I began in the small independent publishing area that focused on raising awareness on such subjects as ecology and gender. It was fascinating to see beautifully composed flora photography juxtaposed to images of popular culture icons satirized with exposed penises in flaccid and states of arousal. More interesting still was that those same icons were twistedly sexualized: for example, a small version of Bart was snuggled against Homer's exposed genitals or Family Guy's dad, Peter, with Stewie, similarly presented.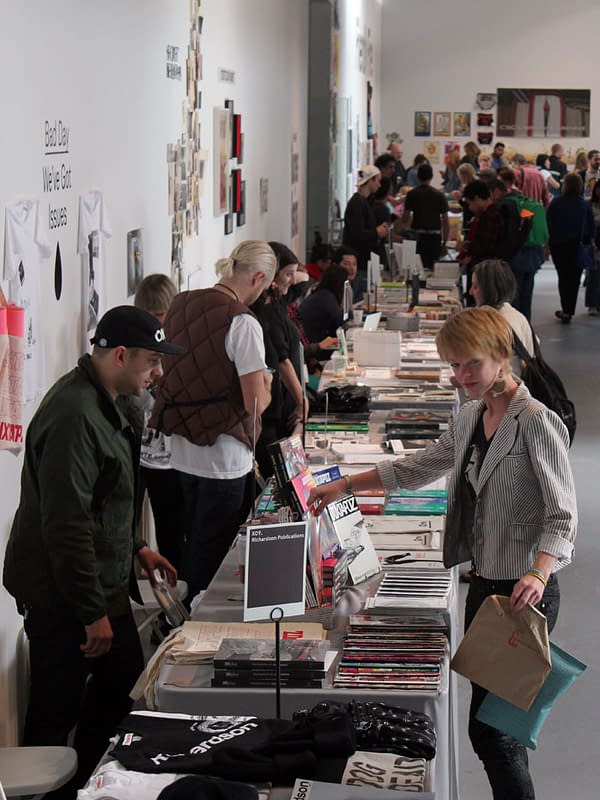 Shock value aside, as I walked around the area, what most impressed me was the quality of books by many of the vendors, because when I attended the Portland Zine Symposium a few years ago, the majority of books were still photocopied and precariously held together by one or two staples. I was not alone in my estimation.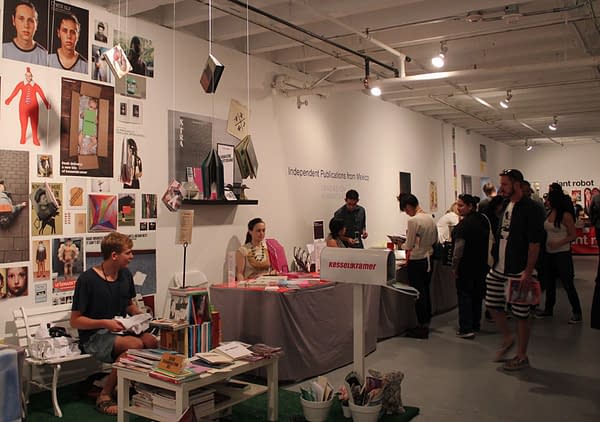 "We visited other tables in the zine room and were amazed at all of the incredible books, artists, and shops at the tables around us," relayed micro-press publisher 2D Cloud Creative Director Raighne Hogan and his wife, Meghan Hogan, Assistant to the Regional Managers, and first time vendors at the event. "During opening night we spent all of our money (and more!) that we allotted towards the buying and selling of zines/books/comics."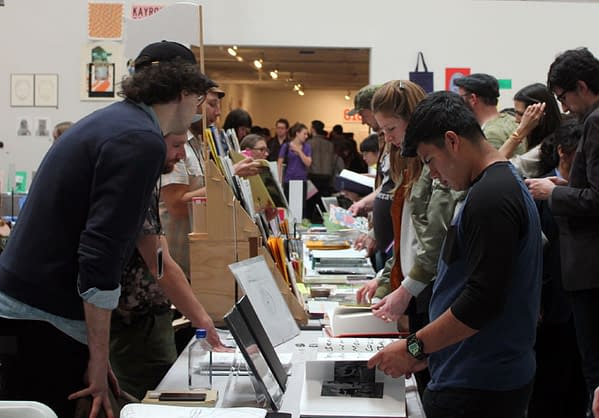 Additionally, using the prior 'zine event I attended in 2006 as my gauge, I noticed the influence of comics via use of comic book panes to lay out stories such as High Score: A Microcomic Anthology on Videogame History from Rusel DeMaria and Manny Plus Bigfoot created by Meghan Hogan (2D Cloud). The Hogans explained, "We don't do superheroes and the type of work we publish and distribute is maybe a little more steeped in reality? I don't know. We enjoy putting out material that stands out, is different."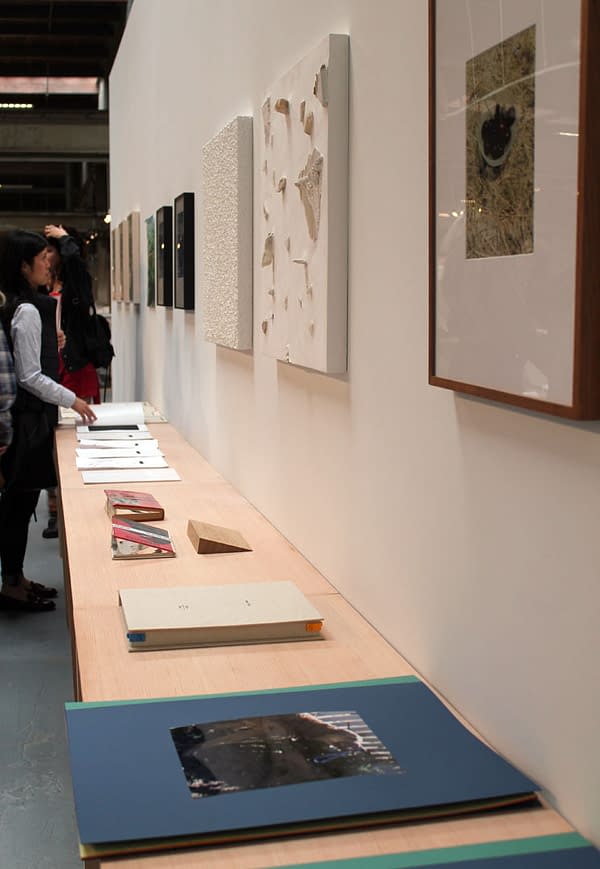 I left the small publishing section of the fair and found myself perusing reproductions of old photographs by Swedish 1960s underground leftist artist and photographer Carl Johan De Geer, one of many of the art installations of the fair. As I looked at each vintage photo, I wondered if De Geer realized how 50 years later his pictures would become little windows in which to glimpse life as it was in Stockholm. The photos made me think of my own mortality in the larger context of human history and civilization. Less serious was the artist Parra's hanging titled The Joy Inside You Dies Tonight (2013): individually hung air fresheners in the shapes of books advertising the fair was uplifting and whimsical.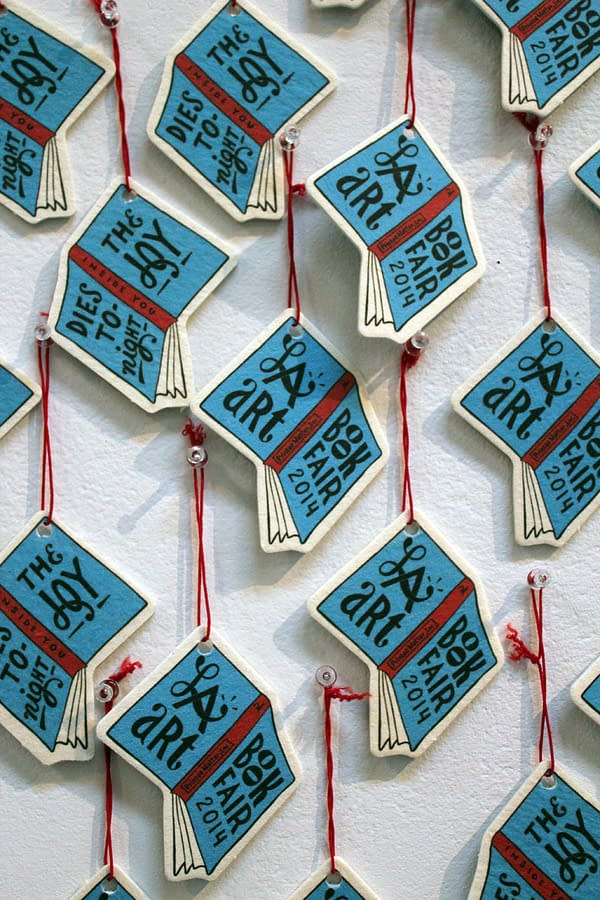 There were also established booksellers at the fair which provided a contrast to the independent publishers. Rare books and journals were on display in glass cabinets and in some cases, for sale. I was beginning to have sensory overload, to be honest and by the time I reached the other end of the building, I felt as though I had experienced a whirlwind paper adventure around the globe! And, I didn't even attend any of the several classes offered, book signings, and book launches that were regularly being announced throughout the day over the loudspeaker that faded in and out of my conscious hearing.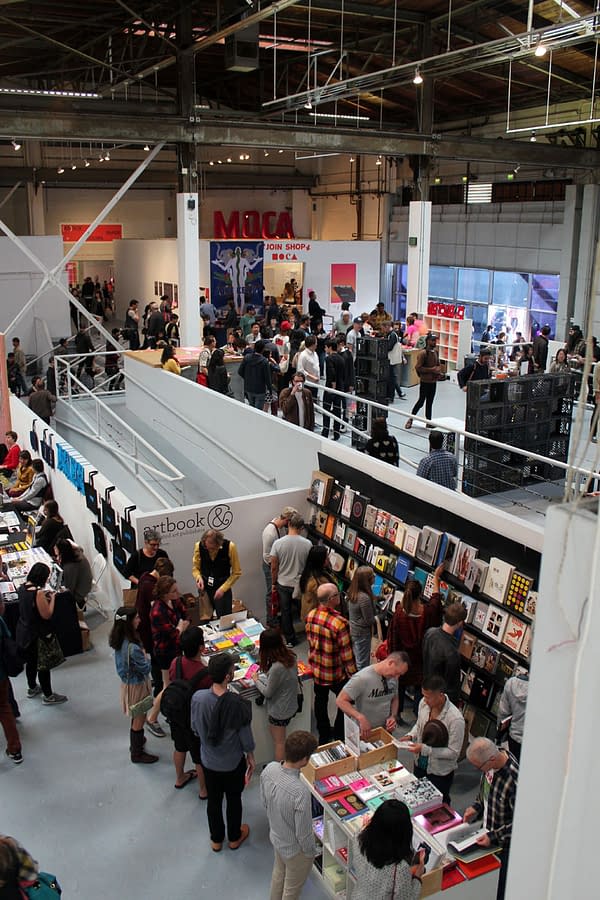 "I think the interest in physical and hand-made objects is as strong as its ever been," the Hogans replied when I ask about the impact of the digital alternatives we have for our printed materials. And based on what I was seeing at many tables, I quickly agreed. Professionally and neatly handmade bound publications crowded the rows of tables. Not only that, but for many books, magazines, zines, etc., the content had improved too. There were still the unsupported political rantings for instance, but those were in the minority, replaced by well thought out arguments on globalization and ecological concerns, for instance.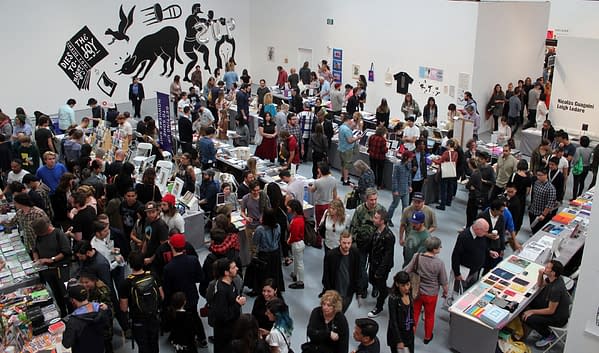 By the end the day, I felt like one day was probably just not enough time to appreciate everything this fair had to offer the art book enthusiast. While I have recently started to buy electronic versions of books for my iPad, for research and recreation purposes, I am happy to see that printed materials are still alive and well in the 21st century. It is a trade that I hope never becomes obsolete.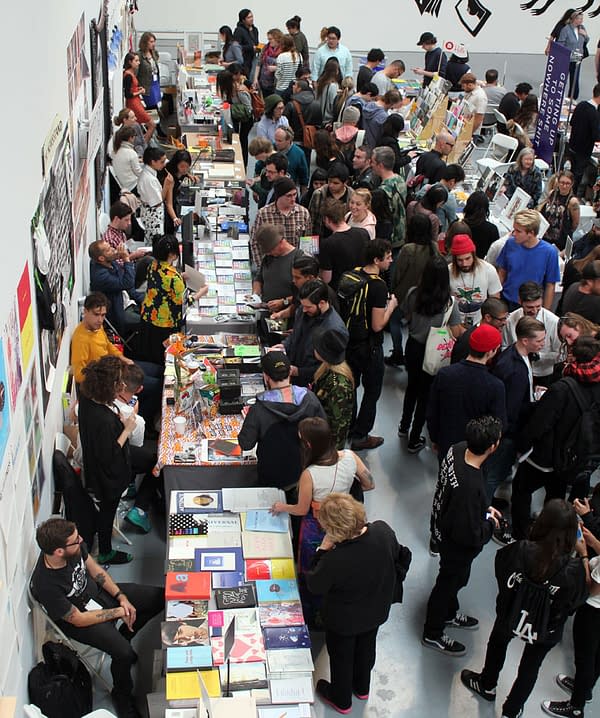 Michele Brittany is an independent pop culture scholar and semi-professional photographer currently editing an upcoming anthology on the influence of James Bond on popular culture. She regularly posts reviews and analysis on the spy/espionage genre on her blog, Spyfi & Superspies.
Enjoyed this article? Share it!