The Cursing Of A Pirate Girl
Greg Baldino writes for Bleeding Cool*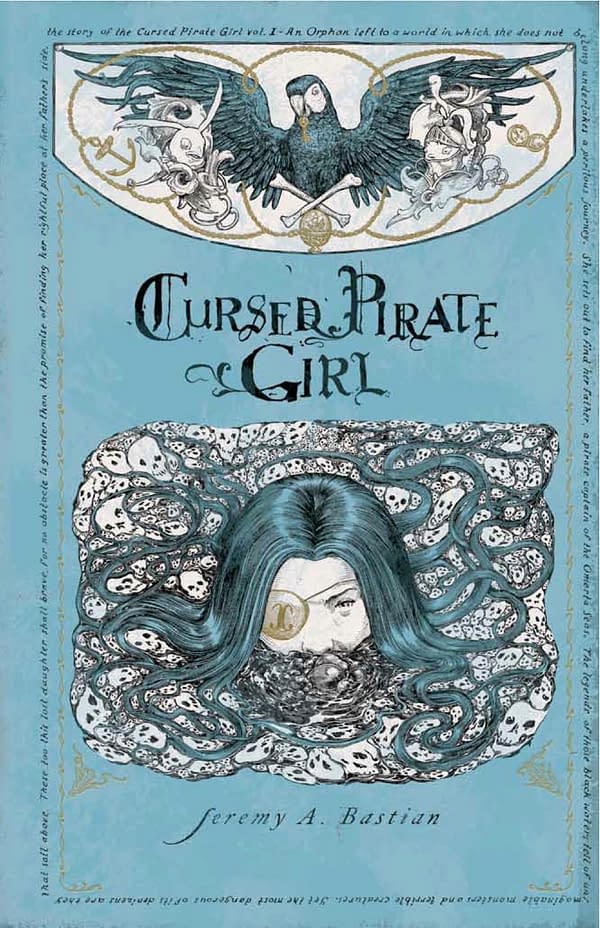 In Cursed Pirate Girl, timbers are shivered, buckles are swashed, and keels are hauled, in a twisty nautical adventure that reads like Alice in Wonderland's punk sister. At this year's C2E2, creator Jeremy Bastian took the time to share some of the background on the series and its new publisher Archaia Entertainment.
How long have you been doing Cursed Pirate Girl?
It's been a long road I don't exactly know I know there are people out there who know exactly when I self-published issue one but it's been a while. I think issue 3 took about a year to complete. I did have a couple of things in between in that year that popped up that I had to take time off for, so it's not like I was working on Cursed Pirate Girl straight through, but it's a very time consuming book.
Has your idea of the series changed much in that time?
Actually it hasn't changed, when I first came up with the idea, I wrote out the script and just kept going. I wrote it as a 6 book story arc and Its basically the same story I started with; I just look at those parts and see if I can make them any weirder or more bizarre, and that's about it.
It is pretty weird and bizarre.
Well I try, I try.
How long does it take?
Right now it takes a week a page.
What's your process on the book like?
The process is I start with my thumbnails–I thumbnail the entire book and that's my first starting point. I then draw them up to a full-sized rough and I work on the individual panel layouts and how the page flows, how they work with the previous page and lead into the next page. I don't want to repeat anything. Then I start working on the individual panels, scan them, then transfer them to the board. From there I pencil it out and do more pencils on top of that, refining some of the details. Then I start inking–it's all inked with a brush–and it's all actual size, too. What you see in the book is how big I drew it.
Who were the artistic influences that you brought to cursed pirate girl?
My influences are Arthur Rackham (number one), Edmond DuLac, Kay Neilson, Walter Crane Gustav Dore, Albrecht Durer, HJ Ford–a lot of the classic storybook illustrators. I love fairy tales and that world of illustration. I call Cursed Pirate Girl my nautical fairy tale. It's definitely an obsession with an older antiquated world of illustration, I guess.
How important for you was it to have a young female protagonist?
Well, that's not as difficult as one might think. I took a look at what kinds of story I wanted to write and ask myself if I wanted to write a story about a little boy or a little girl. Well, I really like (Windsor McKay's) Little Nemo, he's pretty cool, but Dorothy and Alice and all those iconic characters are female. So I want to do a female character but make her a little tougher, I wanted to make her a tough little chick who's a little smarmy and she's not afraid of anything. Because I don't remember seeing anything like that growing up or anything out there right now. So I wanted that kind of iconic character, but a little tougher, a little darker.
What was your involvement like with the design of the Archaia edition?
I knew I wanted it to be blue, because I love old books. I'm always going to old bookstores. There's something about that sort of pale blue color that I had in my mind when it came to this book. And the deckle-edged page is something that I've always wanted to see in a book. Mike Mignola did it with Baltimore, he had a nice deckle-edge page and I thought "Oh! Contemporary people can do this now?" And so it was always in the back of my mind, that I wanted that. I also wanted an off-white page, because when I'm working on bristol it's a little off-white itself, so I noticed that the pages I was doing were different than the ones in the soft-cover trade edition pages, because those were bright white. I really prefer the softer white.
The poster in the back is quite amazing.
My original publisher and I were spitballing ideas around about what could we do in the back. Usually it's a guest gallery, but what's the point of a guest gallery? Usually it's just other people's interpretation of the characters. What if there was a story that went along with it, and then a pay-off at the back? Originally it was going to be a poster that you could remove and put up on your wall, but there were some problems with that.
Last question: you're one of many comics creators from Michigan–
We got some good people there!
We do!
Guy Davis, David Petersen, Ryan Stegman… I'm sure I'm missing someone and they're here this and hate me for it– Katie Cook, Jay Fosgitt, Nate Pride…
Has coming from Michigan had any significant impact on your creative development?
Oh yeah. I love nature, and if I could I would draw books that only take place in nature. I know this book particularly takes place underwater but ever since I was a baby I was going up to Manitoulin and the birch islands in Canada. My mom has a boat and so it's been sort of a boating life–nothing yacht-like, don't get me wrong, it's like a Yamaha motor on a metal canoe, basically. That's the kind of boat we're talking about.
So a "Michigan Yacht"
(laughs) Yeah, a Michigan Yacht.
Cursed Pirate Girl is a $24.95 hardcover from Archaia Entertainment.
*At a very slow and methodical pace. Find out why via his Twitter feed: @gregbaldino.