The Return of Blade From Marvel in 2019 – Third Time Lucky? #BringBackBlade
Every Friday on Bleeding Cool, as part of Matthew Snyder's Digital Comics Bestseller List, he mentions the hashtag #bringbackblade. Well, someone seems to have been listening, The character has been popping up in Avengers of late and now it seems we may be getting a new Blade series, with this 'No Compromise, No Mercy' tease and a promise of a reveal to come this coming Tuesday.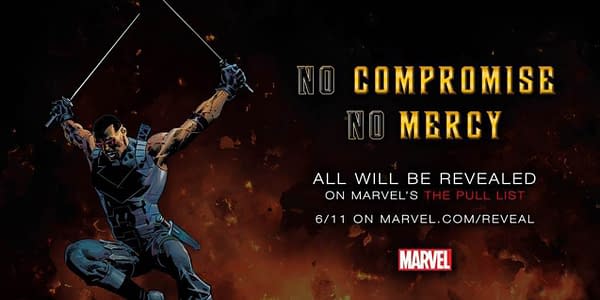 A Blade series was romisedfrom Marvel Comics a few years ago by Tim Seeley and Logan Faerber starring Fallon Gray, the daughter of the original Blade character, and announced at the Women of Marvel panel at San Diego Comic Con. Lots of people reported the news, including us. We then gave it the added twist that it may play into whatever was being planned for a new Blade movie or TV show. also starring that character. Lots more people followed that one up.
And then it was pulled off the schedule. Bleeding Cool broke that story, few followed up. The rumour was that the decision was related to the new movie/TV treatment. Lots of things were up in the air and the comic would have to fit in with these plans – or at least, not contradict them too much.
It never happened. At one point, announced a year later at C2E that Afua Richardson would be drawing the comic instead. And at a previous juncture at NYCC she had said that, of an unnamed project,
"I get a call from Axel Alonso, come in, rip the script apart, create the designs you want…."
And posted…
But that never happened either. Third time lucky for Blade maybe?