San Diego Comic-Con To Be A Franchise? Global License Announced
San Diego Comic-Con may be the world's best known comic book convention. But there is only one of it. While ReedPOP has big shows around the globe, such as C2E2, NYCC, ECCC, MCM and more, San Diego Comic-Con pretty much just stays where it is, with only WonderCon in Anaheim as a spin-off from the organisers Comic-Con International, the Storytelling Across Media event, the Special Edition and the Comic-Con Museum all in San Diego. San Diego Comic-Con's brand is big but its actual physical footprint is small. That may, however, be about to change.
San Diego Comic-Con has announced it has appointed global licensing leader IMG as its first exclusive licensing representative. Through this affiliation, it is intended that IMG will work in partnership with SDCC to extend the reach of the non-profit's mission of promoting comics and related popular art forms and engaging with their respective fan communities.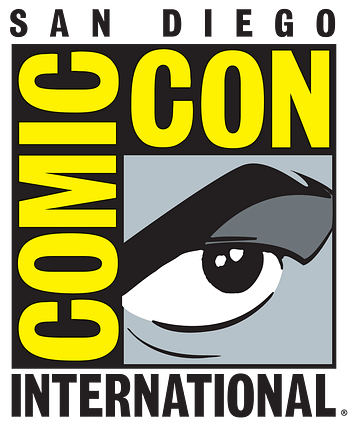 Bruno Maglione, President of Licensing at IMG, commented: "Over 50 years ago, the Comic-Con founders simply wanted to draw attention and recognition to the comics and other art forms they loved. In doing so, they discovered a shared interest in this and related Sci-Fi, fantasy, and genre content wider than they could have possibly imagined. Today, that comic culture is mainstream entertainment culture thanks in large part to Comic-Con's championing of this art form and its brilliant creators, and Comic-Con is the leading curator brand and guide in this space, allowing it to secure consumer attention and deliver consumer value in more ways."
While originally focused primarily on comic books, film, and science fiction, Comic-Con has since come to encompass and celebrate related art and fantasy content, as well as anime, interactive multimedia, costuming and more in all its formats, with an increasing menu of forums, screenings, exhibits, and workshops at the San Diego Convention Center. More than 135,000 people attend its annual convention, along with tens of thousands more who travel to San Diego to take part in the many outside activations and activities.
IMG will be working with SDCC to identify partners who can develop products, retail destinations, and experiences for the millions of fans not able to partake in the annual Comic-Con convention experience. It looks like there may be a San Diego Comic-Con coming closer to you.
David Glanzer, Chief Communications and Strategy Officer for SDCC, said: "We began talking to IMG around six months ago and in the course of those discussions, it hit home to us that we could use our expertise to serve the ever-growing fan community in more ways, places and times than ever before. In 2021, we embarked on the new Comic-Con Museum and now, with IMG's expertise working with specialist partners to deliver authentic brand experiences, we can pursue an exciting new phase for the Comic-Con brand."
Ricardo Yoselevitz, Senior Vice President of Licensing, IMG, added: "Through its annual conventions, it's clear that Comic-Con has become a powerful consumer brand without even trying. We are honored to now be working with them to identify products and destinations that create new ways and avenues to engage this passionate community, while further reinforcing Comic-Con's position as the leading curator of this form of popular art and culture."
WonderCon has just finished in Anaheim. And Comic-Con returns this year to the San Diego Convention Center for the 21st to the 24th of July, 2022.