Bleeding Cool just ran the news that DC Comics will be publishing a new Superman/Batman comic book, by Joshua Williamson and David Marquez, launching in August and spinning out of both Dark Knights: Metal and The Batman Who Laughs. Which has The Batman Who Laughs turning DC Comics characters into Dark Dimension versions of themselves, and Superman and Batman teaming up to try and identify them.
About five minutes after, Bleeding Cool received a tonne of updates. The biggest one will be that we will be getting a new Secret Six as part of DC's Year Of The Villain and Superman/Batman.
And the six will be made up of those twisted Dark Dimensional versions of themselves.
Who will it be? I've been told by sources that one is Perry White, used to disseminate false information across the world and another is Donna Troy, who used to do the same job in the Hall of Justice.
Similar to the murderer/suspect/murdered list, I understand a number of other suspects will be listed including Beast Boy, Kyle Rayner, John Constantine, Supergirl, Oliver Queen, Ric Grayson, Booster Gold, Barbara Gordon, Damian Wayne, Jimmy Olsen, Plastic Man, Miss Martian, Alfred Pennyworth, Hal Jordan, Shazam, Hawkman, Catwoman, Jon Kent, Wonder Woman and Jim Gordon.
Place your bets…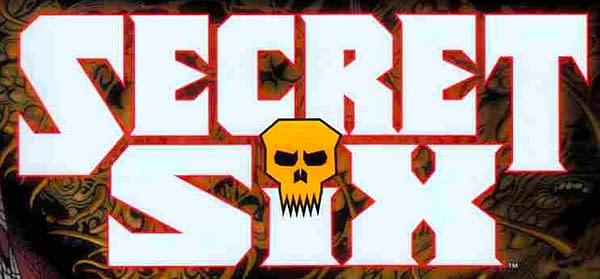 The Secret Six has been the name of three different fictional comic book teams in the DC Comics Universe, plus an alternate universe's fourth team. Each team has had six members, led by a mysterious figure named Mockingbird, whom the characters assume to be one of the other five members.
The Secret Six first appeared during in the initial team's seven-issue title Secret Six in 1968. Created by E. Nelson Bridwell and Frank Springer, this strike team of covert operatives consisted of August Durant, Lili de Neuve, Carlo di Rienzi, Mike Tempest, Crimson Dawn and King Savage and ended as Mockingbird was revealed.
A new Secret Six appeared in Action Comics Weekly in 1988 created by Martin Pasko and Dan Spiegle, with Mockingbird as Durant, reuniting the team after twenty years while assembling a new team consisting of Mitch Hoberman, Ladonna Jameal, Tony Mantegna, Luke McKendrick, Vic Sommers and Dr. Maria Verdugo. The first team died almost immediately with DiRienzi succeeding Durant as Mockingbird.
The in 2005. as part of the Villains United crossover, Gail Simone wrote a new Secret Six with villanous members Catman, Deadshot, Cheshire, Rag Doll, Scandal Savage, and a Parademon. The Mockingbird for this version of the team is eventually revealed to be Lex Luthor. This created a new mini-series for the Secret Six drawn by Brad Walker and Jimmy Palmiotti, joined by Knockout, later the Mad Hatter and further later, Harley Quinn. The team appeared in Simone's Birds Of Prey, before getting an ongoing series in 2008 with Catman, Deadshot, Scandal, Rag Doll, Bane and original character Jeannette. After the New 52 reboot, Secret Six was relaunched with Catman, Black Alice, Strix, Ventriloquist (Shauna Belzer), Ralph Dibny under the alias of Big Shot and new character Porcelain, with the new Mockingbird revealed as the Riddler.
Will this vesion have a Mockingbird? Will it have a mole? Will they get a spinoff series of their own? All to be discovered still…
Enjoyed this article? Share it!