I know what you're thinking – doesn't Mighty Morphin Power Rangers/Teenage Mutant Ninja Turtles #1 not launch till December? Yes, but that hasn't stopped Boom Studios from racking up some impressive aftermarket action on the mega-crossover since they announced it at SDCC and has since released a meaty preview of the extra-sized issue.
Expectations are high, not only given the continued strength of BOOM!'s Power Rangers comics with readers and speculators, but also with how IDW has recently blown up the Ninja Turtles with the same audience.
At NYCC, Boom fired up the collector engine with three different "New York Slice" editions of MMPR/TMNT #1 (look, we're not going to keep typing out that title) that contained an exclusive 20 page preview of the issue – with exclusive covers by legendary Power Rangers artist Goni Montes (the man behind those iconic Power Ranger helmet variants that Boom is selling for a second time during their Necessary Evil event).
Now almost a month later, these three editions are continuing to heat up the market.
MMPR/TMNT #1 New York Slice Edition – Leonardo was available at the Boom Studios booth during NYCC for $10 and now has more than tripled on the aftermarket, going for $33 or, if you're lucky, you might get two copies for $40.
MMPR/TMNT #1 New York Slice Edition – Raphael was only available at the Diamond Retailer Breakfast during NYCC but now costs at least $24.99 if you want to risk an auction, but closer to $40 if you're in a rush or don't want to take any chances.
MMPR/TMNT #1 New York Slice Edition – Michelangelo was another surprise variant, available at the Power Rangers: Necessary Evil panel during NYCC and is the hottest of them all, consistently priced around $100.
To put that in perspective, that puts it in a similar price bracket to Image's silver foil Spawn #300 NYCC Exclusive which is priced around $100, though neither of them have reached the $300 heights of the Spawn #300 gold variant. While in the Boom and Image rivalry Boom appears to have won The Kieron Wars, in the war of convention exclusives Image takes the win – though we know Boom 's Ross Richie isn't one to back down from a challenge.
If that's not enough to indicate how hot the market is for this crossover, just look at the fact that January's issue #2 four variant covers are already available as a pre-order package for $50.
So our advice is to make sure you get your pre-orders in for MMPR/TMNT #1 with your local comic shop because Boom's Power Rangers comics have been selling out every month for over three years – and combining that with the heat on IDW's Teenage Mutant Ninja Turtles is pretty much a guarantee we'll be talking about at least a third printing on this comic.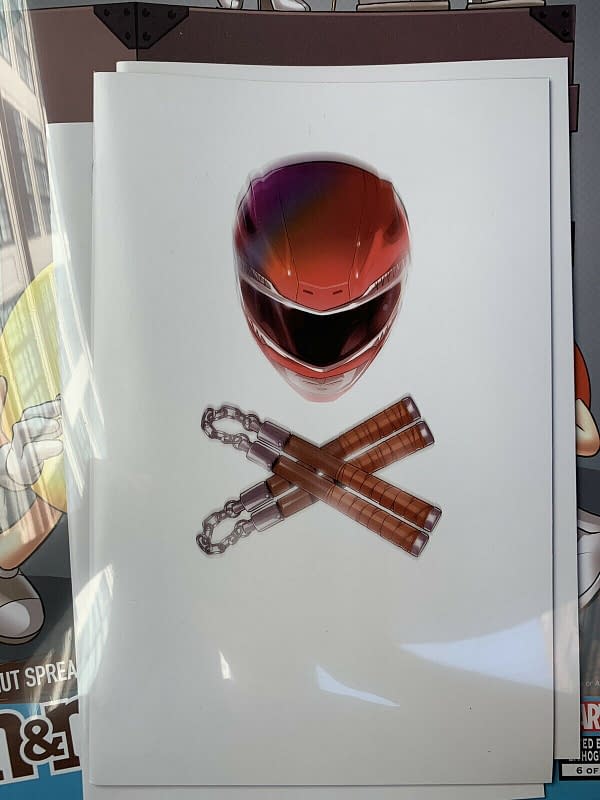 Enjoyed this article? Share it!