Startling Facts About Fish Pee Revealed in Next Week's Unbeatable Squirrel Girl #39
Comic books are more than just thrilling adventures featuring violent superhero action. They can also be educational, as next week's issue of Unbeatable Squirrel Girl reminds us.
In a preview of the issue seen below, Squirrel Girl is battling an Iron Man who she believes to be a Skrull imposter, and she needs a good way to beat him. That means drawing on her imagination — in the form of her friends — to come up with ideas. Unfortunately, Koi Boi offers only a series of increasingly unfortunate facts about salt water, urine, and an orifice you never knew a fish could pee out of until now!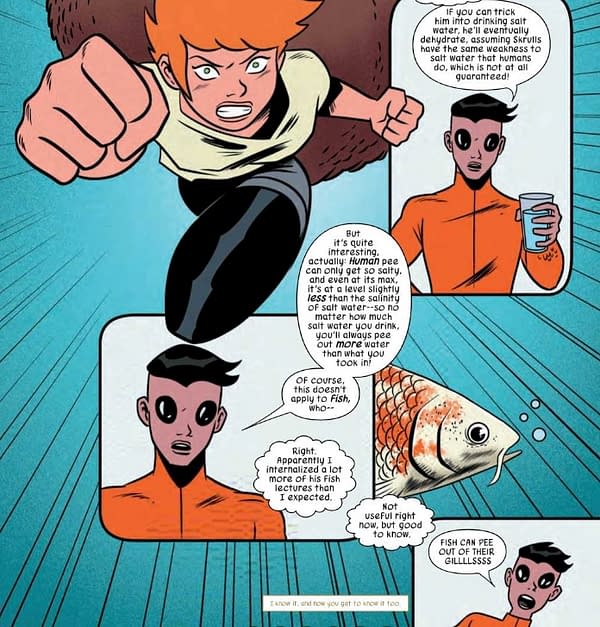 Now you know. And knowing is half the battle, right? Well, as you can see in the preview below, Squirrel Girl does figure out another way.
Unbeatable Squirrel Girl #39 hits stores next Wednesday.
Unbeatable Squirrel Girl #39
(W) Ryan North (A) Derek Charm (CA) Erica Henderson
• Last issue ended with Squirrel Girl and someone CLAIMING to be Iron Man getting into a fight! Will this issue show you how that fight goes and who wins and why? THE ANSWER: yes!
• But with an Iron Man imposter on the scene, that means the real Tony Stark is missing! It's up to Squirrel Girl and her friends to find Tony before it's too late: for him AND the world.
• Unfortunately for Squirrel Girl-as this comic is within the super-hero genre of sequential art, one that relies on high-stakes narrative storytelling filled with twists and turns that result in the world never being the same-what she finds is not what she expects and the world will never be the same!
• All this-plus: let's say underwater adventure too awaits you in this issue of the Unbeatable Squirrel Girl!
Rated T+
In Shops: Dec 12, 2018
SRP: $3.99